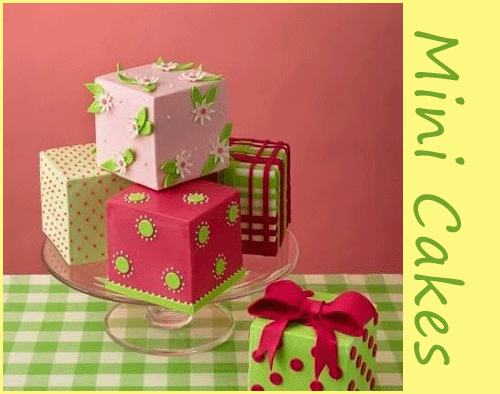 These mini cakes by Confetti Cakes are a great summer idea and incredibly clever. They're also the perfect size for a smaller get-together or birthday, and are even cuter when grouped! Think of all of the great ways these could be decorated!
To try your hand at creating your own, cut baked cake rounds into squares using pre-cut parchment paper as your guide (unless you have a square baking pan with perfectly perpendicular sides — as opposed to the traditional slanted option). Layer cake with a thin filling or icing (because the cake is pretty tall, I'd stick to a basic buttercream as opposed to a fancy filling that will cause the cake to droop or bulge) until the width is the same as the height and length, creating your cube. Finally, use a stronger icing or fondant to cover the box and keep all contents well contained, I'd suggest a crumb coat as well. Then decorate to your hearts content with frosting or fondant/gum sugar cutouts!
Be sure to check out Confetti Cakes online for more amazing ideas!