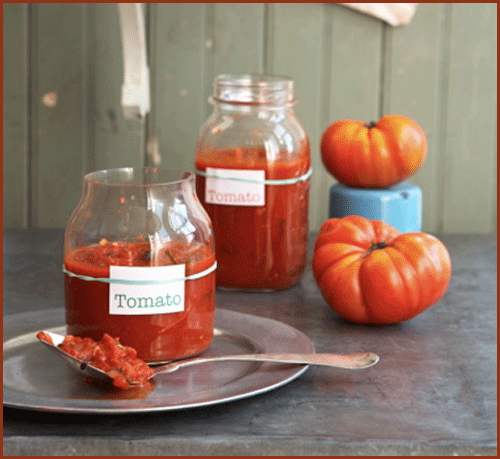 Here's a fabulous and basic recipe to help with your next dinner party. I'm personally not a huge fan of the jarred, store-bought tomato sauce but have been known to use it again and again out of sheer necessity and time constraints. If, and when I do, I like to jazz it up a bit by adding cooked garlic, herbs from the yard or sauteed veggies that might to a swell job masking the canned version. BUT then I discovered this easy recipe by Paul Sweet! And because your dinner guests (and family) deserve so much more,  I hope you love it.
Easy and Delicious Tomato Sauce
Servers 4 (so you might as well go ahead and double or triple now for later use)

3 tablespoons extra-virgin olive oil|
1 medium onion, finely chopped
2 cloves garlic, thinly sliced
1 28-ounce can good quality crushed tomatoes
1 teaspoon brown sugar
1 cup fresh basil, chopped
Coarse salt and freshly ground pepper
2 cups water
Heat the oil in a saucepan over medium heat.
Add onions and garlic, cook until soft.
Add the crushed tomatoes and their liquid.
Add the basil.
Season with salt and pepper.
Add the water.
Bring to a boil, reduce heat and simmer until sauce has reduced and thickened.
This takes 20-30 minutes.
Can be stored in a cool place for 1 week.