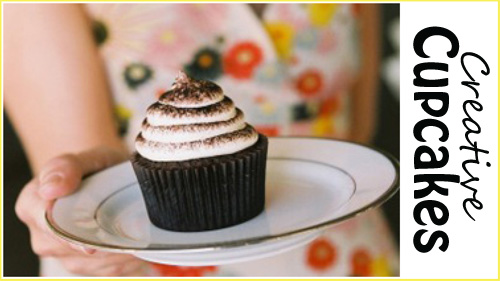 The search today for modern & pretty — but delightfully appetizing & divine — cupcakes is virtually endless. Cupcakes are the new wedding cake, dessert bar and afternoon snack. There are so many fabulous bakeries sprinkled about to satisfy the craving — but when Vanilla Bake Shop decided to divulge one of it's best kept secrets, how to recreate the salivatingly sweet Raspberry Meyer Lemon Cupcake with Martha and her audience, I dropped everything to give it a try myself. Amy Berman (founder of the Santa Monica patisserie) was featured on The Martha Stewart Show after proving that her cupcakes were not only beautiful, but also extraordinarily finger-licking delicious!
Note: the Raspberry Meyer Lemon Cupcake is pictured top left in the picture below, the other delicious goodies shown are also all Vanilla Bake Shop.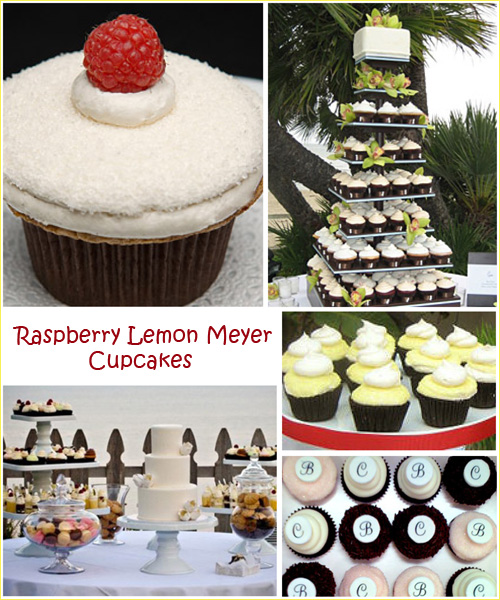 After many an attempt to recreate such delectable finds on my own, I borrowed Amy's recipe to make the (complicated but definitely worth it) treats for a friend's beach baby shower.
While the pressed white sugar topping is clever (I'll be using that again) I opted to swap it out for crushed graham crackers for a sun-kissed, sandy-beach cupcake topped with candy shells. (Another great hint after experimentation: try adding a whole raspberry into each filling hole with the lemon meyer concentrate – you'll knowwhat I mean after you watch the video). For a link to a video of Martha and Amy assembling the mini creations — as well as the recipe — follow the jump.ppp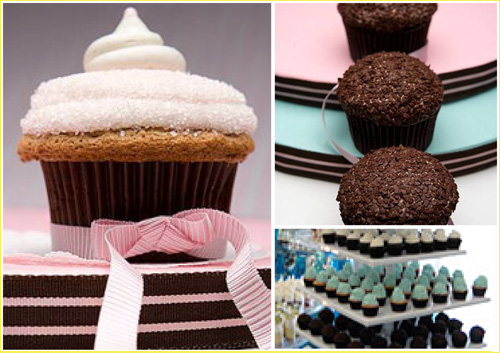 Vanilla Bake Shop has a unique line of specialty flavors such as Spicy Carrot, Mint Chocolate & Toasted Coconut cupcakes as well as original favorites like Vanilla Bean and Chocolate Raspberry. With inspiration like this, it's hard to imagine not adding a spin to your next cupcake adventure (coffee? peanut butter? fresh strawberries? almond extract?). But whatever your home-made flavor might be (even if it's the boxed grocery mix sort), steal some of these fabulous decorating ideas! And when all else fails, your local shop surely delivers.
Follow the limk to The Martha Stewart Show website for video and complete baking directions: Raspberry Meyer Lemon Cupcakes.