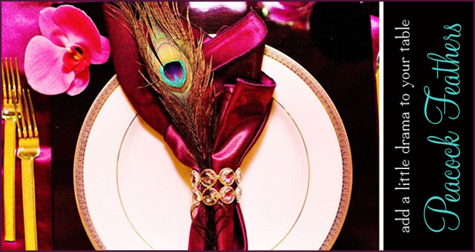 I found this stunning picture on The Party Dress and loved it so much I went on the search for more gorgeous peacock finds. The colors are rich and beautiful — perfect for fall without being the traditional palette. I love the jeweled napkin ring above and am wondering if I can recreate on my own, could be a fun project. Plum, fuscia, emerald green, burgundy, cerulean blue… all beautiful!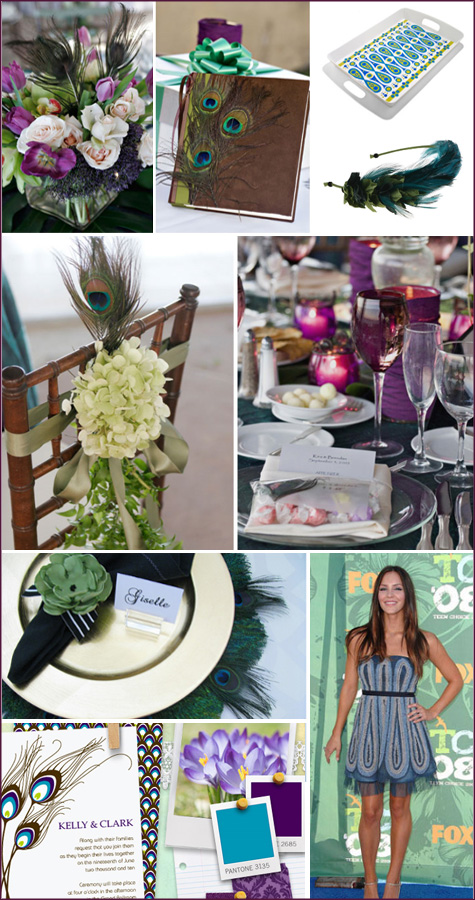 So much inspiration for any kind of celebration — I would love to see this turned into a beautiful bridal shower! Follow the jump for the where-to-find for this inspiration board.
Clockwise starting from top left hand corner:
*Floral arrangement and guest book from Karen Tran Floral's Plum Colored Wedding
*Peacock tray from The Plum Party, headband by Collete Malouf
*Plum tablescape from Karen Tran Floral
*Katherine McPhee found at Fab Sugar in a peacock inspired cocktail dress
*Beautiful peacock invitations from Baron Cards
*Peacock feather charges at 1000 Markets
*Peacock feather chair pingay from Karen Tran Floral.