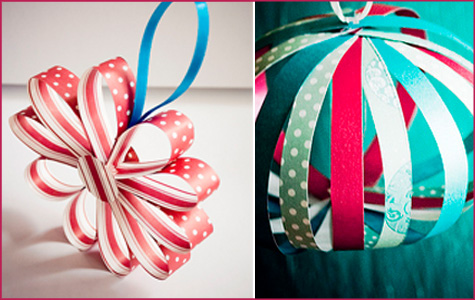 Whether you're looking for the perfect way to use up left over scrapbooking paper, an easy diy project for the kids or how to add a special handmade touch to the holidays, paper ornaments are fun and easy to make! How lovely are these unique examples and the artists behind them?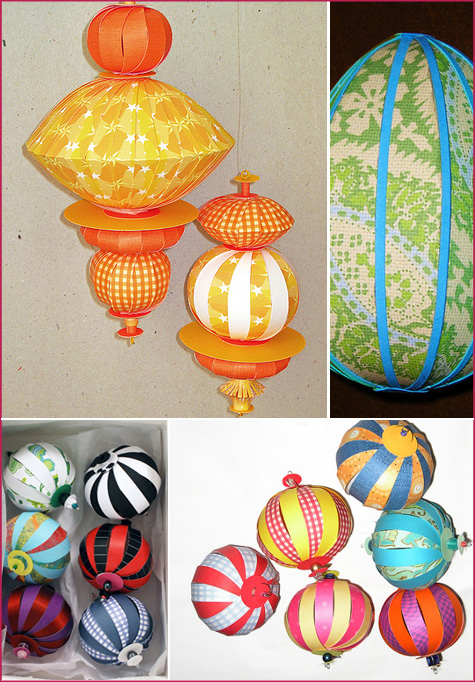 Danielle Hamilton features beautiful handmade paper ornaments that are nothing short of inspirational (very top) and Carlos N Molina has the most amazing eye-candy website all about paper projects — which includes templates and how-tos for his globe and stacked ornaments (ornament collage directly above).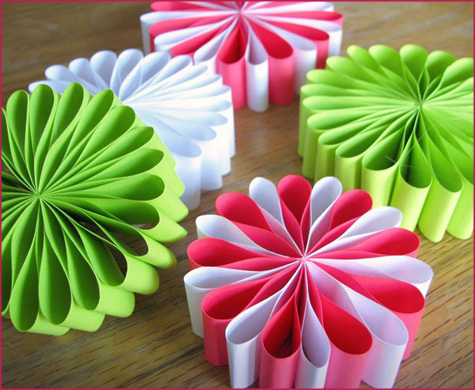 Perfect for hanging from the chandelier over the dining room table, stringing as garland in the windows or on the mantel, stacked casually as a dinner party centerpiece, or displayed in a large bowl on the coffee table. Oh yes, you could hang them from the tree, too.
Follow the jump for more crafty creations — from super simple to very elaborate — and the how-to for paper flower ornaments!
How About Orange shares an EASY and fun version of handmade paper flower ornaments for us to try... be sure to check out the full article here.
Paper Ornaments:
s
1. Cut one piece of 8 1/2″ x 11″ paper into 1″ strips (oriented landscape so you end up with 11 strips).
2. Stack them and staple them once in the center, then fold the stack in half to form a little book.
3. Put a little piece of double-stick tape at the tip of the first "page." Then bend it inward toward the center and stick it down. Repeat for every "page" until you have a circular flower shape.
4. Hang with invisible thread or fishing line.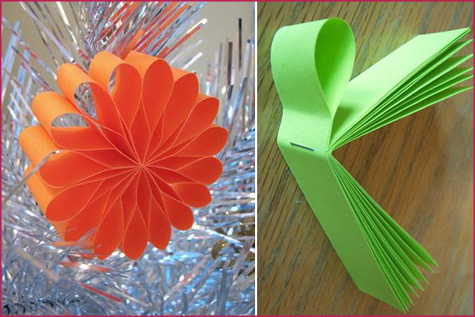 Jeffrey Rudell, a contributor at Craftstylish, breaks down paper ornament directions for his spheres (below). Follow the jump for an easy how-to.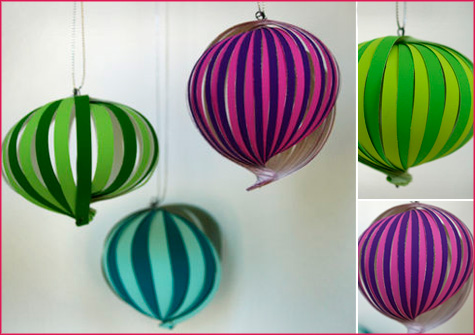 The below image is from a 1967 Los Angeles Times Home Magazine Christmas issue, found at Cathy of California. To think that we are still inspired by the same beautiful paper projects today!