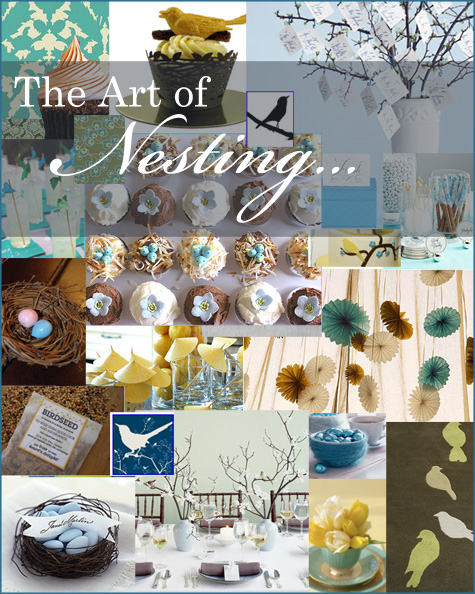 I've been working on a special shower for a dear friend… and have some delicious ideas up my sleeve. Here's a little sneak peek at the inspiration for the celebration.
As I watch all of these mama's-to-be feather their nests with the anticipation of a little one, I couldn't help but be inspired to turn the theme into a shower that reflects the age old art of nesting. Whimsical blues, teals and yellows… milk glass cake stands and thrift store goblets… perhaps a few branches and paper accordion rosettes? So fun to plan.
We're not following the traditional Saturday afternoon etiquette either. I jump at every opportunity to where one of my favorite tea party dresses, but instead we'll host this shower mid-week for a dessert and latte bar celebration for a twist on the everyday baby shower. Plus, it means that most of our guests will likely be in town (no weekend plans to stand in the way) and our budget is a bit more friendly without the cost of a meal.
Lauren Lee of L&Co., one of my co-hosters, created these beautiful invites that are in the mail! Can't wait to share the details of the day soon.