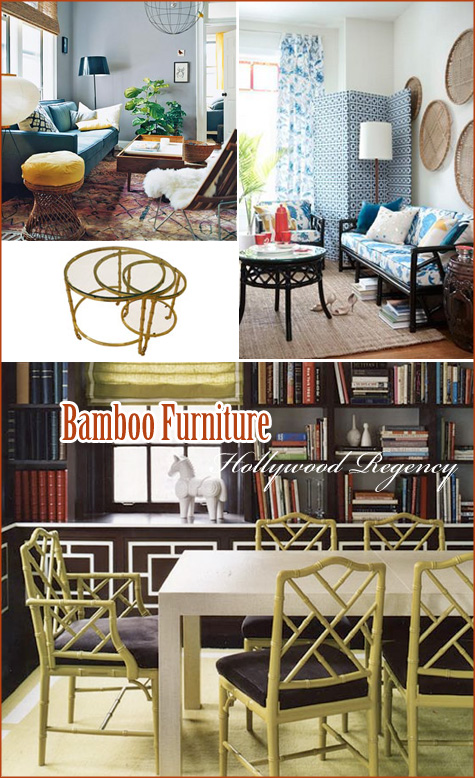 There's a fast growing trend in the realm of alternative wood furniture, and while at first glance it might seem like a welcomed flashback to all things 70s, the chinoiserie style can be beautiful without exuding the least bit of tacky.
It stems from a decorating movement known as Hollywood Regency – and with just a little bit of glam here and there, I think it can look fantastic in the home (especially in bright colors!).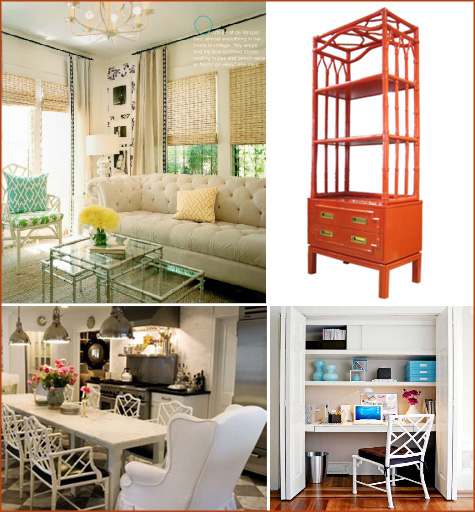 In the very top collage, 6th Street Design Blog inspires with yellow lacquered dining chairs, a black bamboo coffee table and a natural wood side table/stool.
DecorPad has plenty of ideas ranging from silver nesting tables to the white bamboo office chair (both above) and the faux gold vanity stool (below). ElleDecor shared the refashioned red occasional chair below. With these rooms holding just a hint of bamboo elements they balance out the style so well!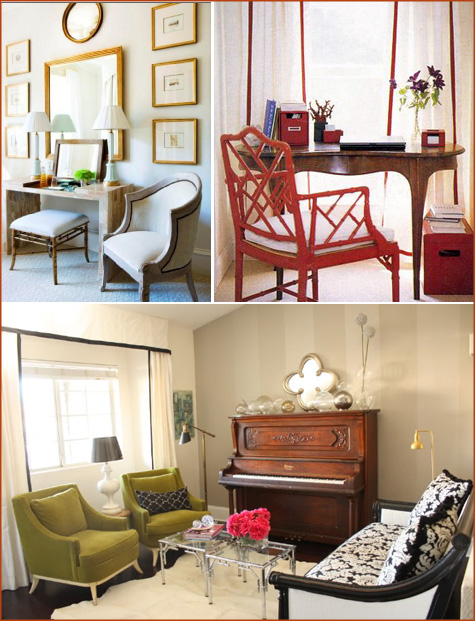 Christina over at Full House (above living room with those awesome olive green side chairs) hunted these silver chrome bamboo tables down from a Craigslist find in Portland – only to have them shipped to her hometown of Phoenix by her sister because they were such a steal! Now that's a love I can appreciate (I'm remembering a moment where I tried to coerce a gentleman in Denver to pack up and ship his sleigh bed all the way to San Diego because it was such a Craigslist find…).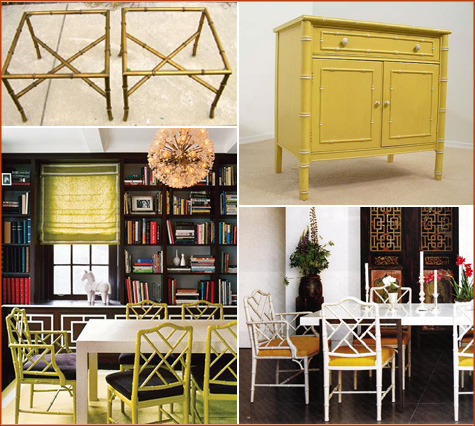 A bit of antiquing and garage sale hunting is all you need to track down your own Hollywood regency flair. DIY projects range from tables to dressers to chairs – my favorite being this makeover from Kelly over at High Street Market (featured on design*sponge):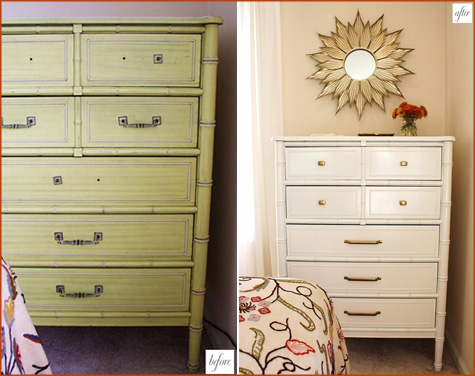 A fresh coat of paint and it's brand new!
And there's a quick round-up of my favorite faux bamboo examples. Breaking up the look and feel of traditional wood furniture can keep a room looking modern and up-to-date. Good luck with your next thrift store find (and maybe just a big of digging around in grandma's attic is all you need to reveal the perfect faux bench project). Happy Monday!