I'm so excited to share with you all that I've been asked to participate as a speaker for San Diego's upcoming StylishSpaces Interior Design & Outdoor Living Expo, a production hosted by Seascape Spaces and featured here. The event will be hosted at the San Diego convention center on May 22 and 23.
With a lineup that includes HGTV stars and celebrity chef speakers, I hope to humbly keep up with the all-star cast by sharing a few of my own interior design tips & tricks.
My presentation revolves around fabulous ways to use small amounts of beautiful fabric to add life and style to any space, and boy have I been busy these past few weeks pulling fabric projects together that include an upholstered headboard, lampshades, rugs, lined bookcases, tablecloths, and the list goes on…
Here's a quick snapshot from the website of a few of the speakers for Sunday, May 23rd: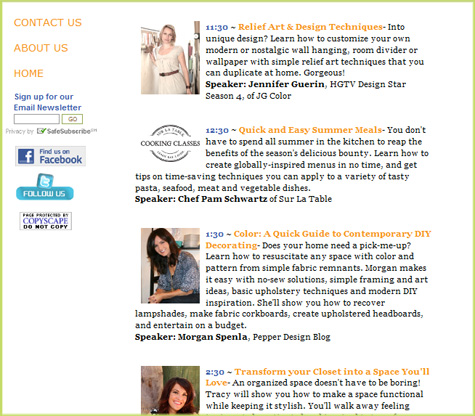 If you're in the area, I would be beyond thrilled to have you join me for this exciting event. I'll be presenting at 1:30 on Sunday, May 23, however amazing speakers and inspiring exhibits/vignettes will be sharing all weekend long.
If you'd like to visit, drop me a line at: morgan@pepperdesignblog.com for a free pair of tickets to the show (a $14 value). I have about 30 tickets available and I'll mail them out on a first-come, first-served basis.

Thank you for all of your support, you guys are the best.