A big thank you to Jenn over at HWTM for featuring all of the details of our big day three years ago! I'm borrowing a few of her images today for this post :).
Today marks Kevin's and my third wedding anniversary. I can't believe the past few years have flown by so quickly! We've purchased our first home (an oldie but goody that we're remodeling piece by piece), taken time out to travel to beautiful and exotic places, and are now preparing for the next big surprises in our life.
But because this is such a special day for us… here's a quick recap of our White Wedding.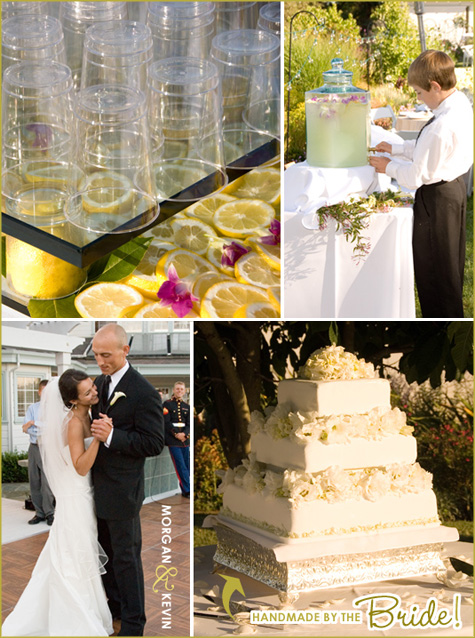 The perfect site for our Santa Cruz mountains reception ended up at a home that we rented for the occasion (a common option in my hometown since venues are hard to come by). The house sat perched on top of a hill with beautiful views of the ocean, vineyards and mountains in each direction.
The rest of the wedding was 100% DIY… from the flowers to the cake to even asking close friends to DJ. We loved keeping it homemade and adding special touches that personalized the day and kept our guests comfortable. The goal was to create an atmosphere that captured a whimsical and romantic celebration.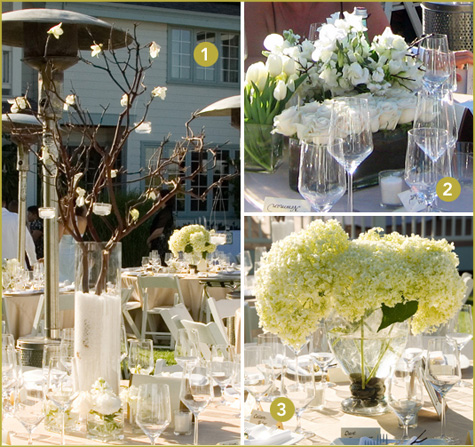 Designing the day was my favorite part – we had to really get creative to come up with classy and outdoor-friendly décor on a budget for a party of over 250 guests! Because we were starting from scratch, we rented everything from the pale pink tablecloths to the forks – that helped us to price out each and every detail so that it fit our budget.
I found vases in various sizes on ebay and craigslist and created three separate centerpieces to accommodate the finds. Two days before the wedding we went down to our local wholesale florist's warehouse and scooped up everything in all white (don't worry, we gave them a heads up). Without being too picky on the type of flower and instead concentrating on the color we were able to say within our budget.
To sum up my favorites:
1. Handmade manzanita trees with dendrobium orchid blooms wired to the branches (sitting in pool/chlorine grade salt from Home Depot)
2. White roses in floral foam and sand (straight from the beach), bunches of tulips grouped together, and vases filled with an assortment of rununculus, mums, sweet peas, stock and lisianthus
3. Garden hydrangea hanging out of fish bowl vases with river rock fillers (from Home Depot)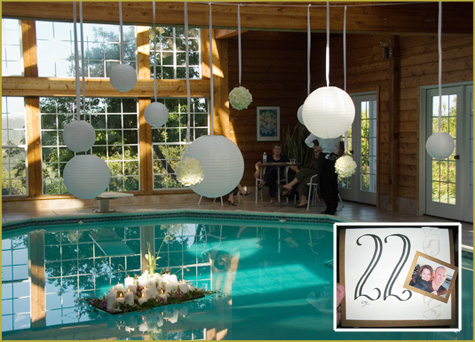 The home had a beautiful pool house that we covered with white paper lanterns and floral balls (fake flower blooms from Michaels poked into foam). The floating candle island in the center was built by my brother, who used kick boards to keep a piece of plywood covered in candles (securely nailed down) and flowers afloat.
To mark the tables, we used leftover paper from our invitations to create table numbers that corresponded with a picture of each of us at that age.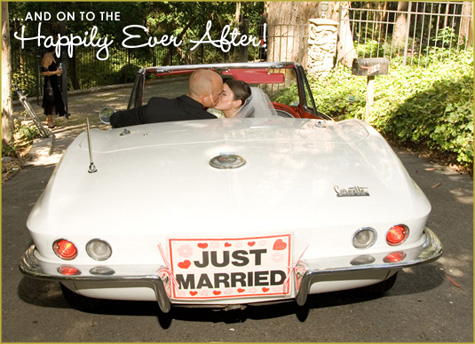 MANY more photos and all of the gushy details after the jump…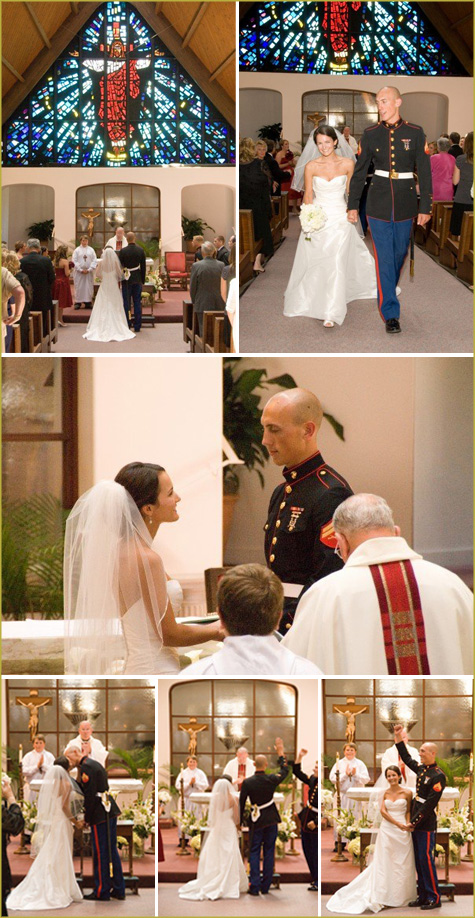 Let's start at the beginning… we were married in a traditional Catholic ceremony at my hometown Church in front of family and friends.
My husband was an active duty Marine at the time and chose his dress blues for the ceremony, he later switched over to a handsome tux for the reception.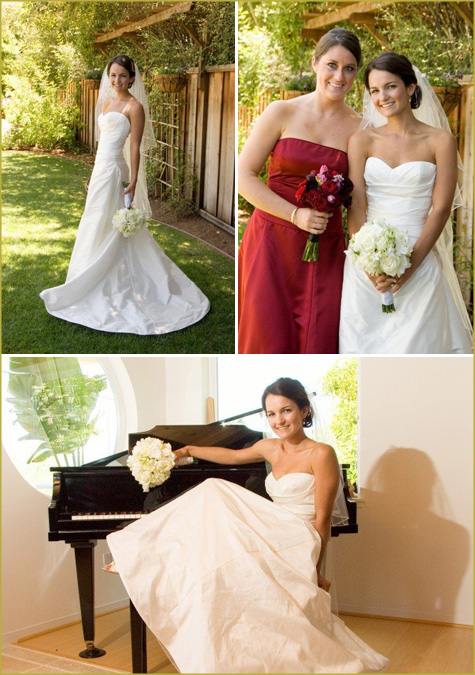 For the special day I wore a white organza Pronovias dress with a sweetheart bust line. I absolutely adored this dress.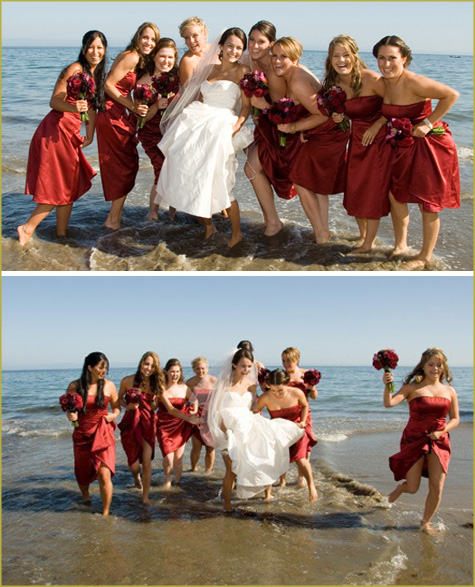 I grew up by the ocean and we chose a local cove for group pictures – I was very close to drenching my entire dress on a few occasions!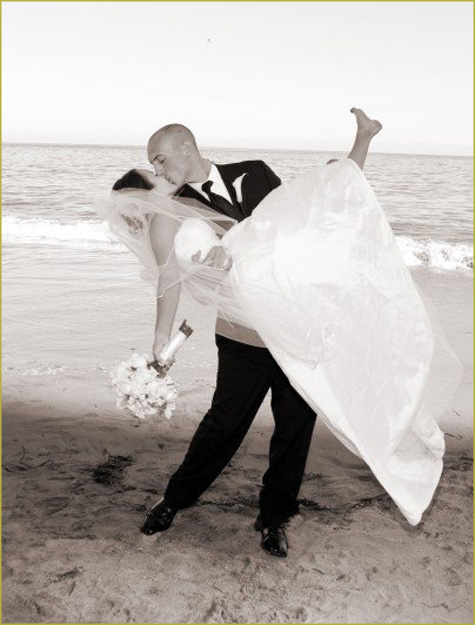 One of my favorite shots has to be this quick dip that the hubby gave me just before we walked back up to the cars.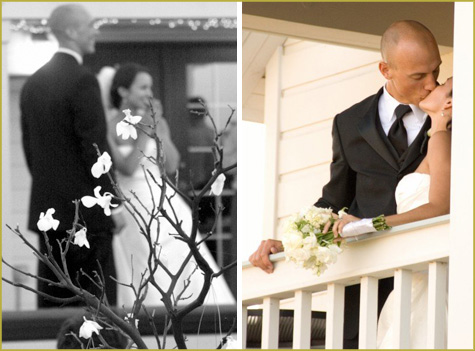 Despite all of the hard work, long days and sleepless nights arriving at your own wedding reception is pretty stunning. It's wonderful to be surrounded by close family and friends in your dream setting to honor such a special occasion!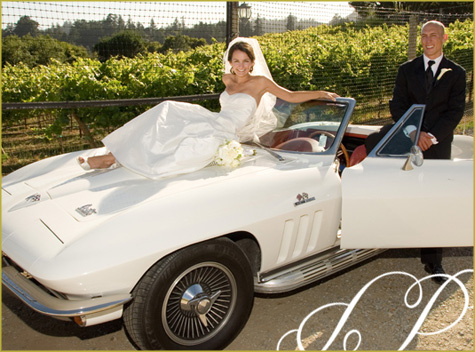 A quick shot of us outside of the vineyard… don't tell the owners of the car! We borrowed this beauty from a friend and it worked out be the perfect way to get to and from each location. I loved having a few alone minutes between the rush of events.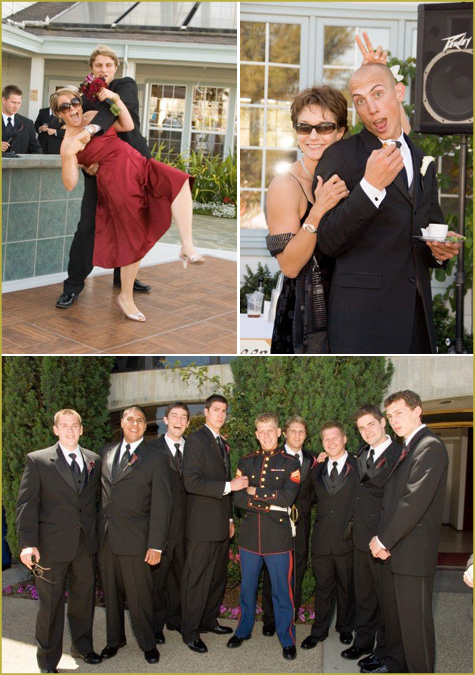 The groomsmen looked dapper in their black tuxes with burgundy calla lily boutonnieres (handmade and super easy to do). My mom (pictured top with Kevin) looked beautiful as well.
We asked our good friend Ted to honor us with the First Dance by singing 'I Want to Grow Old With You' by Adam Sandler. He turned the usually playful song into a sincere and beautiful rendition that still makes me cry. I also took a spin with both my Dad and step Dad for the father-daughter dance.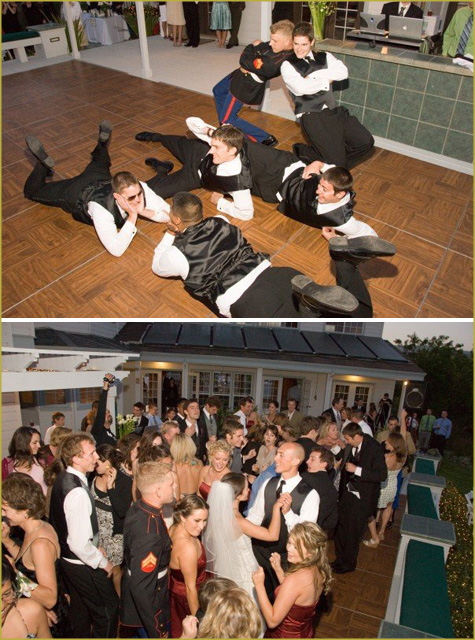 We had wonderful toasts, a delicious meal and plenty of dancing! The groomsmen started us off with a special 'It's Raining Men' choreographed dance that had us all in stitches!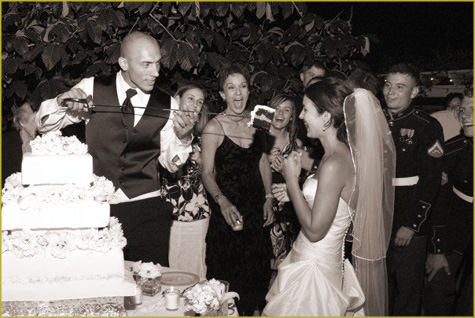 I have always dreamed of baking my own wedding cake… and what the undertaking it was. The final result was a three tiered rich chocolate cake with an espresso ganache filling. I rolled out huge sections of white fondant to completely cover each layer and asked a friend to use lots of extra fresh flowers when she set the cake up the day of. To keep it as fresh as possible, I baked and built the entire cake two days before the wedding. To give the cake extra height, those are faux layers you see separating the actual cake layers. I used foam core and wooden dowels covered in fondant to achieve the look. I still can't believe we pulled it off! Here's Kev using his military sword to cut the first slice.
To supplement the cake, we also designed a dessert bar and honored each Grandmother from each side by serving a favorite cookie recipe. I used vintage apothecary jars to serve bulk candy and goodies (where did that picture go?).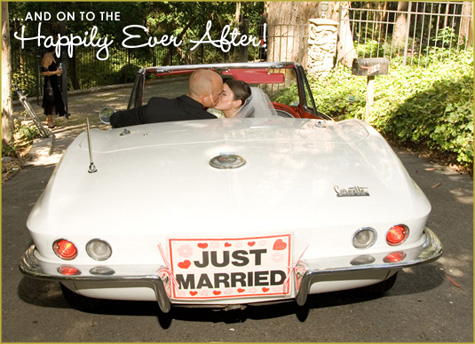 It was such a wonderful day! I loved every minute of it and all of the hard work was well worth it. We relaxed on a week long honeymoon before Kevin was deployed to Japan for six months… and that's how we began married life just three years ago.
For more pictures, here's a link to our digital wedding album by the wonderful photographer Danny Quijano.
Thanks everyone for celebrating three years with us!
Resources: Location at Pacific Oaks Vineyard in Santa Cruz, Photography by Danny Quijano, Rental Equipment from Alexis Party Rentals, flowers/cake/decorations/music by bride, groom & friends.