Kevin and I had fun coming up with a creative way to share the big news with our family. We decided something personal would be extra special and I made onesies for each of our parents out of iron-on screen transfers and singlets from Target. It was a simple and fun way to share the surprise – but I know each member of the family loved their own onesie and is looking forward to a future grandchild to fill it!
At top, we have my step Dad who is excited to bring a 'Future Trojan' into the mix (I graduated from USC), my Mom who owns her own martial arts studio loved her 'Sifu-Ma' (Sifu is a term in Gung Fu and a play on Grandma) onesie. My Dad was behind the camera and we missed a shot of the 'Future Traveler' onesie.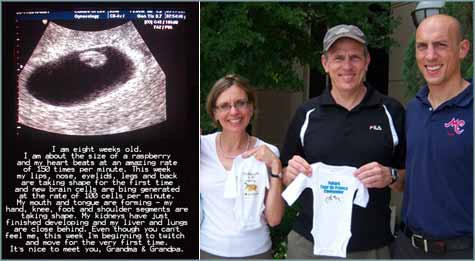 We celebrated the big announcement with my in-laws while at a family graduation. Here is my wonderful mother-in-law with her 'Future Michelangelo' onesie (she's a fabulous artist), and my father-in-law with his Tour de France' outfit (a big biker).
We also presented them each with a little visual… I created a postcard-sized note in photoshop with an early sonogram image and a description of what was developing at that moment with their little grandchild.
It was a wonderful way to share the good news!