So the living room might not be completely finished (I still have one or two pictures to hang and a bit of bookshelf organizing to complete) but I can't help but get distracted by our darn bedroom.
We've made significant progress so far on a room that needed much love. As of now the walls are a serene beige, the burgundy carpet is gone to reveal 1930's wood floors and the furniture is all but picked out and loaded with clothing. But on the decor end… there is much to be desired.
Let's start at the beginning: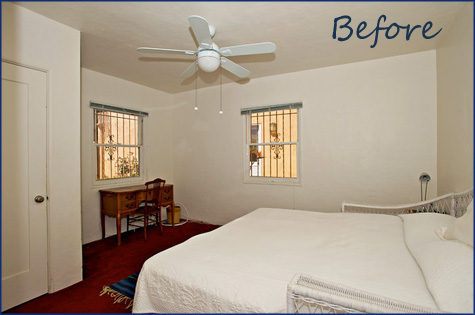 There she is right before we moved in. All of the above furniture belongs to the previous owner and we have since gotten rid of those metal grates on the windows as well as the vinyl shades.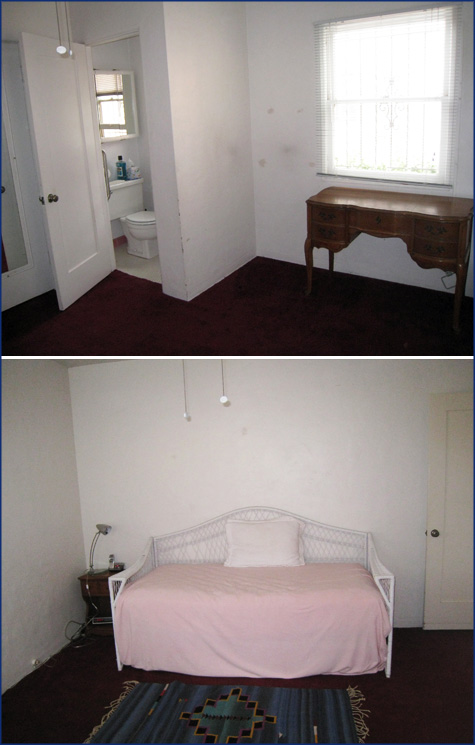 Yes, that's a bathroom in that top picture. I wouldn't call it a master bath, per se, but we're attempting to make do with what we've got (currently it's known as the 'man bath' since I hardly have the elbow room to blow dry the hair let alone spread the morning make-up all about). Here's the other full bath in the house that we recently updated. We have big plans on building another bathroom for guests and connecting the current full bath (to be remodeled…) with the master bedroom – but that's on the schedule for this fall.
Until then, let the bedroom decorating begin!