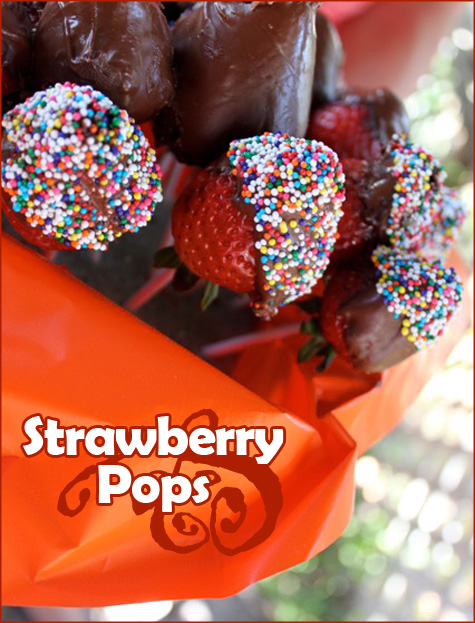 A girlfriend of mine recently threw an adorable 1st birthday party for her little girl. I debated for a while over what dessert I could help contribute… the end of summer called for something fresh & delicious, and my schedule for the day called for something easy & quick (I made the birthday girl's first chocolate cake that morning – so my time crunch was tight!).
Chocolate dipped strawberries would be amazing – but where to find those beautiful big strawberries with the full stems (often the brand used for dipping) last minute? After digging through my cake decorating  box and coming across a bag of white lollipop sticks, I found the perfect solution.
********************************************************************************************
Chocolate Dipped Strawberry Pops
z
Ingredients: strawberries, lollipop sticks (from your local craft store), foam for cooling, chocolate chips, 1 tb. butter per 12 oz bag of chocolate chips & rainbow nonpareils (round sprinkles)
1. Poke each lollipop stick through the stem end of your strawberries. When your entire batch is ready, pop them into the freezer to keep the sticks from loosening (an hour or so should do it).
2. Warm your chocolate chips and butter over a double broiler until melted (stirring constantly). Prepare your sprinkles by pouring into a small bowl (shallow enough for dipping).
3. Dip chilled strawberry lollipops into chocolate and immediately into sprinkles. Poke right side up into foam to harden. Refrigerate until ready to serve!
I'm working on DIY artwork for the bedroom now… it includes an old dresser mirror, cork and a vintage map. It's a neat project! Stay tuned.