Week two of building-a-kitchen-from-scratch is coming to a close… this week we made progress on the electrical work, reframing of main wall, addition of sheetrock and installation of a new whole-house fan – and it looks great!
See 'before' den pictures and a break down of week one here.
I'm so proud of Kevin – it has been his week! He's on fire. As an architecture student that loves to get his hands dirty, this kitchen has been his baby from the start. With the exception of the electrical work he's completed 99% of the project on his own (don't worry, he has experience working on all of the above) and his buddies have been more than helpful.
Let's take a look:
Day 7, 8 & 9: Install electrical wiring for kitchen outlets and appliances, put can lights and pendant lighting up and install switches. Clear out old framing material (see those thin wood strips lining the walls? Our home has original lithe and plaster walls – some of which badly needs replacing).
Install whole-house attic fan (we live in a temperate climate that calls for AC only a few weeks out of the year. This new fan circulates air in the attic and can cool the entire house down in minutes – plus it saves major dinero since we're not running the air conditioning all summer long). Our cabinets have arrived too! There they are in that middle picture, all stacked and ready for install.
Day 10, 11 & 12: Install insulation (believe it or not none of the house is insulated, it's too old. This will be the first room!). Put sheetrock up along walls, and finally up on the ceiling.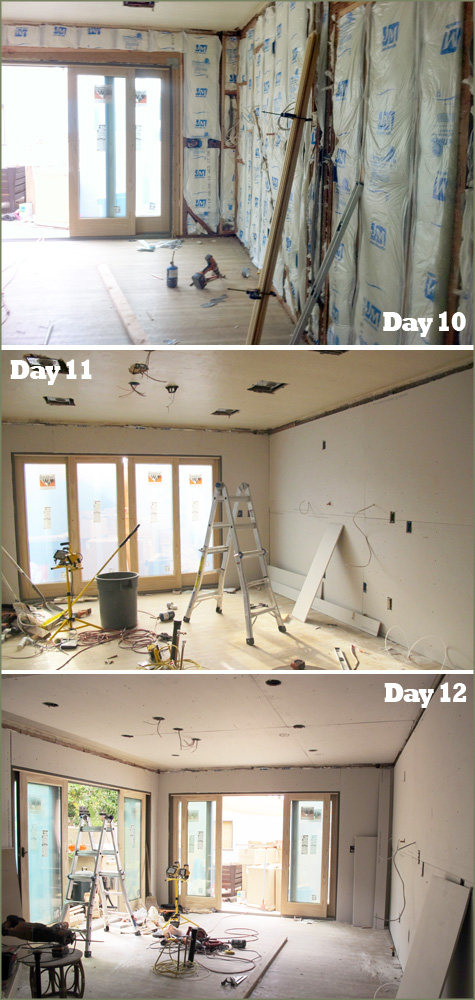 12 days down and we are on time and on budget to complete the new kitchen by October 1.
Next up: have tile delivered, order selected counter tops (Hanstone quartz counter tops in Tiffany Grey) and pick out backsplash for behind the counters.
We're taking the weekend off from construction and heading out to Arizona for a baby shower with Kevin's family – Happy Thursday!