Halloween is creeping up on us! It feels like I just began decorating for fall and it's already time to update the home with a few frightful features.
I spent Saturday garage saling with a friend for Halloween DIY project finds to add to the mantel, porch and throughout the house. Before I start out for any kind of shopping (especially thrift) I like to keep an inspiration board in mind to help focus my search and get the creative juices flowing. Here's what I assembled for the weekend: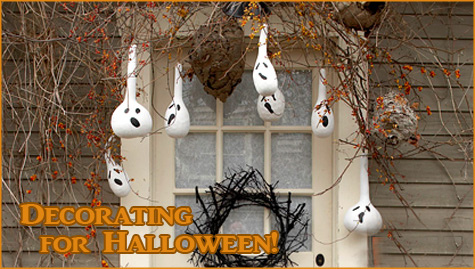 Picture frames and mirrors that are already hung around the house provide a great opportunity to incorporate cut out shadow shapes, creepy eyes and even tempura paint (which washes right off) in the shape of ghosts. I'm a big fan of glitter this fall as well – I'll see if I can't find decor ready for a diy coat.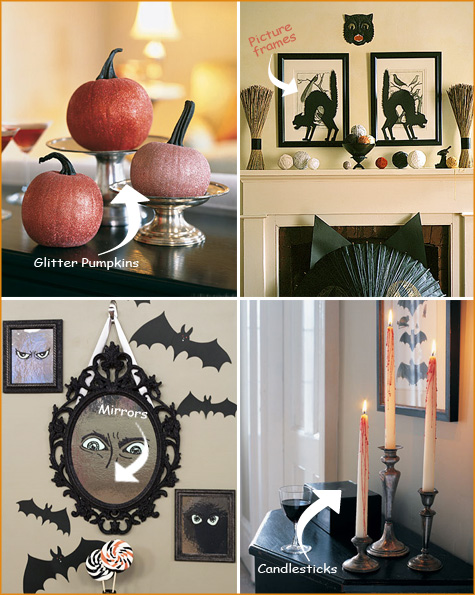 I'm also looking for anything that can be spray painted black – there's something especially Halloween-ish about candle sticks, ceramic animals, pumpkins, lanterns, votive holders, skulls, spiders and the like when coated in a flat black and covered in cobwebs.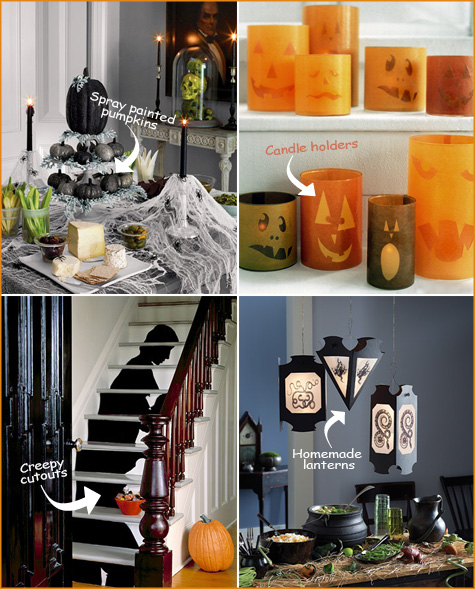 I'm on the search for creative ways to incorporate creepy shadows. Lining the inside of a lampshade with black cut out bats is a fun way to do this (when the light is switched on your bats dance on the surrounding walls), but why not line candle holders, lanterns and windows with fun shapes too? I love the tissue paper candle holders above – just be sure the tissue paper is on the outside of the glass!
Will be sharing all of my finds soon – it was definitely a productive day searching and my living room mantel is nearly finished. For more inspiration, check out this great link party at The Stories of A to Z showcasing dozens of blogger & reader mantels to peruse. Happy Monday!
Images: Better Homes & Gardens, Martha Stewart