This past weekend we pulled out our warm scarves, visited a local pumpkin patch and sipped hot cider – it was the perfect fall day! It was also our first day of San Diego rain. Well, not so much rain as a heavy drizzle that lasted most of the afternoon.
But that means just one thing – fall is officially here in full swing and I'm ready for movie nights curled up by the fireplace with a cup of hot cocoa! That and the opportunity to wear wool, heavy knits and leather boots.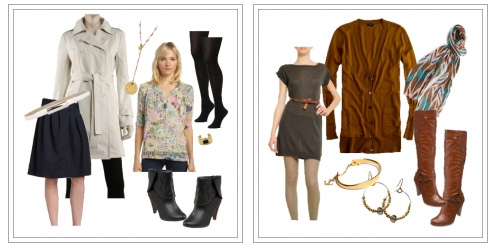 Three new looks for fall:
Board #1: It's still wavering around the mid 60's in San Diego which means warm tights paired with a belted wool skirt and tucked in blouse (covered by a timeless trench) is ideal for the workday.
Board #2: While I love the growing belly, I think what I miss most from my closet is the opportunity to belt long cardigans, sweater dresses and lots of layers together. I love the shape of this particular sweater dress and the mix of brown, olive and grey pulled together with an ikat scarf. Add a simple gold cuff (I actually just added this staple to my collection and really love it) and hoop earrings for a soft fall look.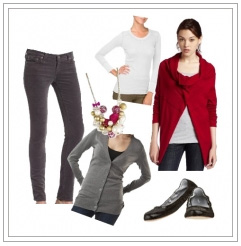 Board #3: Last but not least skinny cords, sparkly ballet flats and colorful outerwear over a few warm layers is perfect for a day of errands around town. Top with a bold necklace and enjoy.
Oh fall! So happy you're here. A full page of style boards and their sources/pricing (including the above) here.