Hope you had a lovely weekend! We enjoyed our camping trip and the beautiful weather this past weekend brought. Saturday was spent enjoying the sunshine, a few water sports and delicious campfire foods such as – my favorite – s'mores.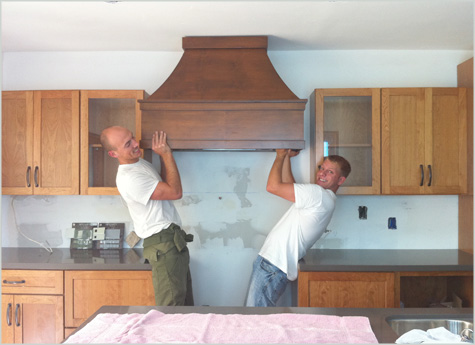 But then it was back to work…
Over the past six weeks we've been diligently working on upgrading our teeny tiny kitchen into a modern Spanish version to fit our 1930's Spanish home. And we're that much closer! (Here's a look at update 1, update 2, update 3 and our inspiration board.)
After much deliberation between many different materials for the new backsplash, we decided that a glass tile in kiwi green would fit the look we were hoping to achieve. Our latest dilemma has been to determine the best design for the large space between the cabinets – subway tiles would provide a traditional spin on a more modern material (helping to blend that historic-meets-21st century look we love) but 1″ tiles mixed in might break up a wall of solid tile that's on the verge of too plain.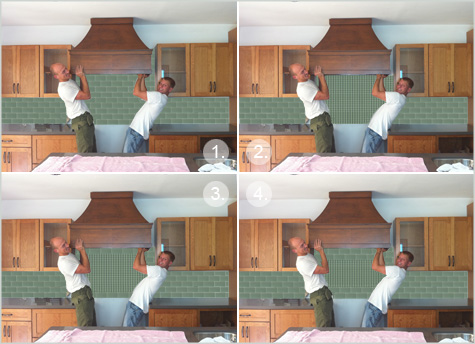 Here's Kevin and our friend, Dave holding up the new hood prior to installation (isn't she perty!). A few quick photoshop renderings helped give us a visual of the four backsplash designs we're deciding between:
1. Solid subway tiles – a clean and polished look that we love.
2. Subway tiles with a 1″ tile inlay that would sit right behind the range, perhaps providing a 'pop' for the stove area?
3. A boxed in version of #2 – this design would outline the 1″ tiles in a single row of subway tiles.
4. A beefed up version of design #3 using two subway tiles to border the 1″ tile rectangle.
We sat on these images for almost a week to make sure that our final choice was a well-thought out one. And I'm happy to say that Kevin just finished the last of the installation! I can't wait to show a full update of the past week or so of work. Stay tuned…