This might be the OCD in me but before the big transfer of kitchen supplies from our old kitchen to our new kitchen, I've been drawing out little diagrams on how to fit and cajole our entire pantry, bins of baking supplies and cabinets of pots and pans into the new space.
Our current kitchen is teeny and up until recently I've been storing the rarely-used tools in the garage. Even so, our countertops now are often over crowded with every gadget that we actually do use on a regular basis, such as the blender, crock pot, toaster oven and coffee maker (those 1930's cabinets are so shallow even storing a blender in them was out of the question).
And then of course there's the magic 'kitchen triangle' that every kitchen planner recommends for creating a conducive cooking space – your most frequently used kitchen areas (aka the fridge, sink and stove) should fit the points of a triangle with as close to equal sides as possible.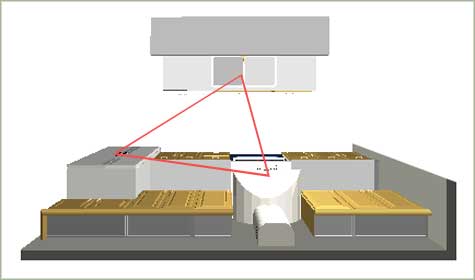 That's an early rending (before we changed the counters a bit) above showing our new kitchen layout.
Maybe it's because I'm over-the-moon excited to move into the new space (even though we have the backsplash to grout, the appliances to install, etc) but the anxiety of filling each and every cabinet and drawer with the right tool in the right location leaves me with this layout: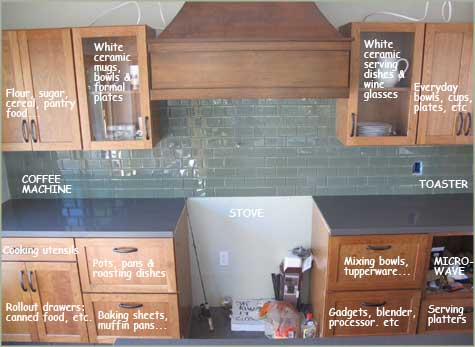 One day we hope to add a pantry to the opposite wall (past the windows), but until then we'll be skimming down our bags of flour, cans of soup and bottles of olive oil so that all can fit easily on two cabinet shelves and in two roll-out drawers.
And for island storage: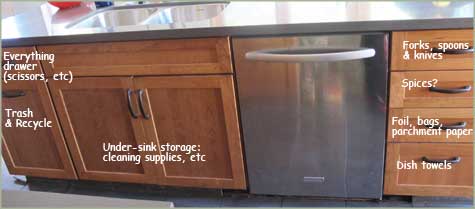 So that's the plan that I'm sitting on now. Meanwhile my dishwasher is working non-stop as I rewash every utensil and cup before it finds a home in it's new location.
But I'm curious to know – do you have any more tips for me? Do you line your cabinets with contact paper or rubber mats? Do you swear by any sort of drawer inserts for organization? And where do you keep your forks in relation to everything else?