We won't be adding another full-size bedroom to our house any time soon. Well, we have an office/guest bedroom to create but it will likely be more office than bedroom so that doesn't really count. BUT I was in the mood to experiment with some of my recent favorite finds, and if I could add a bedroom this one would be dreamy!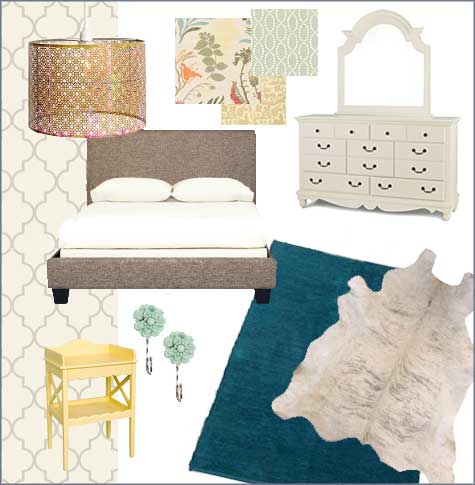 Caroline Bed – Urban Home $399, Recycled Metal Etch Shade – Urban Outfitters $49, Cowhide Rug – Urban Home $249, Savannah Dresser – JC Penny $469, Chenille Rug – Urban Outfitters $168, Trellis Wallpaper – Ballard Design $119, Elizabeth III Side Table – Ambiente, Beaded Flower Hook – Urban Outfitters $8, Pearl Trellis Fabric – Thibaut, Garden Envy Gardenia Fabric – Calico Corners, Chestnut Fabric – Thibaut
It's a bit modern, a bit whimsical, and exactly what I'd try out if we lived in a little cottage or even a city loft. I love the idea of using peacock blues with yellows, golds and LOTS of naturals. The fabric bed is a personal favorite! Especially at that price (did you notice that crazy price?!).
Mixing country cottage chic (aka side table & dresser) with the clean, modern lines of the bed and pendant light softens the entire room. And to paint a few pieces of furniture a bright color like that yellow! Love that. The fabrics (in throw pillows for the bed, maybe?) bring in more playful patterns that pull together all of the room colors and compliments the trellis wallpaper (that would look great along just one wall). The other walls I'd leave white. Ahhh sweet dreaming.