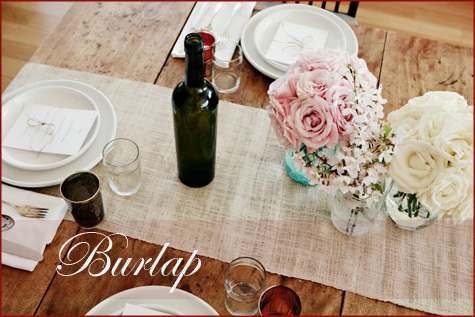 I've always loved the material burlap. It's coarse and can be difficult to work with (all that unraveling…), sure – but when you're in need of a quick and easy classic look burlap never fails.
My favorite burlap accessory is a simple table runner. Burlap has a country/rustic appeal that works beautifully in vintage  tablescapes, but I've also used burlap squares under elaborate wedding centerpieces or straight down the Thanksgiving table with all of the festive and fancy dishware.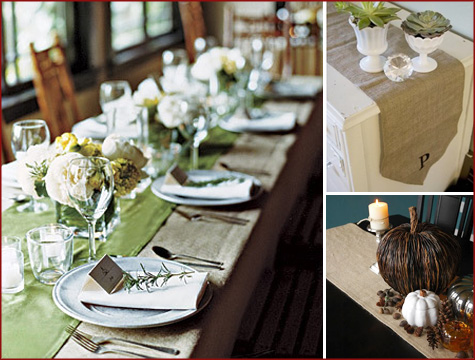 Burlap is a really inexpensive material – head down to your local discount fabric store (mine sells it for a mere $2-3 yard) and cut desired strips for your table. You can throw a quick stitch on the end in a contrasting color (such as the below image to the right) or purposely fray the edges as I always do. Voile! Instant eye appeal for the table.
If you're planning on making napkins, I'd upgrade to a higher quality burlap or even a faux version (such as a cotton look-a-like).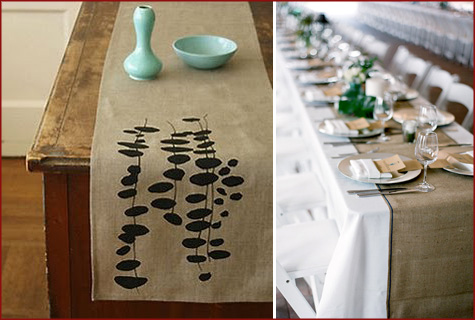 Inspiration from top: Apples and Onions, Living with Lindsay and Style Me Pretty.
What's better then a strip of plain burlap? A quick applique or stenciling to create a truly unique look: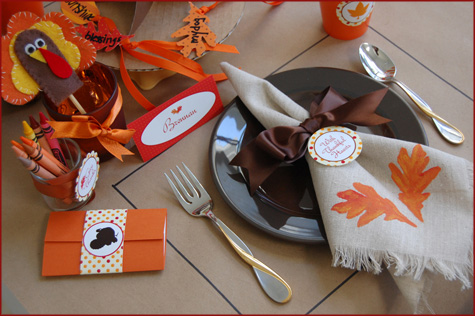 Frog Prince Paperie gives a tutorial for updating standard square napkins – this would look beautiful as a design on the table runner, too!
Thanksgiving is overwhelming enough, keep things simple this year and create a classic tablescape out of floral blooms (paper, fabric or fresh, cut right at the neck), butcher paper and stenciled burlap napkins. I love this beautiful and easy inspiration: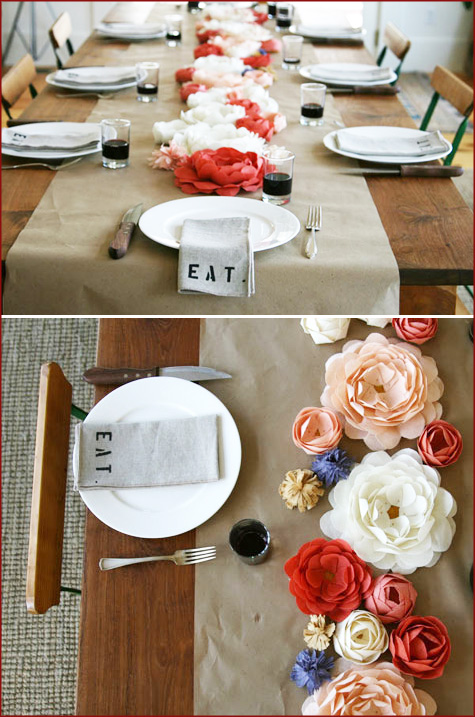 Flowers by Emerson Made.
Happy Monday! Kevin and I are celebrating a 'Babymoon' in Palm Springs today, there's nothing like disappearing from work for a day to spend time together and to soak up some belly rays. We are overdue! (Plus we figure we'll be over-the-top too busy to fit in anything like this in a couple of short months…)