These last few weeks have found us in the land of 'little projects'. You know, those projects that take just a couple of hours to tackle and aren't that exciting, but make a difference just the same? Truth be told, the kitchen reno has halted a bit while we use spare weekends to tear apart the future nursery and to finish other minor updates.
But we did make a bit of progress that I'm anxious to share with you – and the goal is to have a working kitchen in just a few short days! We initially went into the makeover with the hopes of completing it – start to finish – in 30 days. Not 30 straight days – but 30 days of dedicated work. Here's a quick post line up of days 1-6, 7-12, 13-19, 20-28, plus the inspiration board and 'before' pictures.
And now for days 29 & 30: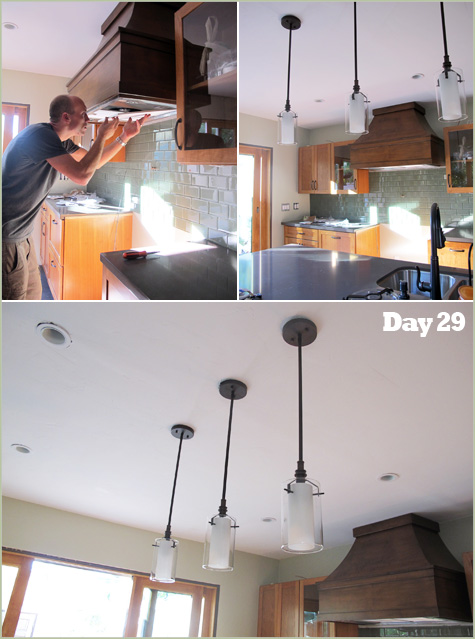 Day 29 was devoted to the light fixtures and a working hood over the range. Because the kitchen was built out of an old bedroom, we needed to cut new vents and airways for additions like a hood range (and pretty much build the rest from scratch). When it came to tracking down hanging pendants that we both loved, we found the perfect set at Lowe's (for a great price) despite much online searching. They have that Spanish feel without feeling too rustic and we love how they look with the other dark metals in the room.
By Day 30, Kevin was ready to install the molding around the doors. He placed special orders for the same stain as our cabinets from the manufacturer (Kraftsman) and the same wood (pine) as the doors and windows. Then he painted, planed and installed the flat molding around the edges – we have plans to do the same for the floor boards and cabinets.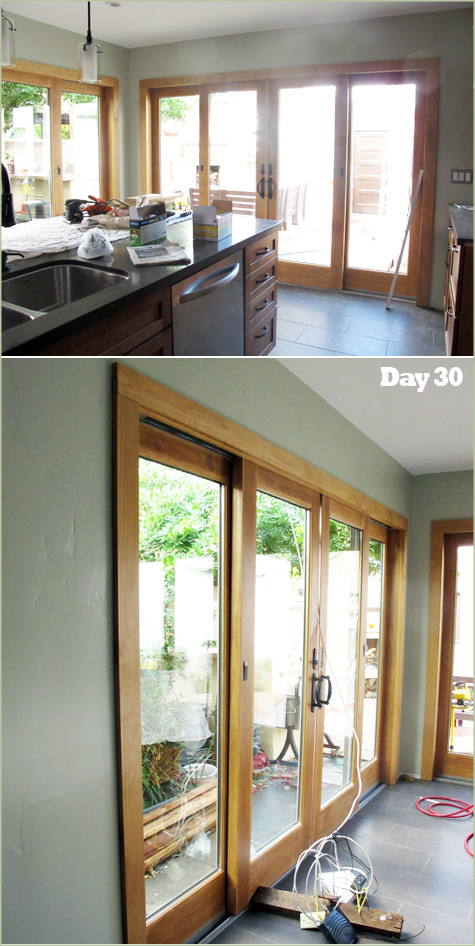 That brought us to 30 days of labor (over the course of three months) and so sadly we won't be hitting that dreamy deadline… but hopefully it won't be much more than a few extra days until we cross the finish line! Our list of little projects is growing, but the determination to get everything wrapped up is hugely motivating.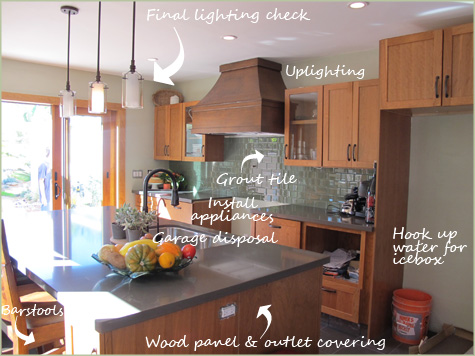 A few of those little projects include: installing appliances (as well as connecting to gas, water, etc), adding finishing cabinet touches (such as molding, uplighting and cabinet can lights) and modifying our current Craigslist barstools to fit the new counters (a couple of inches off of each leg and new cushions ought to do the trick).
We'll keep plugging along over here and hopefully after the Thanksgiving weekend we'll be able to show off a brand new space!