Project Nursery is well underway – we have four weeks (if babe decides to come on his/her due date) to button up this space and I'm all too anxious to get it finished.
The gender-neutral color palette is tan, brown and red with splashes of aqua, yellow and other bright, cheery colors. We decided to work with darker furniture since we were planning on incorporating an already owned dresser (Craigslist find) and Expedit bookshelf (Ikea). Here's a rough idea of what I envision: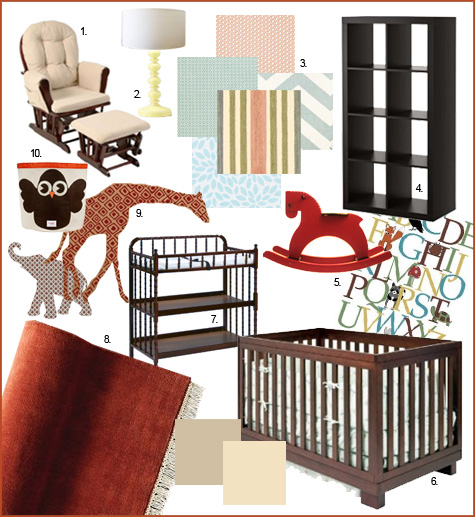 Nursery breakdown:
1. We were gifted this very comfy Stork Glider and in order to save that nearly-white fabric (as well as add pattern to the space) I'm hoping to create slip covers in an aqua print. That way I can pull the covers off for a quick wash should spit up or other fun liquids find their way onto the cushions.
2. A fun, bright lamp like this one from Cape Cod Brass would be a great addition.
3. I'm loving these soft pastel prints by Thibaut, Dandi and Serena & Lily – they would look lovely as curtains, bedding, fabric book pouches or as a valence in the room.
4. Back in May I made over an everyday Expedit bookshelf from Ikea by adding fabric to the backdrop, it has now found a new home in the nursery!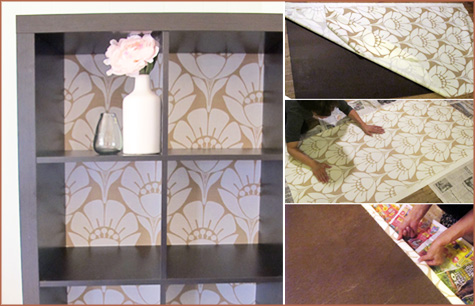 5. Vintage accessories in the form of rocking horses, wood blocks and prints are timeless and full of character – I'd love to weave them into this space.
6. With so many recalls and warnings out there we chose our crib through careful consideration and after much research. This Babyletto is a 3-in-1 (grows with baby), is environmentally sound (sustainably harvested wood) and passes all safety standards (non-toxic finish, lead & phthate safe, JPMA certified and tip proof) plus it's extra wallet-friendly (considering all of it's features)!
7. While most of the furniture has a contemporary/clean lines look, I'd like to add this Jenny Lind changing table to mix things up. Maybe with a coat of paint?
8. The biggest dilemma of designing this room? The rug, actually. I really struggled with what pattern of rug to shop for – with our new striped wall a striped rug felt a bit over the top, and without knowing baby's sex, patterned rugs screamed too feminine or too masculine. When I found this burnt orange/red rug on eBay by Pottery Barn, I fell in love. It was a solid, bright pop of color made of soft wool that was comfy enough to crawl around on and sturdy enough to last years. Then I was outbid of my budgeting range (and the rug is discontinued by PB) so I'm back to square one. Do let me know if you see something similar! We might have to find a more neutral option soon…
9. Animal decals on the walls would really liven up the space, Inke from the Netherlands has the neatest selection of vintage wallpaper options but I think this would be a fun DIY project too! (Thanks to Kelsey, a reader who emailed with the source!)

10. I love the idea of fabric storage bins to organize toys, blankets and even laundry. These animal-themed bins by 3 Sprouts over at Layla Grayce are adorable! If I can find a neat way to build my own out of canvas bags I just might take this on as a DIY project too…
And there's the space! Let the shopping/assembling/crafting begin. Here's a quick link to the other Project Nursery posts: Inspiring Rooms, Striping an Accent Wall and the Before Pictures.
PS Don't forget to enter the Tiny Prints (for adorable Holiday cards and other invites/announcements) giveaway! Ends tonight!