Budgeting holiday gifts into the months of November and December can always be a little tricky… I thought I'd share a few fun discount resources that I've been taking advantage of in preparation for the season:
Have you heard of Groupon? It's a great program where local businesses offer a HUGE discount each day for subscribers. I've purchased countless gift cards to my favorite restaurants, shops (even big retailers like Nordstrom Rack and Gap) and boutiques (two relaxing maternity massages, to be exact) at 50-80% off the usual price.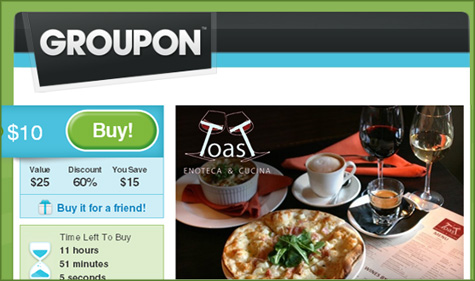 It's a super cost & time-efficient way to knock out the Christmas list and to explore your home town.
Gilt selects a new group of designers daily with crazy discounts off of clothing, shoes and even vacations. I've purchased a favorite pair of jeans, several cute dresses and a few baby gifts from the site – and when Kevin and I took our one night Babymoon trip to Palm Springs we had purchased the hotel stay through Gilt at a killer rate.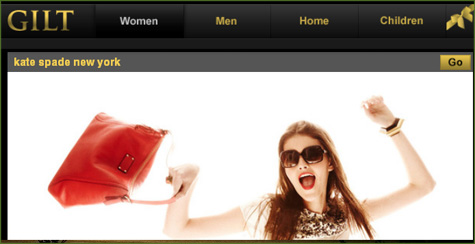 One Kings Lane offers designer home decor and other gifts at a steal of a price. I wasn't familiar with Melissa & Doug toys until a friend shared the brand with me (it has a heavy focus on developing fine motor skills and fits that vintage/old school quality toy feel) and now I'm scooping up a handful of these heavily discounted pieces for the new babe (even if they won't be able to use them for a year or so…).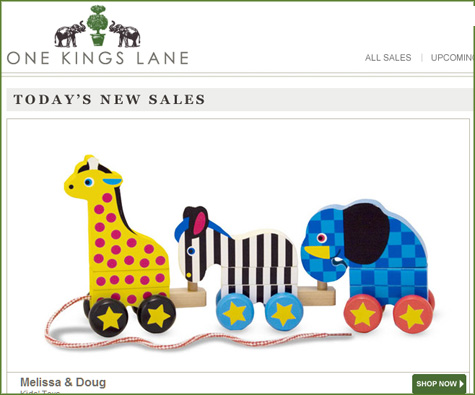 Ruelala is similar to Gilt it's a clothing, shoe & home decor online boutique with big discounts. I've found a few cute holiday dresses here that I love!

*****************************************************
A few additional money-saving tips from The Knot:
Give the Gift of…You Instead of scouring the (sale) rack for something your sister won't hate, give friends and family members a coupon good for your time or skills. Maybe your sister and her husband get free babysitting, and your mother-in-law gets lunch (which she'll probably relish a lot more than another scarf). If you're an accountant, offer to do your parent's taxes for free this year. You get the idea….
Time Yourself Newsflash: The longer you linger in a store, the more moola you'll probably spend. To avoid impulse purchases, set a time limit before you hit up the mall to hunt for gifts.
Score Free Shipping Streamline the gift-giving process this year by shopping online. Most retailers will wrap and ship your presents for you, and they often offer free shipping during the holidays (find a list at FreeShipping.org).
Never Pay Retail Before you start your holiday shopping, check RetailMeNot.com or MyBargainBuddy.com (there are so many out there) to find promotions and deals for a wide variety of retailers, ranging from Best Buy and Pottery Barn to Gap. Found the perfect gift but it's a little out of your price range? Register it at ShoppingNotes.com, and they'll email you when it goes on sale. (When shopping online, always be sure to google for a coupon code! Free shipping or 20% off is just a click away.)
Scan a Deal Too busy (or lazy) to comparison shop? Download the ShopSavvy or RedLaser app, and you can scan an item's bar code to see what it costs at other stores and online. If you find a lower price, just ask the manager at your current locale to match it.
Finally, one of my own favorite secrets: Amazon and Google Shopping generally offer the best deals (or compare stores for you) so don't forget to search both of those sites with your gift idea before purchasing!
*****************************************************
And there's a round-up of a few of my favorite tips and online stores to help with gift giving over the next month… gifts are far from the reason for the season but having helpful resources can sure make the task a lot easier. Happy shopping!