We've been on the search for a changing table for some time. Since the rest of the furniture in the nursery is a bit more traditional and boxy in style, I thought it would be fun to find a piece with softer lines, such as this Jenny Lind changing table: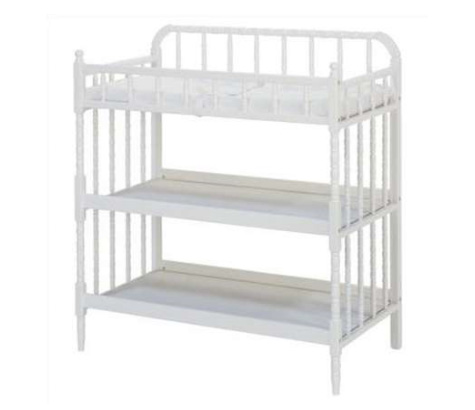 I searched and searched… and being the great price it already is on Amazon was near tempted to purchase, when it popped up on Craigslist one day for just $25!
And so home with us it came and very soon after received a coat of rust red paint. There aren't many spray paint color options out there so this little combo is actually Valspar's primer (which conveniently is a rust color) covered by Valspar's clear satin to provide that shine and function as the top coat of the primer.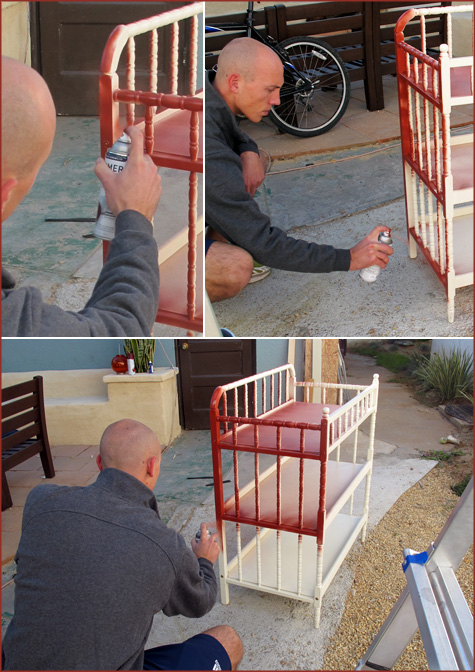 After testing in a few places we felt pretty confident that skipping the sanding process would not interfere with how the paint would adhere to the surface. I'd recommend a light buffing with rough sand paper to be sure the wood is paint-ready though. The changing table stayed painted and ready outside for a full weekend so the fumes had a chance to dissipate long before it was brought inside.
The original inspiration board for the room included browns and reds, but with the addition of the awesome animals on the walls (see more on that project here), the bright brick red we had originally envisioned transformed to a rusty, less saturated version of primary red to match.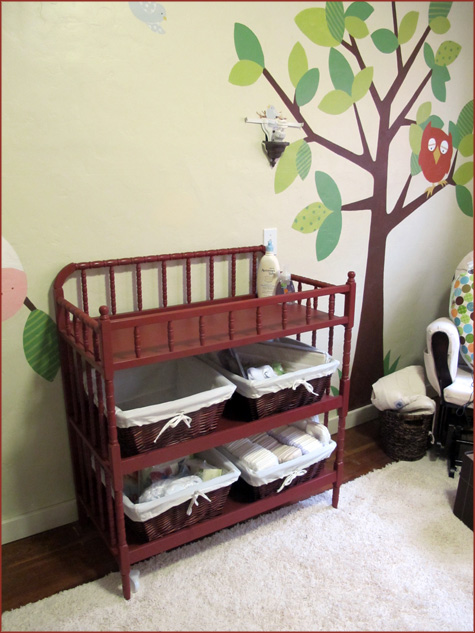 Now the table works into the palette and looks great with Mr. Owl! (That awkward sconce/light is about to undergo it's own diy project… it won't be staying like that).
Next up was finding baskets to sort all of the changing table goodies. Anyone who has hunted down the right sized baskets for a space can attest that it's pretty tricky! I checked out all of the usual hot spots: Target, Ikea, Bed Bath & Beyond, Marshalls, Kohls… you name it. Finally I took my measurements to the net and found this set on Amazon. I think it might be fun to make new patterned liners one day but for now the baskets do their job quite well: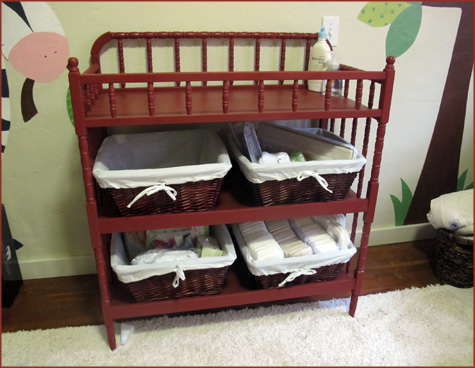 The room has received several more updates such as the new base board that Kevin installed and a white rug that helps to balance and soften the space. We're almost there!
Today's my official due date but babe is still very content and happily curled up in his/her space so we have even more time to build up the nursery in anticipation of the big arrival. We plan on keeping little one in a co-sleeper for the first couple of months in our bedroom anyhow, so even if he/she arrives tomorrow we are more than ready to go.