First, thank you to everyone for your kind comments about our growing family! It's been so neat and encouraging to read your supportive words and suggestions from the past week.
Besides a restful and wonderful Christmas break, these past two weeks have been a whirlwind between our most recent house projects, family in town and that anxious when-will-we-meet-baby feeling!
And to keep busy (above and beyond my actual work), I've had too much fun planning the new spaces and pulling together inspiration boards for what these rooms might be… but before any designing can get underway, the rooms have to be, well, rebuilt.
I last left you with this lovely image of our soon-to-be guestroom/office (here's the lovely 70s wood paneled before post):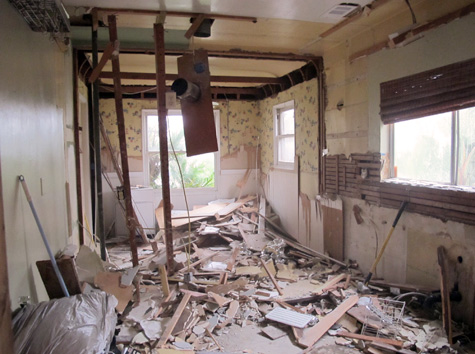 Oh boy. We bit off a big chunk of home makeover.
Just to be sure that this room was well partitioned off from the rest of the house (aka dust, debris and the like could stay contained) in anticipation for Baby Spenla's arrival, we blocked off the space just before Christmas. And then the rest of the house received a thorough cleaning to welcome in incoming family from out of town.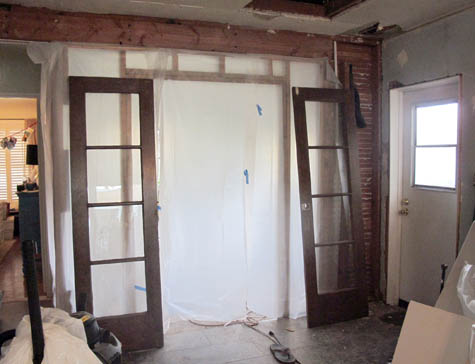 PS Do you see those great doors? More to come… but we found this pair in a local San Diego neighborhood full of beautiful Spanish homes, and the original owner was throwing them away! So of course we scooped up this set as well as a larger pair to refinish for our little Spanish bungalow. You can't beat the craftmanship of original doors and we saved ourselves a bundle with this find.
But first a peak inside the room…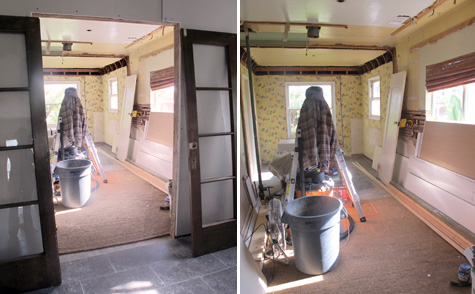 Yes! Are you noticing that wallpaper too? We revealed a real gem under the paneling when it was torn off. This must be original to the 1930s interior decor of the home and I seriously wish I had the power to scrape it off the wall and save it.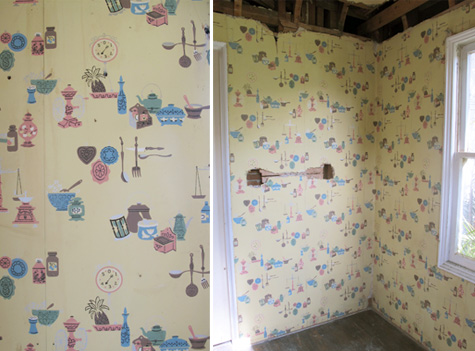 It's covered in little medicine jars, mixing bowls, weighing scales – even pineapples! It's the neatest find – but don't worry, it's not staying.
And as the baby gives us more time to finish this makeover, we'll continue to work on it. How wonderful would it be to have a completed office/guestroom before more family arrives later this month?
Meanwhile, I'm a week over due and I've received the official baby-must-be-out orders from the midwife by January 11, or it's induction time. Kevin potentially has t-minus 7 days to drywall, plaster and add flooring to the new space, but knowing him it's definitely doable (and even if Baby S graces us with his/her arrival sooner – which we would LOVE! – the room will most definitely be finished in its due time, no pun intended).