The new office/guestroom space is humming along and it's about time to consider how we'll organize this somewhat looong and narrow space. Since I hope to have it fulfill two very different functions (that of an organized and well-designed office as well as a comfy space for our guests to hang their hats) the narrow-ness (is that a word?) of the room might be a bonus in disguise.
But just to lay a little context to the gray & white diagrams below… here's the spa-like color palette I'm mulling over at the moment:

We love dark, warm furniture (as you can tell from the rest of the house) but we're playing with the idea of keeping everything white in this room… maybe.
Here's the layout that has been floating around the back of my mind since day 1: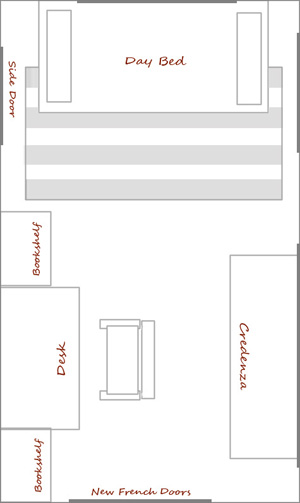 The day bed end of the room would be the bedroom and the desk end the office space. The off center french doors actually line up with the doors to our kitchen and the island, but it looks a bit odd in the diagram.
Of course a day bed isn't exactly the comfiest option for couples spending the night – and we regularly have more than one guest (such as our parents, grandparents, friends with children) so here are two potential designs that would include a full bed.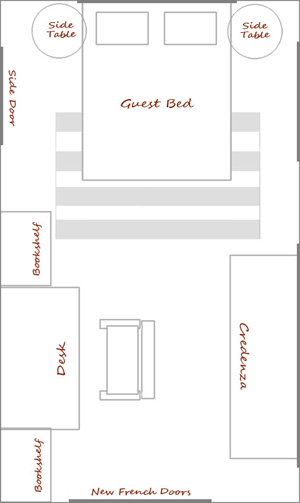 Or: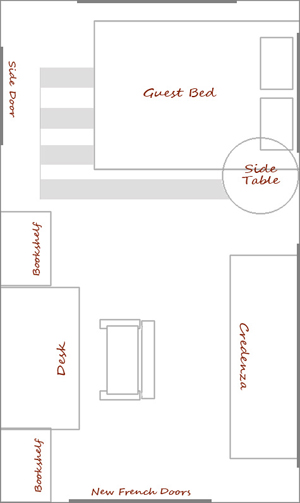 The office space portion might change as we hunt down thrift store and Craigslist finds to fit the area, but this at least gives us a list to start exploring. Ideally we could track down a set of bookshelves and even create a 'built-in' look with molding for around the new desk.
The thought of creating a more natural partition between the two spaces has crossed my mind as well – perhaps an open bookshelf or fabric screen divider will find its way into the space, as long as it doesn't compromise the little room we're working with!
Oh the decisions… back to the drawing board we go.