Since Liv is finally here and we now know that the little baby in the belly is a girl, it's time to get back to the nursery to add the finishing feminine touches.
The room is pretty gender neutral, perhaps even erring on the side of more boy-ish with its rust red accents, dark wood furniture and animal wall art (painted by Kevin's incredibly talented mom and aunt). I purposefully left several of the fabric additions – such as curtains, slip covers, bedding, pillows – until after Baby S was born so that we could use these details to help complete a little boys or little girls room.
Here's the fabric inspiration board I've been mulling over since early December: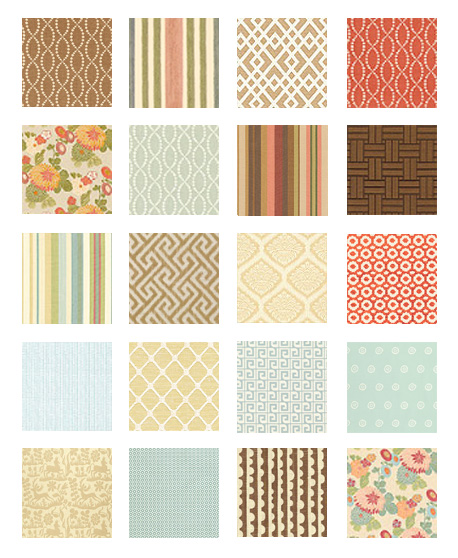 You can see that there are two distinct palettes I was leaning towards – turquoise with tan/brown/yellow/green accents if babe was a boy and coral with similar color accents if he/she was a girl.
All of these fabrics are from Thibaut, a fabric and wallpaper store I originally fell in love with after discovering their huge and beautiful selection of wallpaper (which I showcased a while back as part of the Favorite Fabric series). After perusing their website a bit, I fell for several of their prints in fabric form and I decided they were perfect for the nursery.
Now's the hard part, which fabric to use where? Which final color palette to build off of? Which patterns compliment each other without being too distracting? (I love, love mixing prints – but it's a thin line!) Can't wait to check out the samples.
If you're catching up on Project Nursery, here's a link to the vintage wall art addition, changing table makeover, nursery wall striping tutorial, painted animal project, the initial inspiration board and the before picture posts.