Hope your Easter weekend was full of time spent with family and friends! We had both staying with us for the holiday and it was a happy weekend.
Here's a quick shot of us on Easter Sunday morning with my parents who drove down from Santa Cruz, California.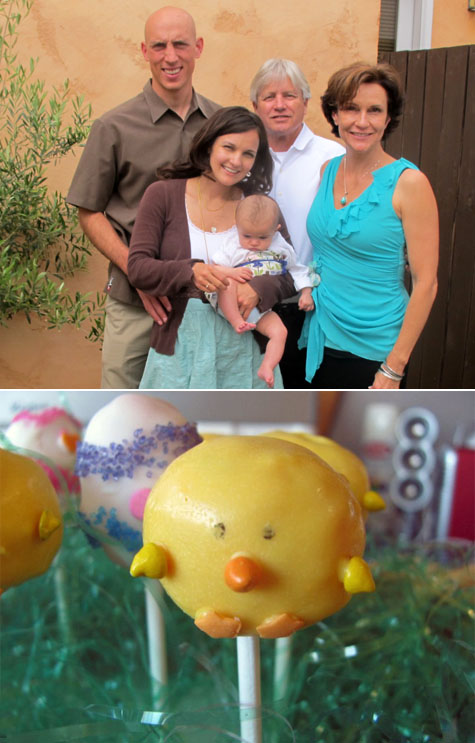 And how adorable are these cake pops? They're well worth a shout out – our friend Stephanie whipped these up to share at an Easter brunch and they turned out terrific. I have tried to replicate Bakerella's fabulous desserts but without much success. These chicks and eggs, however, take the cake.
Easter was also a deadline for the bathroom – oh how sweet to have a guest bath for the guests! But we're just a bit behind so the guests will have to wait a couple more weeks.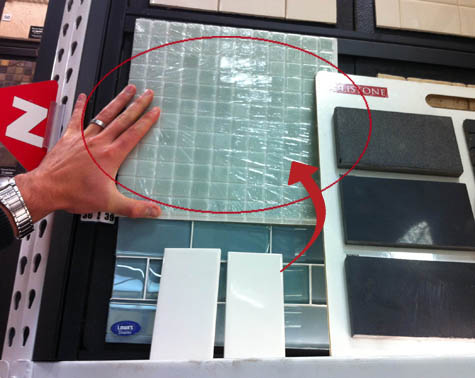 But we have made one huge step in the right direction – a commitment to our tile! It can be time consuming imagining what the final look will be for several different tile motifs, let alone making a full commitment to move ahead with a final choice (feels so permanent…). The above tile was from our original inspiration board but we tossed around 5 or 6 before taking the plunge and ordering enough Elida Ceramic Recycled Glass Tile (in moonlight) to tile the entire shower nook.
More on that soon.
Some exciting news to share – the new living room mantel made it on Centsational Girl's Best of the Blogosphere Round-Up! Check it out (and many more great projects) here. Centsational Girl is one of my daily reads, so inspiring.
But before I sign off for the day, take a look at this cute little conversation Liv and I had while she was desperately trying to distract me while I was getting some work done (she's in her little Bumbo seat):

I'm pretty sure it went something like this:
Liv: "Hey Mom, watcha doin? Are you listening to me? Can we play and ogle and coo at each other for a while? Pretty pleeeeaase with cherries on top?"
Oh those sweet eyes. And with that the computer screen closed.