Because all work and no play makes for a boring time… here's a quick round-up of a few of our busy weekends over the past couple of months. While we don't get to play like this all of the time, it sure is fun when a great weekend rolls around.
First up is a trip to our local Wild Animal Park with a few friends. We are blessed to have two of the most amazing animal habitats in our San Diegan backyard, and we try to make the most of zoo and wild animal park time whenever possible.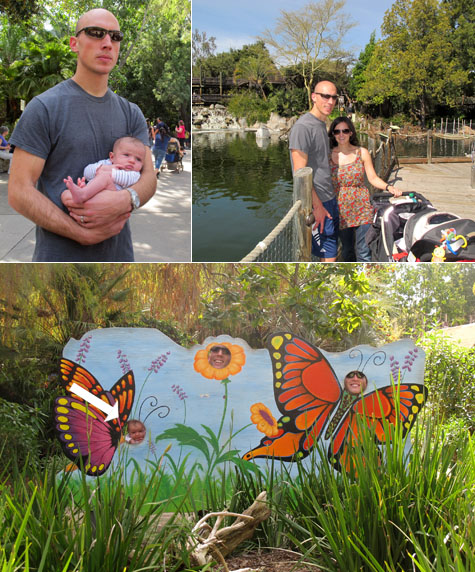 Baby Liv makes a beautiful butterfly.
We also noticed a few uncanny similarities while visiting the monkey exhibit…

She has opposable thumbs on her toes, we're sure of it (it's hard to see in this picture) and she stretches like the photo on the right an awful lot.
But I digress…
San Diego is also fortunate enough to be located just a few short hours from snow! Our local group of friends attempts a yearly snow/relaxation trip to one of the couples' family cabin (this year the snow was just barely visible) and it's always a welcome retreat. (Cabin photo on the left, cute little Lake Arrowhead village shopping on the right).

As a full time architecture student, Kevin spends much of his time dreaming up neat structural design concepts (I'm not the slightest bit jealous…) and was asked recently to compete in a regional design competition with his group! When I found out the competition would be held in San Luis Obispo (my favorite little town in the whole wide world) I begged to come along for the field trip.
'Design Village' is assembled in the rolling hills of SLO, here's a shot of us in one of the projects, of the village from afar with the 50 or so structures (whose materials were hiked in and built onsite) spread out, and a close up at #24 (a shelter that spent much assembly time in our backyard).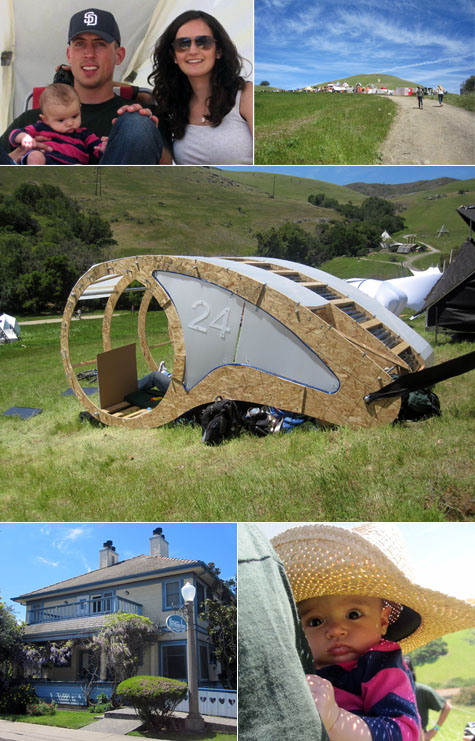 The boys camped in their structure (I wish I had a decent shot of the inside with the hammock cots and LED lighting) while Liv, my Mom (who drove down from Santa Cruz) and I stayed at a cute B&B.
As for the competition? The team placed first and second in two different categories.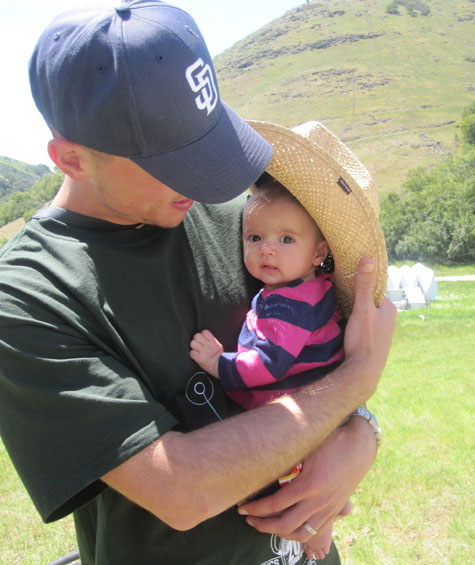 We had a really special treat just this last weekend. On especially warm days we love to sail in San Diego Bay and this past Sunday was no exception (blue skies! cool breeze! perfect). It was Liv's maiden voyage and she was equipped with the ultimate 'infant life jacket' and she was the best trooper (it was like a life jacket papoose – there was no moving in that thing except a little wiggle of the arms here and there).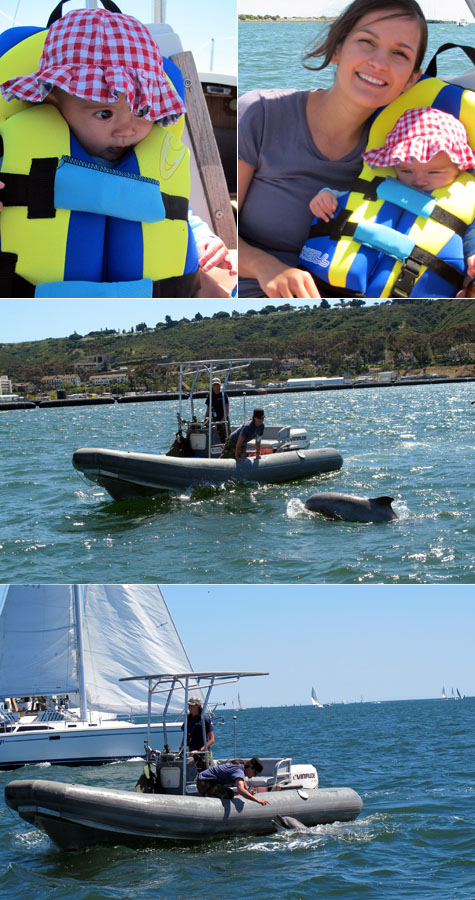 Friends of ours that train dolphins for the Navy (to help identify deep sea objects) happened to be out and about in the bay as well and they joined us for an impromptu dolphin show! So neat. Check out the video I just uploaded to Facebook.
It's been a busy past few months and I'm so grateful for good times, great friends and a loving family. It doesn't get much better than that. Now back to work I go.