Back with another issue of San Diego Magazine! It's really so fun to work with our local city publication to share design inspiration and ideas – and of course I always love to post the collages here as well because I hope they'll be equally inspiring to readers from all over!
Whether your backyard features the great outdoors or a pocket-sized patio, my contribution to May's issue of San Diego Magazine focused on all things design for lounging, entertaining and dining outside.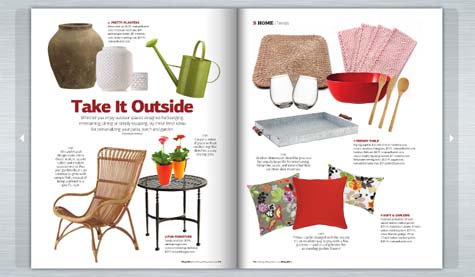 It's the perfect time of year to create an outdoor retreat – a place to escape from the hustle and bustle of everyday life and to enjoy those flowers that are blooming at their best.
I love the idea of mixing a variety of styles so that an outdoor space can grow and change with cool finds from over the years. Speaking of favorite finds, the above retro Anthropologie banda arm chair mixed with modern West Elm ceramic lanterns and a bright floral pattern (in the C&B cushions) is just what I have in mind for a cozy, eclectic personalized space.
The entire digital edition (including a neat gift guide from Mrs. Lilien – another SD native) here! Find my outdoor design tips and resources on pages 82 & 83.