We've been having that off-on sunny weather here in San Diego – such a teaser for summer. One day the skies are blue and the weather is beautiful and warm, and the next the sky is thick with clouds and the morning is cold and chilly. The good news! It's just about time for shorts, dresses and everything beach worthy.
Plus, it's about time the Wardrobe gallery (see button in the left panel) gets a little love and a couple of new additions.
I'm a huge fan over-sized tops right now, they make perfect swim cover ups and have an awfully forgiving fit (especially with that extra bit of baby weight that is soooo slow to come off). Pair this casual look with a slightly snazzier necklace and you have the perfect go-to summer outfit.
For something a little dressier – tis the season for baby and bridal showers – try out a fun floral print. I love this dress because of the casual, soft fabric in a very classy cut. Could easily be worn with a pair of wedges or dressed down with flats. This olive bag is the perfect around-town crossbody hobo.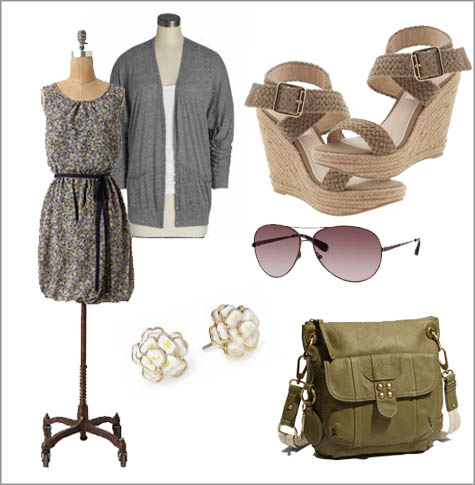 Sourcing for all of the above (plus a gallery of previous wardrobe style boards) here! Hope the weather is treating you nicely wherever you are :).