Now that the office makeover is back in full swing, it's time to get serious about what great projects and finds we can fill the space with.
You might remember my layout dilemma and how the room has to serve as a guest bedroom + home office (+ craft room of sorts) without any closet space (boo – but impossible to fit in) and therefore storage and functionality are tops on the design list. To make it even tighter, we nixed the daybed idea and have opted to crowd the back of the room with a full-sized bed that will comfortably sleep two without any extra assembly required.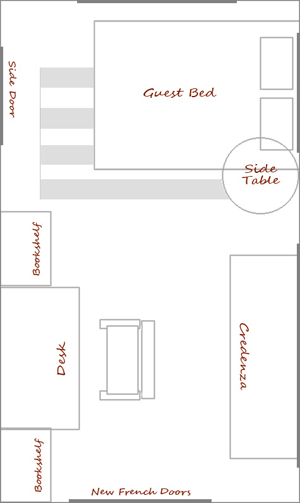 Despite the lack of space, my office desk needs to be big + mighty to fit the projects that I'm always juggling (I'm not the type of person who can neatly stow away a days work each and every evening – I'd love a desk big enough to hold organized chaos :)) so I've settled on making my own. Not from scratch but hopefully from materials I find through Craigslist.
You might remember the original inspiration for the space from here, and shopping round-ups of favorite bookshelves and desks under $300. I've purchased the bookcases (more on that soon) and can't wait to get started on the perfect desk!
But what would this desk look like? What materials should I make it out of? What about storage? A Google search ensued for diy desk inspiration, here's what I found: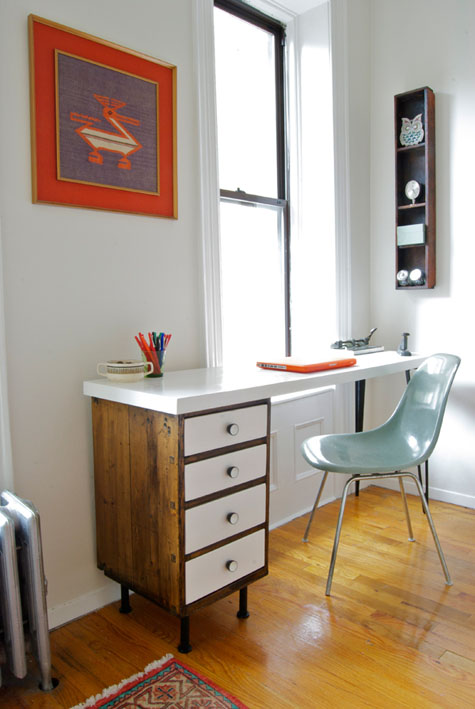 Manhattan Nest designed a diy desk out of mdf and an old nightstand (love those industrial looking legs). A bit of fabric inspiration from Southern Living below left.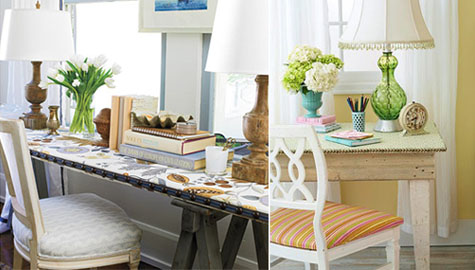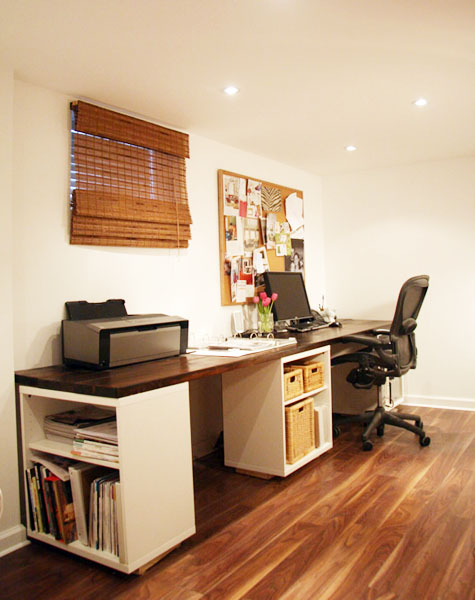 Above, Aubrey & Lindsay built a desk with a wooden top that I envy. Below is an idea that I haven't thought of – Alicia of Thrifty and Chic cut apart a huge dresser to create the perfect desk and set of drawers!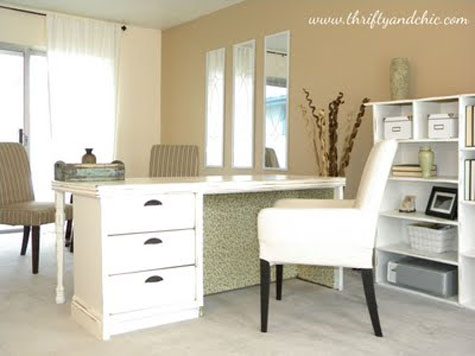 A reader mentioned using an old door as a desk top too – I love that. So many great ideas out there!
We'll see what creative materials I find to work with but I'm imagining that my new desk will be part warm wood tones/part industrial dark metal – maybe?
Here's to a week of productive hunting!
For more Office Makeover posts, check out: desking hunting for under $300, bookcases under $300, inspirational rooms, room layout options, demo part 1 & demo part 2.