We've been working on painting the office over here and we went for the bold… but it's not quite finished yet. Thank you for all of your comments and suggestions!
Here's a little peak though at this year's Mother's Day presents for Liv's Grandmas. I know it's a couple of months past Mother's Day but photobooks are the new photo-chronicling method here in the Spenla household and it's the greatest. I'm working on huge, over-sized hardbound coffee table books for each year (how neat will that be with just a giant '2009', '2010', etc on the front of each) and made smaller versions highlighting Liv (pregnancy through 3 months or so) as a special present.
Here it is displayed at my mom's house.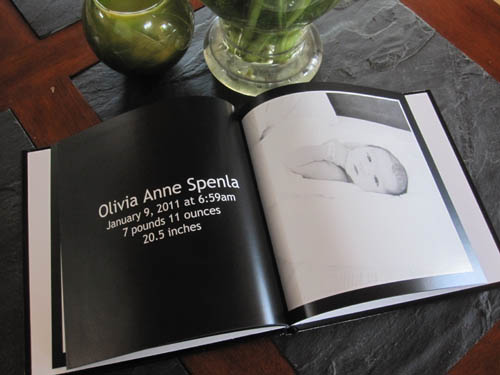 Mixbook makes it really easy to assemble a photobook quickly. As an avid Photoshop user, I'm skeptical of the photo editing capabilities of any photobook program, but I'm pleased to say that I happily edited nearly all of the photos for this book right at Mixbook.com. Furthermore, Mixbook allows you to pull photos from your computer or Facebook – so genius. No double downloading necessary.
They offer a range of templates and designs but you can probably predict that I went with all black and a blank slate. I prefer designing my own layouts and it's rare to find a photobook program that allows you to do that. You have complete control if you want it.
For this book I went with a simple, classy layout – solid black background, one giant 8×8 photo rimmed in white per page, just a bit of text thrown in for context.
After reviewing the program and ordering a book to check out, I'm a huge fan and I will definitely be using the site again. Especially after nabbing one of their awesome GroupOn deals! Use this promo code at Mixbook: PEPPERMX20 for an extra 20% off.
I'm the worst at falling behind on photos and scrapbooking, so I've found that it's easiest to start one of my year-long photobook projects in January and finish pages once a month as that month goes by. Soon I'll be ordering my giant book for 2010 and it will be a great way to share memories with all of our visitors – and something special for Kev and I to flip through as the years go by. Yeah for helpful organizing solutions!
How do you store and organize your photos?