We have a minor floor issue here in the office/guestroom. Our home is full of 1930s original wood floors that are just beautiful – but when you get to moving walls around like we have, you find all kinds of flooring variations going this way and that. This is a great indicator that the original wood floors were laid after the walls were framed out and not prior to, which is a magical find in some homes.
Here's how the office looked pre-plaster & paint: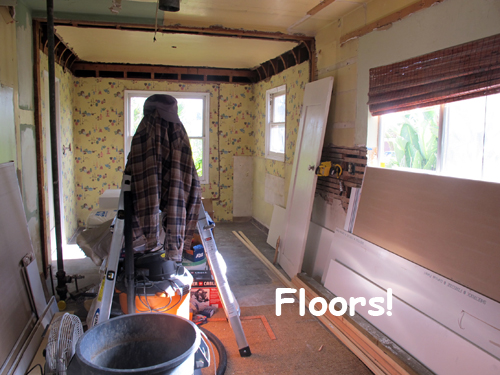 And here's a close up of those crazy floors. You can tell by the photo that the flooring in the old kitchen was 'revealed' after many layers of every kind of laminate (including faux brick and linoleum) were pulled up. The dried yellow glue is still pretty thick.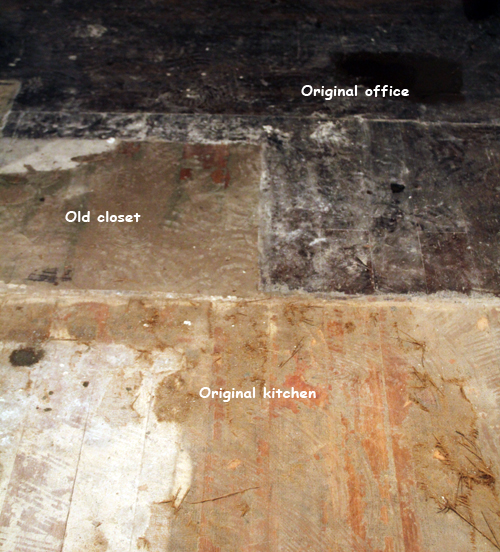 Since the wood from the old office (what we think was a once-upon-a-time breakfast nook for the old kitchen) doesn't match the closet wood flooring, and both don't match the old kitchen flooring, it was clear that, just like the kitchen, we were going to have to improvise. Matching original wood floors from the home would have cost an arm and a leg, so we opted for soft plush carpet.
As soon as we had decided on a nice off-white carpet for the room, we began pricing out big box stores vs. mom and pop shops and came out with a number around $600-800 for the quality of carpet that we were looking for. Alas, this wasn't in our price range.
Enter remnant city! After searching Craigslist for a contractor looking to sell extra carpet from a job, I came across a giant warehouse full of rolled remnants.
Our perfect-shade-of-white-but-not-too-white carpet for the 9×20′ (such an unusual shape in the carpet world) came out to $240. Carpet padding was an extra $80, carpet tacks $14, and a Craigslist installer a mere $100. That means we spent $434 and saved ourselves $380 for some pretty plush flooring (no pun intended).
Photos of the new digs to come soon! Promise.
For more Office Makeover posts, check out: chocolate brown wall ideas, plastering progress,  inspiration for a diy desk, back in action!, desking hunting for under $300, bookcases under $300, inspirational rooms, room layout options, demo part 1 & demo part 2.
Are you local to San Diego? Check out this remnant store in Miramar: G & G Floor Covering