We've made great strides on our new office/guestroom, and to be quite honest, I'm still absorbing the drastic changes (woah! chocolate brown). After much debate and after much oogling over these dark brown inspiration rooms, we decided to go bold in (at least a part of) the office.
The to-do list currently includes:
1. Paint guest portion of the room chocolate brown (we opted to not paint the entire room a saturated color since it's so narrow and might read too dark). The rest of the room will receive a soft tan that matches the new grasscloth wall (see to-do list item #2!).
2. Grasscloth one accent wall in the office area.
3. Carpet mismatched hardwood floors for a cohesive look.
Want a peak in on the painting? Don't judge yet – once the room is finished in crisp white molding, patterned fabrics adorn the windows and bed, the wall artwork is hung and all of the other decor is added, I know it will look awesome. But right now? It looks like a bear cave. Our guests will be sleeping in a bear cave.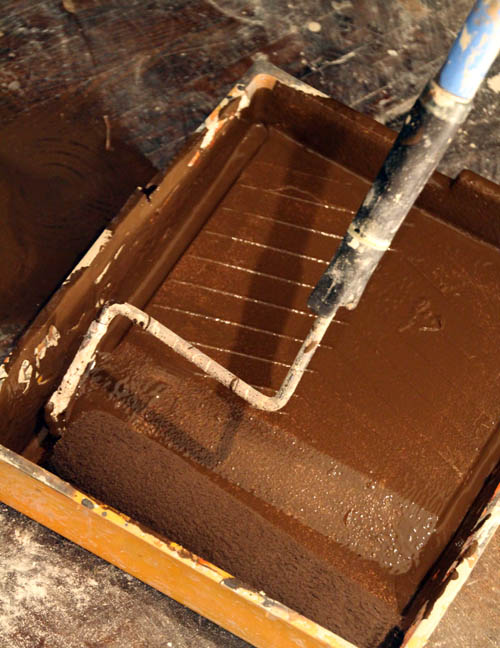 Family and friends reading this? Welcome to our guestroom/bear cave. This is where you'll be staying.
Here we are finishing the room late at night… when we work best ;). Bonus to family visiting from out of town? Extra painters. My little brother wasn't anticipating a night of painting but he was game.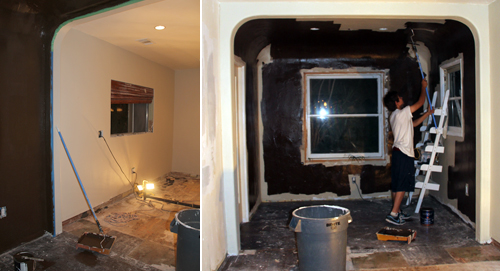 If after accessorizing and decorating the space still feels like a cave, we're considering boxing out the round ceilings or adding a trim (like a picture rail) and white ceiling to lighten it up. Sort of like one of these rooms: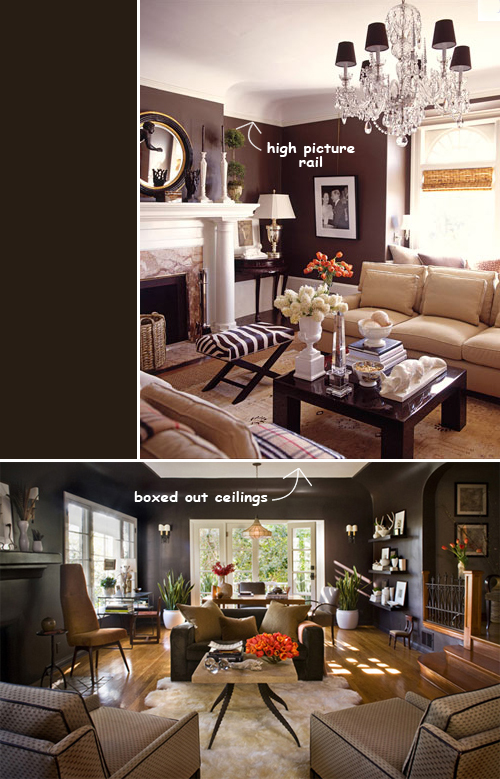 Or, maybe I'll pull out the paint brush at midnight three months from now, we'll see.
Since our office has those beautiful original arched walls, there was really no way around not painting the ceiling. Unless we do one of the above. But first we decided to go all out and see how it goes… to be continued!
PS Thank you everyone for your comments! I love and look forward to your thoughts and ideas.
For more Office Makeover posts, check out: finding carpet for the office, chocolate brown wall ideas, plastering progress,  inspiration for a diy desk, back in action!, desking hunting for under $300, bookcases under $300, inspirational rooms, room layout options, demo part 1 & demo part 2.