So you've seen a sneak peak of the new carpet in the previous post (couldn't wait to share the grasscloth wall!) but here's an update on the new carpet. You might remember that the previous flooring in the office consisted of three different wood floor patterns from three different types of rooms (a kitchen, breakfast nook and closet). Carpet was the best choice for us.
We went carpet shopping and found our best solution through a unique bit of searching (more on that here) and hunted down an installer from Craigslist for 1/3 of the going rate. At first thought Kevin was sure it was a project he could tackle himself, but after a bit of research we realized that the tools and materials needed to install the carpet would be pricier to rent than to sub out the job itself.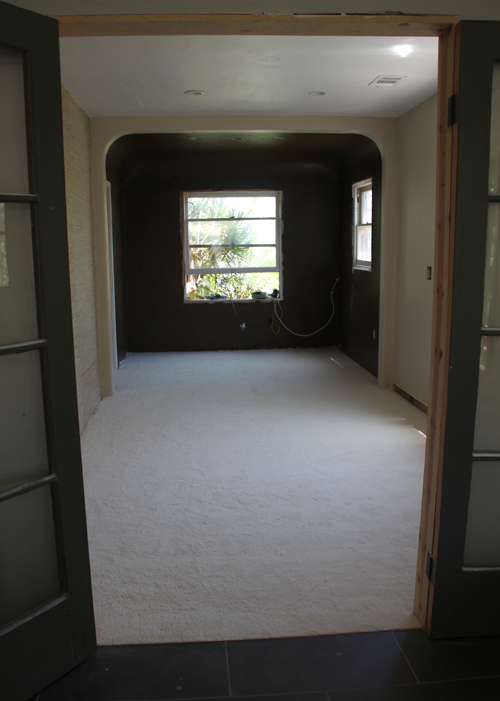 When searching for new carpet, there were a few key factors that we were looking for: price, color, size and durability.
Price: We were hoping to carpet the entire room for under $500, but after beginning our search we soon learned that that was virtually impossible. Thankfully it was a single room and we could settle on a remnant. Our total cost in the end using remnant carpeting, purchasing the tacks and carpet pad ourselves, and with using a Craigslist installer was $484, $380 less than the average bid we received.
Color: Off-white/cream was a must for me. I know it will show stains and dirt – but we'll do our best to keep blankets under Liv and carpet spray nearby.
Size: In a perfect world our 9×20′ room would not require a seam. Most rolls of carpet are 12′ wide but finding a remnant 20′ long? Tough, but after much searching we found the perfect 12×22′ that could be cut down! (Note, you'll always pay for the extra feet to make up to 12′ even if your room is 9′ wide).
Durability: Plush, thick carpet would be nice since Liv will be crawling and soon learning to walk in this very room. Plus, why install cheap carpeting if you're hoping it will last a few years? No need to go all out but a good, easy-to-clean carpet was a must.
Keeping all of the above in mind, there are several choices of material when it comes to new carpet. Here are a few tips on choosing the right carpet for the right space (resource):
Wool carpet is durable and crush resistant (walking on it does not leave footprints), easy to clean and good for high-traffic areas, but it tends to hold static and is usually very high in price.
Nylon is also very durable and easier to clean than wool and does not hold static. But it is high priced and may fade if exposed to a lot of sunlight.
Polyester is not as crush resistant as wool and fades when exposed to a lot of sunlight. It is extremely durable against abrasions and costs less than wool and nylon carpets.
Acrylic carpet does not fade, is fairly crush resistant and is easy to clean, does not hold static and is low priced. But it is not as strong against abrasion as the other types.
Polypropylene Olefin carpet is the least expensive, easy to clean and fairly strong against abrasion. It may or may not be crush resistant depending on the type of weave, also known as pile.
Finding a remnant to fit those requirements is even harder, but once you know what you're looking for it's easy to rule out the ones that won't work.
Prepping the current floor is helpful for a quick install. Here are a few tips for before the installer arrives:
Remove doors: Make sure that any doors in the way are removed.
Old carpet: Pull up that old carpet completely (if you're laying over concrete, go ahead and make sure there are no spots with moisture).
Floor molding: Check to see if the molding is raised (likely if the room was previously carpeted) or removed (don't carpet the room up to the molding but rather the actual wall), vacuum thoroughly.
Since this room was brand new, the molding will be added on top of the finished carpet.
And that's our carpet wrap up! Not too exciting of a post but we're so happy that it's in and it looks great :).
For more Office Makeover posts, check out: grasscloth wallpaper, painting the office nook, finding carpet for the office, chocolate brown wall ideas, plastering progress,  inspiration for a diy desk, back in action!, desking hunting for under $300, bookcases under $300, inspirational rooms, room layout options, demo part 1 & demo part 2.