After mulling over this round-up of desks and then considering a diy version inspired by these, I finally stumbled across a great desk for the new office. And it's nearly perfect as is!
While on the Craigslist hunt for a mid-century modern (ish) credenza for future office storage (one in need of much love and hopefully at a killer price), I opened a link to this dining table:

The wheels started spinning. One of my hopes for a new desk was that it would be BIG – not a measly 48″ (the standard size of a desk) but at least 60″ to corral all of my work projects. Well this dining room table was just that.
After negotiating with the seller, the table came home for just $125.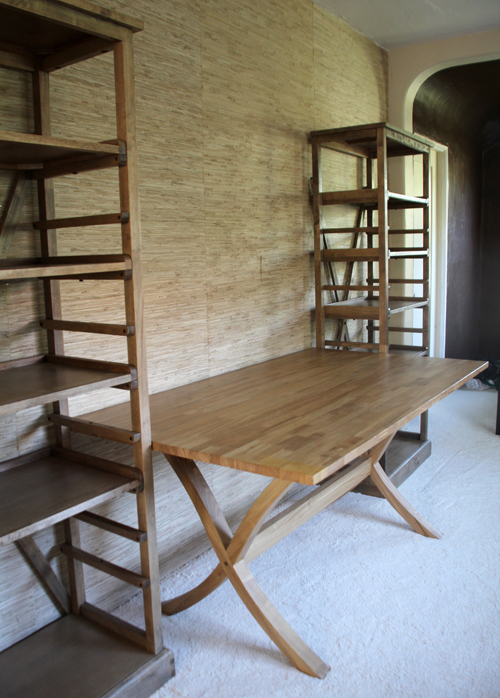 Plus, it goes great with our World Market Campaign bookshelves! Remember this post? While waiting on the construction side of the office space to wrap up, I had begun looking around for furniture for the room (so we could hit the ground running ;)) and was considering a bunch of different bookcase options.
I had narrowed down my favorites to several World Market contenders and earlier this summer, began the hunt for a way to purchase at the very best discount. If you sign up to receive emails you'll receive a coupon for 10% off, but I had hoped for better. After inquiring with a sales associate about sales for furniture (nearly every mailed coupon excludes furniture), I learned that all furniture would be 30% off for one weekend at the end of June. Sweet! Next I began checking ebay and Craigslist for discounted gift cards that would knock another chunk off of the price. Low and behold, I came across a $500 card offered at $450 – and when I suggested $400, the seller agreed.
The original Campaign bookcases were priced $279 +tax each, meaning my new finds would have originally totaled $558 + tax (about $608). 30% off  of the pre-tax cost came to $390.60 + $35 in taxes = $425.60 for a total store discount of over $125! Add in the additional 20% off from the discounted gift card and I found my new bookcases for $340.60 or 45% off!
A little snafu: on the particular weekend that furniture was on sale, I happened to be on a business trip in the Bay Area AND the local store had only one bookshelf in stock. Since they wouldn't allow for me to purchase remotely from another store, I had to rain check my sale and my awesome family (who live in the Bay Area) drove down the bookshelves on their next visit when World Market stocked them again. Oh what an adventure.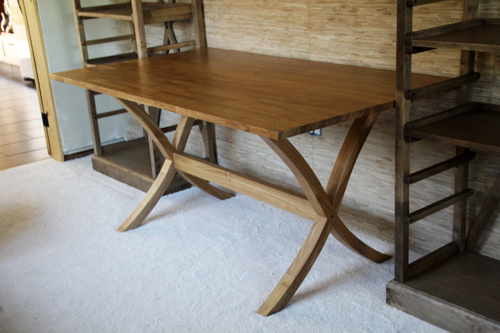 But back to the desk! My original though was to sand and stain the desk a darker brown to contrast with the bookcases, but I think they actually compliment each other pretty nicely. I love the natural wood look and am pretty thrilled it's coming back around with the rise in mid-century modern furniture (not that these pieces are).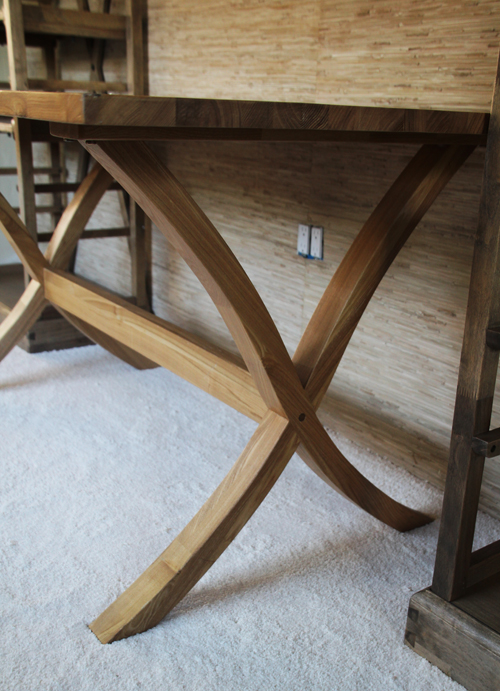 Would you look at those legs? Love them. When experimenting with a DIY desk, I thought about making my own X legs and adding an Ikea butcher block (with an added stain) topper. But these legs have a bit of a curve and they're just perfect.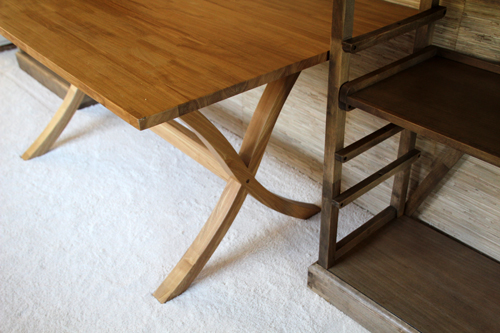 I may cut down the sides a few inches to make it a bit narrower, time will tell. And as for not having drawers? I'm planning on a little nightstand-turned-printer carriage to fit under the desk and to make up for lost storage.
Yay for a new desk AND bookcases!
For more Office Makeover posts, check out: remnant carpet, grasscloth wallpaper, painting the office nook, finding carpet for the office, chocolate brown wall ideas, plastering progress,  inspiration for a diy desk, back in action!, desking hunting for under $300, bookcases under $300, inspirational rooms, room layout options, demo part 1 & demo part 2.