Hey all you cloth diaper mammas, this post is for you. This is a little tip I discovered after searching for solutions to get rid of that ammonia smell that comes with the diaper territory. Every nursery, whether using disposables or cloth, deals with diapers and diaper odors (blah) – but the disposable diaper market offers a host of great solutions while cloth diapering is a little behind.
You might remember that when we started this whole cloth diaper thing over six months ago, I had outfitted our nursery with the recommended supplies: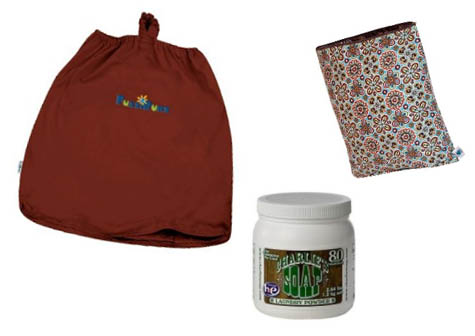 Wet/dry bag for dirty cloth diapers, smaller bag for on the go, and Charlie's Soap for washing. We still use that great, Planet Wise zippered small bag (have two now, actually) for the diaper bag, but have made updates to our washing routine and diaper pail.
First, we've switched over to Tide for cleaning (Charlie's Soap is great, Tide is a little more readily available and in the BIG cartons).
Second, I converted a traditional diaper pail to function as a cloth diaper pail. Here's the old set up:
And the new Diaper Champ lined with a Thirsties Pail Liner: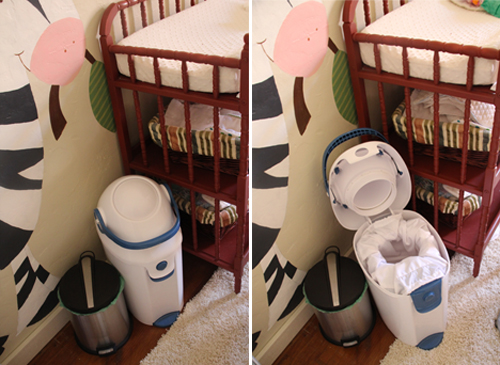 The wet/dry bag worked well. But it wasn't perfect. So I went on a hunt to create a smell-proof solution for the nursery and came up with only a handful of traditional pails that let you deposit one diaper in at a time (without lifting the entire pail lid and getting a smell 'blast') while also allowing for a reusable bag. The Diaper Champ was the solution. You pull back the handle and deposit diaper in the top, flip the handle and the diaper drops into the lower area where the liner is.
I'm so happy with this set up that I've invested in two Diaper Champs, when one fills up it makes its way out to the garage (and next to our laundry machine) while the other takes its place. When CD laundry day comes (twice a week), I pull the entire bag out and empty it into the machine, throwing in the bag as well. Sometimes I don't even use the liner in the pail and just give it a good wipe with a rag to clean it out (since we fold up all diapers after changings, the inside of the pail doesn't ever get messy).
The only times now that you get a bit of that diaper smell in our nursery is if I don't swap out a full pail quickly enough. Other than that, problem solved!
For an update on how our CD adventure is going, check out this post. And for more on our family's efforts to 'Go Green', try this link.