I love fresh flowers in the house. It's one of my favorite splurges because flowers instantly brighten up a room, add that 'pop' of unexpected color (like fuchsia tulips in a navy bedroom) and bring life to a space of wood & textiles. I'm always on the look out for ways to bring in that floral feel in a more permanent way.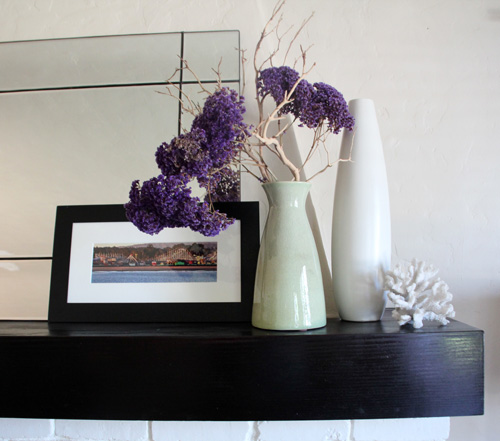 Branches have been a great way to do this, and the occasional faux can be pulled off if it's just right (try using a realistic silk orchid in a single stem orchid pot when the flower is dormant). Another way? Dried flowers. I know, I know… not your Grandma's bowl of potpourri or an upside down bouquet from last Valentine's Day… but instead a few sprigs of lavender in the kitchen tied together with twine, or even a dozen yellow craspedia (billy balls) poking out of a tall vase with their modern, spherical shape lighting up a room. It's a careful line between playfully artistic and horribly dated… no plastic ivy, if you know what I mean.
We have a unique plant in our front yard that I pass by everyday and adore, and when Kevin brought me a clipping of Sea Lavender (Statice) while he was pruning, I was pleasantly caught off guard at what a great cut flower it turned out to be.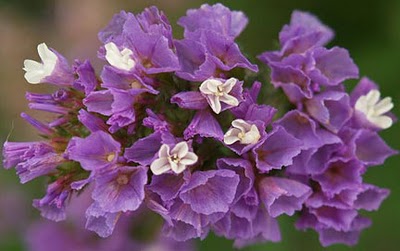 Naturally dried looking by nature, the large clumps of paper-like blooms are beautiful on their own or when paired with a contrasting color. I opted for a sage green ceramic vase and a few bleached manzanita branches – and zero water.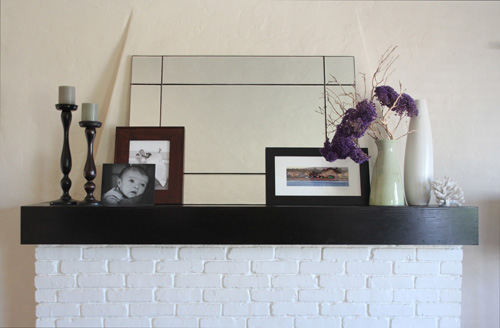 I wanted to see how long the dried-looking flowers would last when, well, dried. Happy to say that five weeks later they're still beautiful! Providing just enough contrasting color to a dark mantel with a few framed pictures (isn't that shot of the Santa Cruz Beach Boardwalk stunning? A gift from my dad who took it from the pier and had it printed on metal for that shimmery affect. Santa Cruz is my home town so it's nice to have a few reminders around).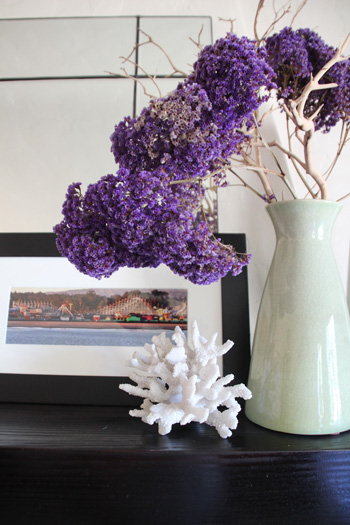 The shape almost reminds me of a Monterey Oak leaning over the edge of the cliffs up near the coast of Big Sur, another favorite spot. And I'm digging how purple way unexpected in a room full of tan, burnt orange and various greens.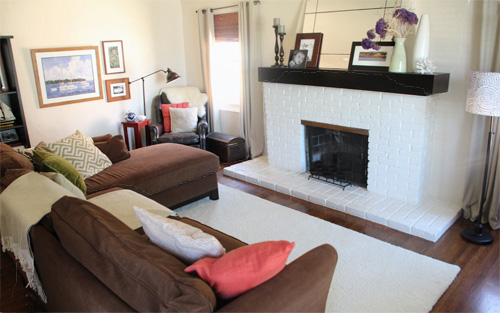 That new rug is Liv and my favorite place to hang out during play time – we spread foam building blocks all over and then I build towers while Olivia takes great joy in knocking them down! I think the flowers will be sticking around for a little while, too!
More living room posts here.