Thank you so much to everyone who sent their condolences yesterday, I really appreciate the notes. I'm so grateful to have such kind readers! We're back from Omaha and the dust has settled, it's good to be distracted.
I thought it might be fun today to share the 'inspiration board' behind the new office. This isn't an exact and I'm sure our minds will change again and again over the next month, but it's an outline that helps to narrow down furniture, accessory and 'do we need this?' choices.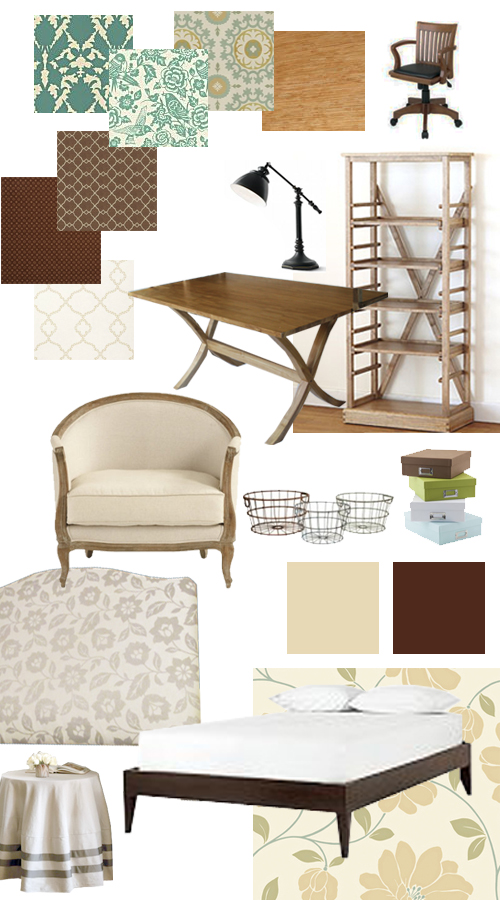 Back before we were even close to finishing the space, I shared this layout idea (with an initial color palette) and these inspirational rooms. Wow, much has changed in the last eight months! But you know, looking back so many ideas have stayed the same, too. Some stuff just sticks with you.
Key pieces in the above room include: a desk, bookshelves, refrubished credenza (not pictured), wallpaper for credenza, grasscloth, new platform bed, a wooden office chair (I'll add plenty of padding to make it comfy), a French-style occasional chair (a Craigslist find like this would be so cool), bedding, window curtains, side table with a handmade skirt, new lamp and chic office organizers. So I'm maybe half way through the list?
Inspirational fabrics include: Arden Chocolate by Ballard Design, Joann's Dot Brown, Calico Corners' Thomas Paul in Silhouette, Aviary Thomas Paul in Robin, Robert Allen Roman's Circle in Pool and Thibaut's Jubilee Collection. Love, love, loving these prints!
Creating an inspiration board is usually high in my process for building out a room. It keeps you from distraction and really focuses you on the functions and feel of your finished space – it's especially useful if you're tempted with an impulse buy!
Wow it feels like the office is ALMOST there! Especially considering the room started as this: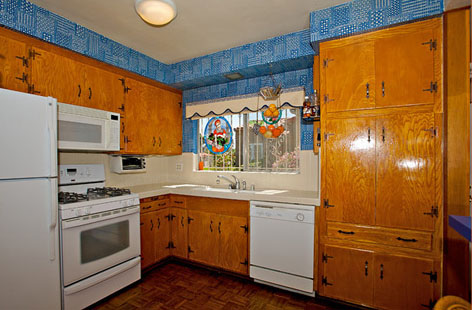 And once the kitchen was removed (and the wall between the old office and kitchen was knocked down), turned into this: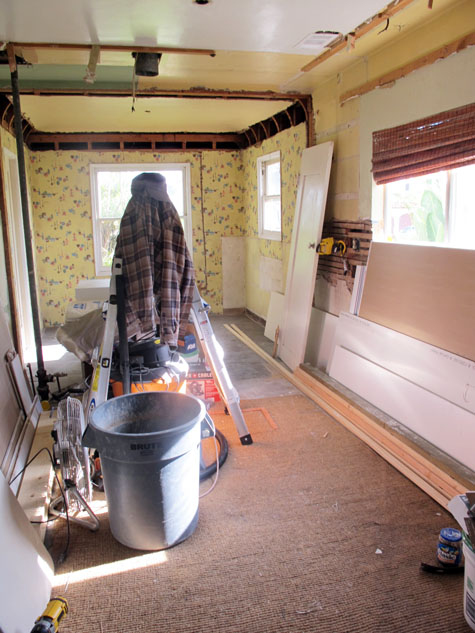 Little by little!
For more Office Makeover posts, check out: new lamps, wallpapering open shelves, finding the perfect credenza, new trim, dining table-to-desk, a new desk & bookshelves, installing remnant carpeting, grasscloth wallpaper, painting the office nook, finding carpet for the office, chocolate brown wall ideas, plastering progress,  inspiration for a diy desk, back in action!, desking hunting for under $300, bookcases under $300, inspirational rooms, room layout options, demo part 1 & demo part 2.