I was reminded today that Halloween is 7 days away! For some reason it feels like I still have a good month to prepare (we're hosting a party and I'm in charge of the family costume), time to get a movin'.
In honor of the approaching holiday, here's a round-up of some of the most inspiring Halloween decorating ideas I've found out there in the blogosphere.
Are you ready? Let's roll.
Best glam party: This vintage glam dinner party by Suzanna at Mon Tresor is fantastic – I love the colors and I love the details. Thanks, HWTM for posting.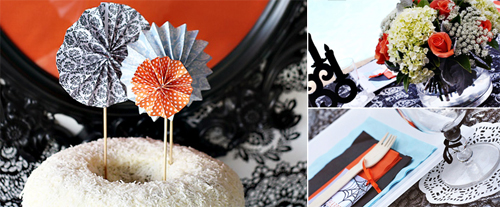 Best harvest porch: This one's a tie between Kate's (over at Centsational Girl) harvest spin and a Pottery Barn porch (it captures the 'spooky' category) that's been spinning around the internet. And since I'm not as much of a goblins and ghosts kind of girl, I fully appreciate the harvest color palette.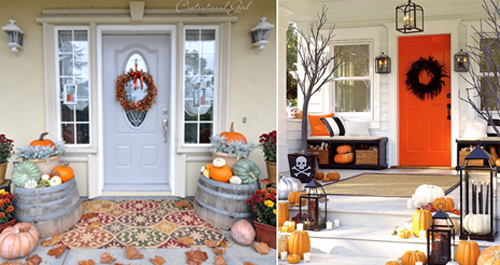 Best 5 minute craft: These vase mummies by Hi Sugarplum are super clever, super cute and look super easy.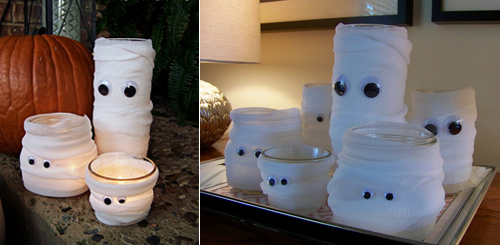 Best simple statement: This tablescape is low key and looks fairly low budget, but it's perfect for this time of the year and it still looks stunning. I like that it's reflected again on the mantel: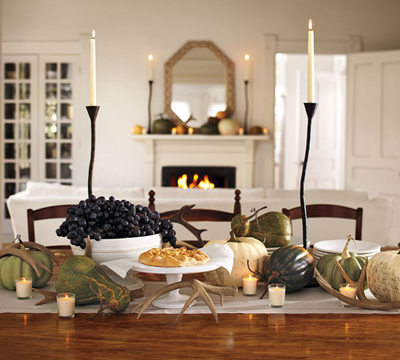 Best outdoor display: Simple Country Living created an awesome faux fireplace with all the spooky fixings.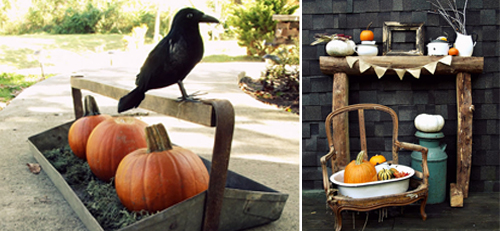 Best inside decor: This one goes to Sherry's white snakes over at Young House Love. Who would have guessed that creepy crawly decorations like these were as easy as wooden toys and some spray paint?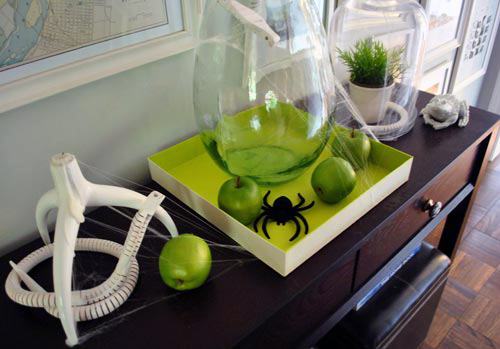 Most creative: Both of these ideas are so unique and creative that I had to include them. Neither of the images were sourced when I found them floatin' round the web, if you know of the author, let me know. Maybe Martha?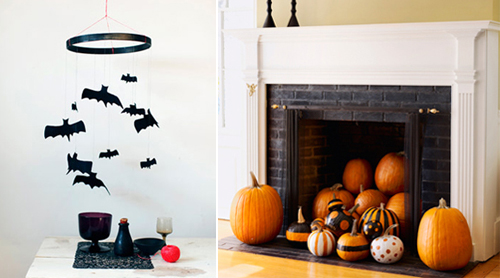 Best mantel: So many inspiring ones to choose from but I really love Kim's Halloween mantel (of TomKat Studio), and I love that printable banner: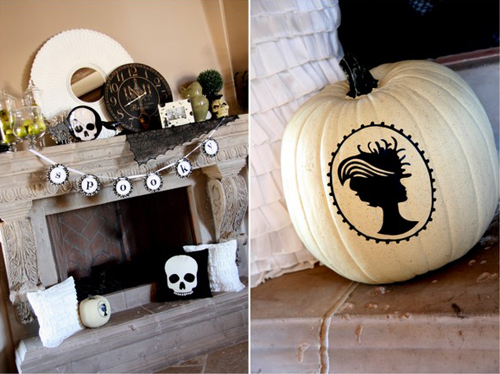 There are so many fun and fantastically executed ideas out there, but I hope this little round-up gives you some inspiration for any last-minute preparations!
**************************************************************************
PS Come visit me at Simply Modern Mom where Tiffany has asked me to share an over-used recipe – which for our family is Kevin's delicious homemade chicken stock! Go homemade and you'll never go back. It's the base for so many delicious meals in our house :). And a big congrats to Tiffany on her new baby girl!