Let's fast forward a bit through September and most of October and jump right into our most recent weekend at the pumpkin patch. I'll have to come back to those previous months to add to our little virtual photo album – but what fun we had this past Sunday!
What's the fall season without a trip to the pumpkin patch? And this little patch is so beautiful with all of the gorgeous gardens and ponds and big hanging trees… we've made it a tradition among friends and we look forward to it every year.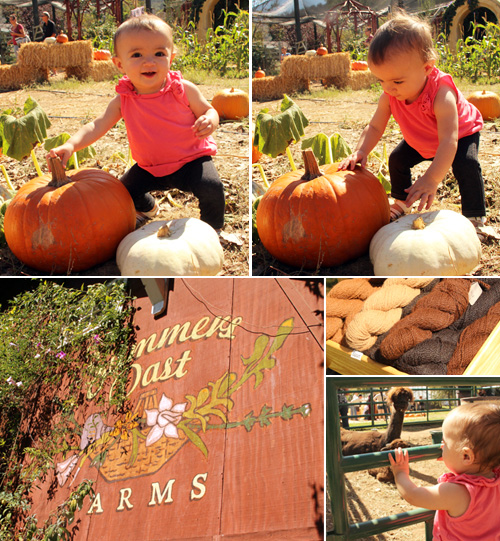 One of the reasons this year was so special was that it was Liv's first trip! We played with pumpkins, watched a day-old alpaca and his mama, wandered the gardens and took plenty of pictures.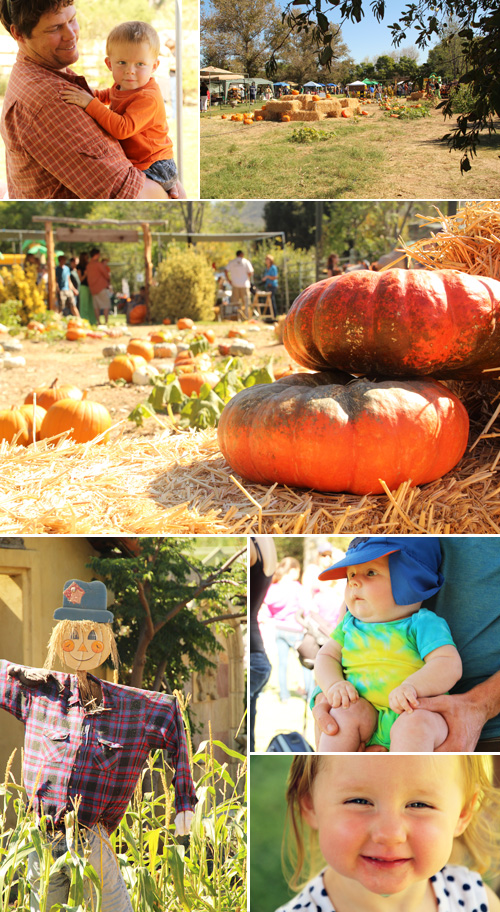 Here's the whole group: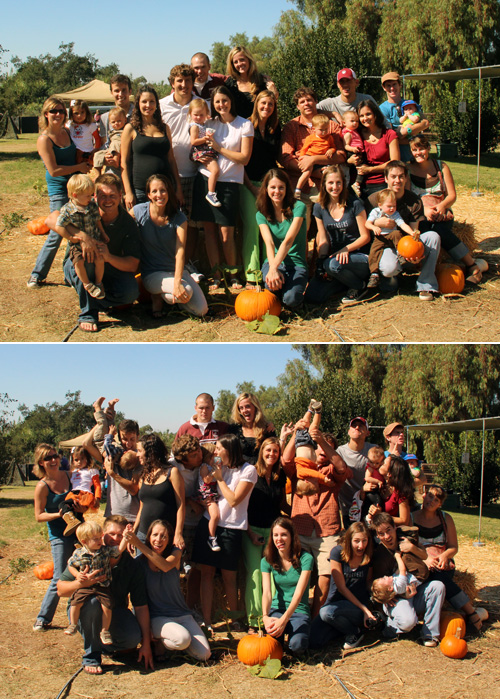 And a little reminder from last year, when I had the pumpkin in my belly: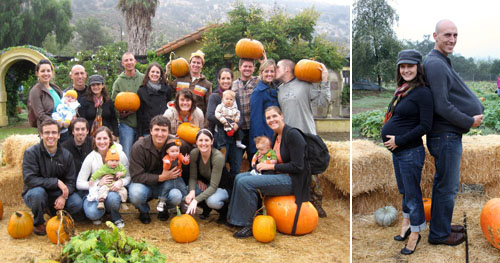 A few more babies and a slightly bigger group. We keep growing.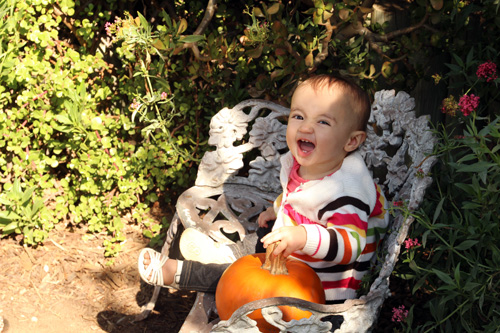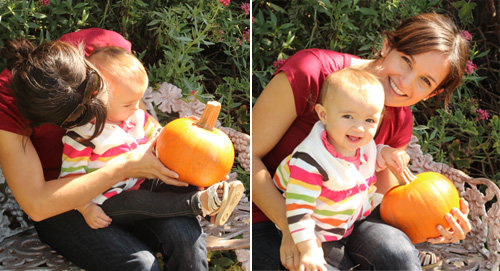 Liv thought it was all awesome. Every last detail.
This is one of my favorite series. We're wandering the gardens and Liv is getting dirty, like really really dirty. So she stops to check out what she's crawling through and low and behold – after a closer a look: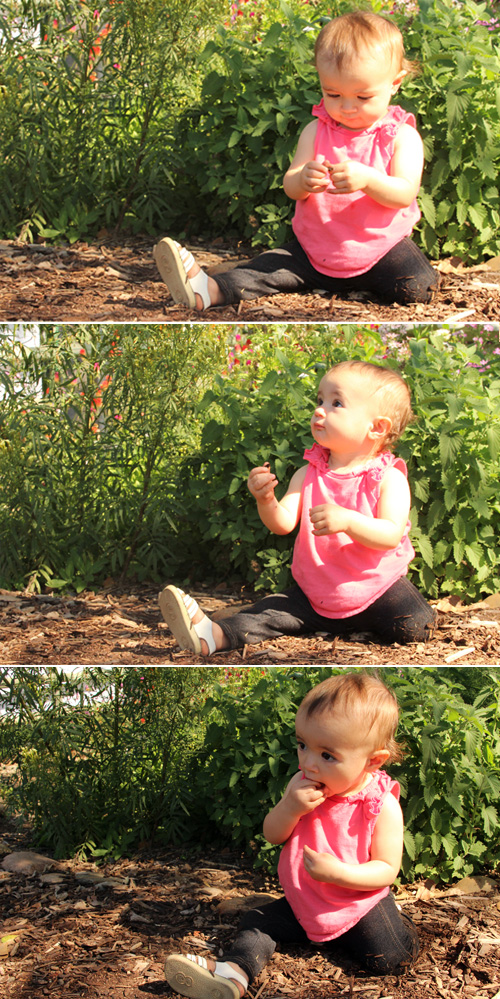 Before anyone could stop her, Plop! into the mouth it goes. Thankfully she didn't find it appetizing and I'm pretty sure that was her last wood chip snack for the day.
Did I mention that Liv is nearly walking? She can take 3 or 4 unassisted steps and it's so exciting! It's amazing how much a heart can swell with pride when that steady look of determination fills her face and she patiently lets go of the couch to attempt those few rocky steps towards you.
But crawling is much faster, so for fun days like this, she resorts to the easy stuff.
These gardens are so stunning! I've never visited a pumpkin patch with so many nooks and crannies full of beautiful finds. You would never know it was fall here in San Diego because we're still surrounded by green, green, green and 70-80 degree weather.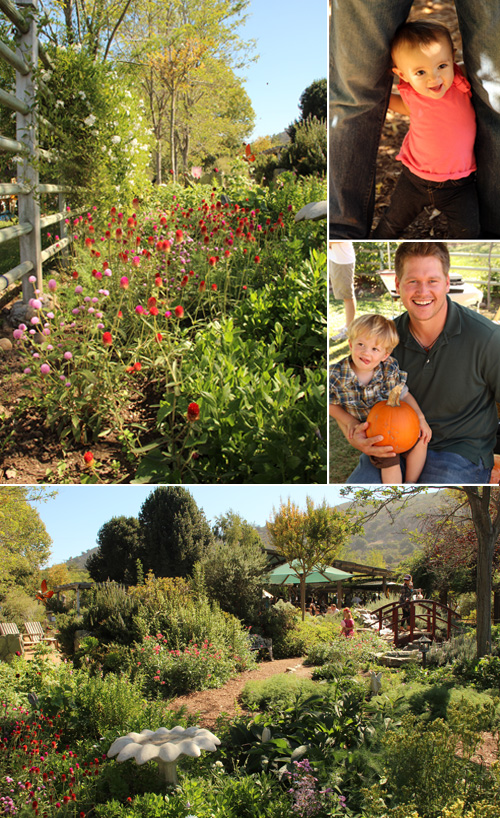 Last but not least, we attempted a few family photos: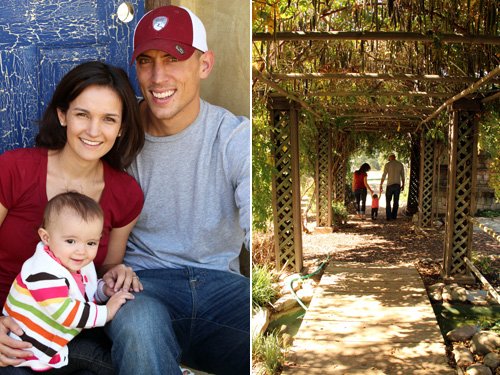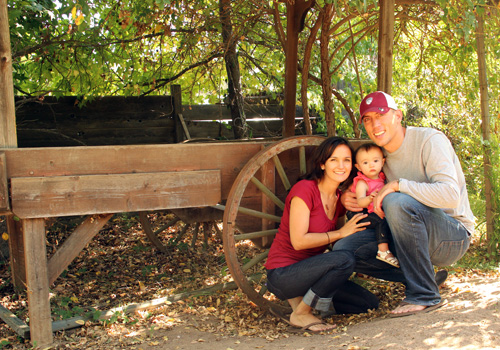 After the pumpkin patch we headed to a friend's for our annual chili party. So delicious and such a perfect Sunday.
***********************************************************************
PS A couple new additions over here!
1. You may have noticed that the blog now has a 'You Might Also Like' feature that pops up under each post.
2. Now you can 'like' a post without having to comment, simply tap the plus sign next to the heart shape at the bottom of the post and show some love for your favorite posts or ideas. It's not the same as 'liking' on facebook, in fact it's not linked – it's just a cool little gadget to tap if you like what you're reading (non-commenters, I sympathize with you).