I've slowly collected items for the new wall collage in the office (read more about the inspiration here) and while it's not finished, here's a quick update on the progress.
Here's the before where I took my favorite layout from this post and hung paper cut outs on the wall to get a better visual. Then up went the frames with their original artwork: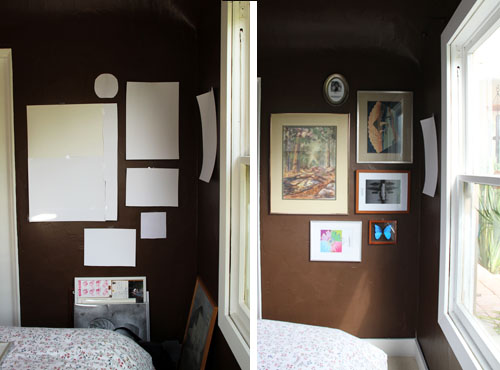 Some of the frames were cool garage sale finds, like this vintage guy that just needed a new photo. Actually the Chinese ship was very neat, but it didn't work here. The bummer was that this frame had a paper backing and was oh-so-old, but I carefully removed the paper with an X-ACTO knife (the company sent me several to play with and I keep them in my pen container on my desk I use it so much), replaced the aged matting and added an illustration of birds – another garage sale find.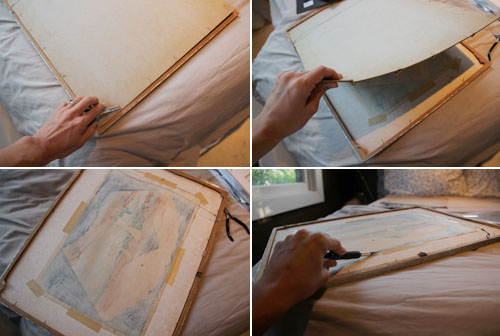 The wall didn't look quite right – it needed more uniformity. I decided that while the frames matched in an un-matching sort of way, the mattes needed to be more in line. In terms of matting photos, I don't stray from white or linen (the textural, grasscloth sort – not just the color) and so I shopped my usual matte locales: eBay, Etsy, Aaron Brother's, Michael's and even a few local mom & pop shops. Ebay and Etsy didn't carry linen – and Aaron Brother's and my local mom & pop stores (which I love supporting) quoted between $25-50/matte. Craziness. Michael's came through with a low $10ish for a custom matte (which is awesome!) and I placed my order.
A few custom mattes with brighter, cheerier images has left me here: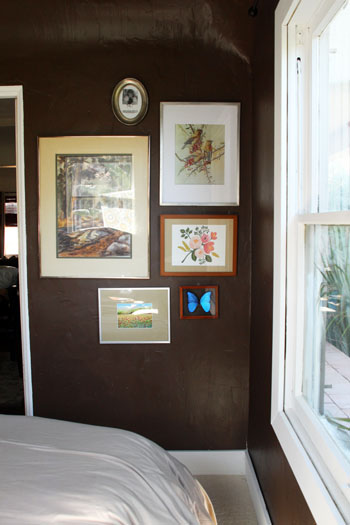 The large watercolor was painted by Kevin's Grandma, the floral arrangement is a favorite artist of mine (more on that soon…), the lower left landscape was a souvenir from our travels, and the beautiful blue butterfly was a recent find in Charleston, SC. I've searched high and wide for ethically conserved butterflies (aka not killing them to frame them)  and I found a great source – this artist collects butterflies that have already died on his butterfly farm.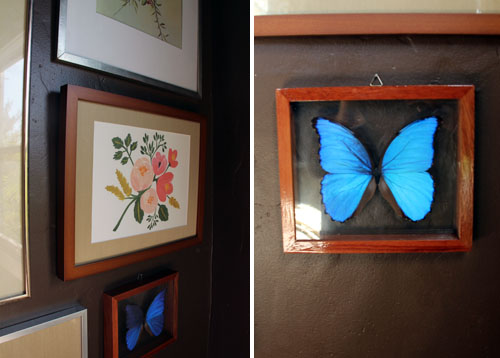 I haven't yet found the perfect piece for that oval frame up top but I'm thinking of showcasing an object on matte board rather than a photo (sort of like the butterfly). The more and more I look at the collage the more I'm thinking that I might have to replace the large frame's matte for a white one – and that maybe the painting needs a new home and a 'brighter' family photo or illustration should take its place. The walls are so dark and the images play a huge role in brightening or darkening that corner.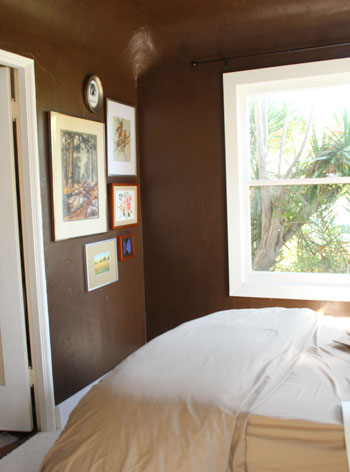 There you have it! That's the latest update.
For more Office Makeover posts, check out: organizing the bookshelves, wall collage part 1, fabric bulletin board inspiration, (new) inspiration board, new lamps, wallpapering open shelves, finding the perfect credenza, new trim, dining table-to-desk, a new desk & bookshelves, installing remnant carpeting, grasscloth wallpaper, painting the office nook, finding carpet for the office, chocolate brown wall ideas, plastering progress,  inspiration for a diy desk, back in action!, desking hunting for under $300, bookcases under $300,inspirational rooms, room layout options, demo part 1 & demo part 2.