November 30, 2011
It's been a while since I've made any decor updates to our current full bathroom (which we plan to turn into the master bath once our new guest bath is finished – I owe an update on that) so when I was out and about looking for capiz shells for this pendant project I also picked up a few sand dollars and white starfish to add to my current collection.
I thought it would be kind of cool to frame the shells for the bathroom since it doesn't really have any art going on. We haven't put much effort into it (other than painting it, DIYing a striped shower curtain and buying a few accessories – more about the $100 makeover here) because we know it will be demoed and gone in the next year.
But I'm off track… okay, back to the shadow boxes! Shadow boxes are an easy way to frame goodies and treasures to create instant art. It's easy to get carried away, but if you stick with one object (or multiples of the same object or same colored objects) it can look modern and fun.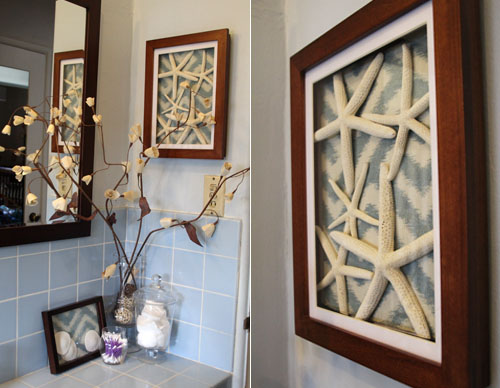 This bathroom is currently the house's only full bath (there's a little half bath in our room but it's about the size of a 4×4′ box so it's rarely used). Ignore the yellowing switch plate! It's little updates like these that we haven't put any time into because it always feels like we're oh-so-close to redoing the whole space. Plus, I searched and searched for a two-switch-plus-an-outlet light cover and these are definitely not to code any more. So no new outlet cover for us.

**************************************************************************
Fabric Shadow Boxes
mfra
Materials: shadow box, treasures to frame, fabric remnant, spray adhesive, velcro (depending on how well your box stays closed when hung)
To make the fabric lined shadow boxes I picked up a shadow box (in the kid's section!) of Aaron Brothers with my 40% off coupon and a smaller one from Michaels with their 40% off coupon. Gotta love those.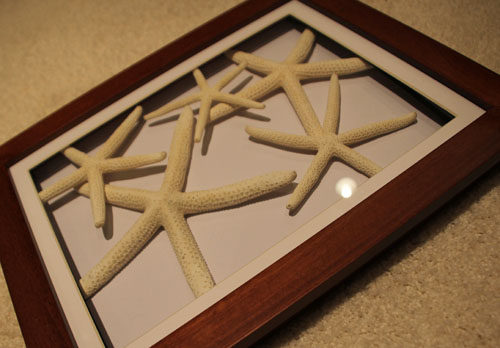 I played around a bit with the layout until I found a design that I liked. Liv oversaw production.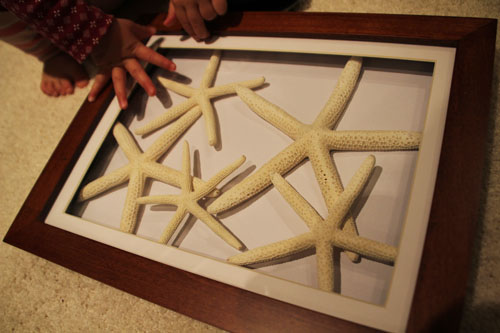 I bought my first batch of these starfish on eBay for a shower years ago just in case you don't have a shell shop near you. Is that just us with shops like that?

I cut up a remnant from my fabric box for the back of the shadow boxes that I thought worked well with the shells and added a little modern pop of pattern.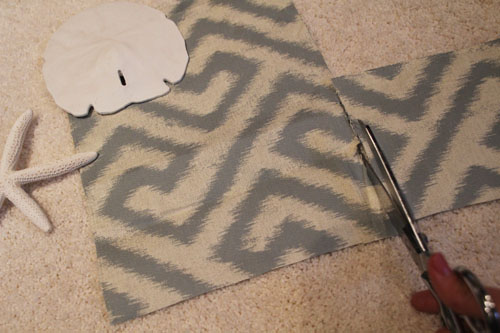 I used a little spray adhesive to attach the fabric to the inside of the boxes: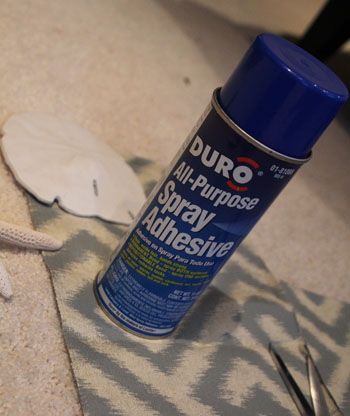 and applied a bit of super glue to the back of each shell before positioning them into the frame on top of the fabric.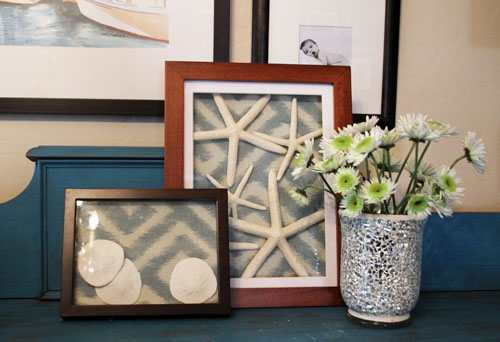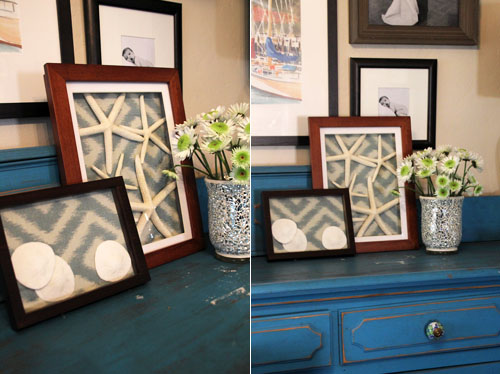 The would look great on top of the vintage buffet in the dining room but their real destination was the bathroom: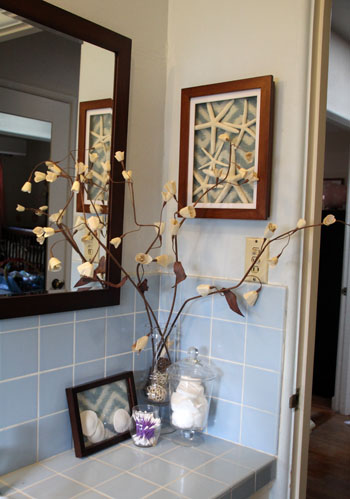 The little frame might stay there or it might move over to the shelves above the toilet. To be determined.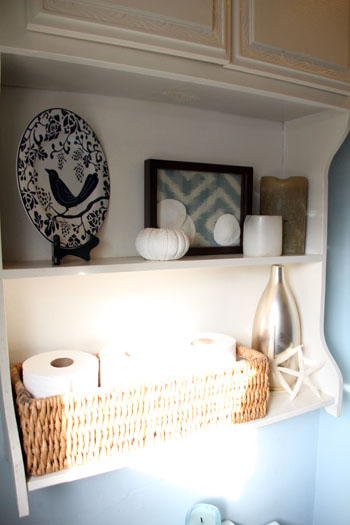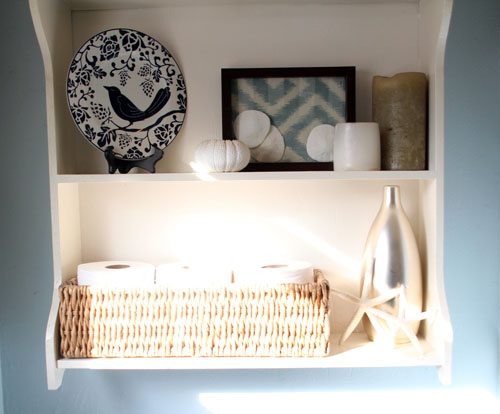 One of the shadow boxes continued to open up on me so I added a little piece of circular stick on velcro to each side of the frame to keep everything from sliding around.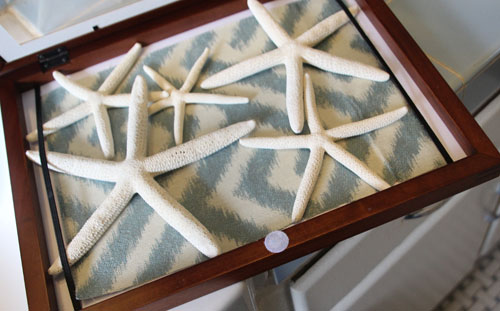 **************************************************************************
And there's my quick update for a space that needed a little bit of art! I loved how the shadow boxes turned out.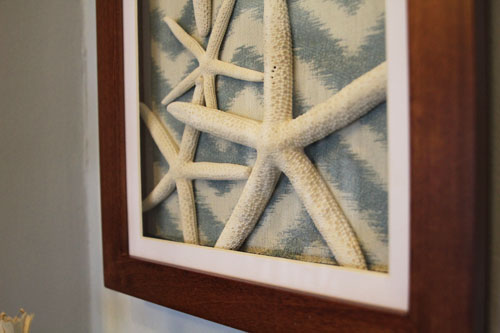 Tags:
Accessories
,
Blue
,
Crafty Solutions
,
Decorating
,
DIY
,
Fabric
,
Home
,
Our Bathroom
,
Patterns & Color
,
Tutorial
Posted in
Construction
,
DIY
,
Home
,
Our Bathroom
,
Renovating Adventures
|
10 Comments »
November 29, 2011
I'm wrangling up a few unique gift ideas over here for family and friends and thought I'd share some of my favorites. Let's start with the boys.
Husbands, boyfriends, brothers, dads, uncles… they're hard to shop for. After several years of shopping for 7 brothers (that's right, seven when you add Kevin's and mine together) plus three dads, several Grandpas and quite a few friends and I still haven't learned much. But every year I give it a shot again.
Here's what I'm eying this Christmas: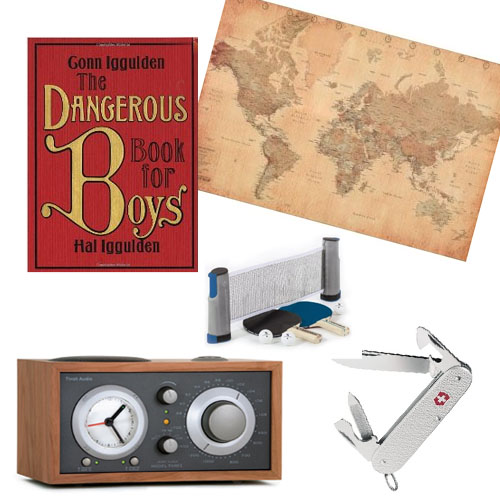 I'm a huge fan of the retro style of this radio alarm clock. Bringing it back to basics with a sleek walnut finish and old fashioned functionality.
This multi-tool knife is perfect for camping, exploring, fishing and general boy stuff.
A vintage framed world map is ideal for an office, the den or even spray glued to a cork board as a learning tool for the little ones.
Dangerous Book for Boys. Enough said.
Table tennis on the go – for the guys that love a good bet and perhaps even a better impromptu drinking game.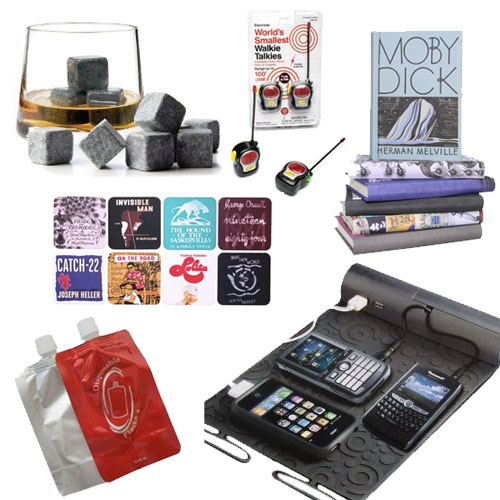 Reusable soap stones that keep liquor chilled without diluting your drink – something every hubby (and his friends) can appreciate.
Equally cool coasters for your whiskey on the rocks.
These disposable flasks are perfect as creative stocking stuffers! Love that they will fit easily into the inside pocket of a ski jacket for some peppermint schnapps on the slopes.
This roll up travel charger is great for the globe trotter (I'd actually love one of these for Christmas – charge the electronics all at once while traveling!).
These mini walkie talkies are just cool. A friend mentioned finding these and I think they're perfect for pint-sized fun on Christmas day for the little boys or boys at heart.
Out of print favorite novels can still be found in journal, t-shirt and even ereader jacket form here.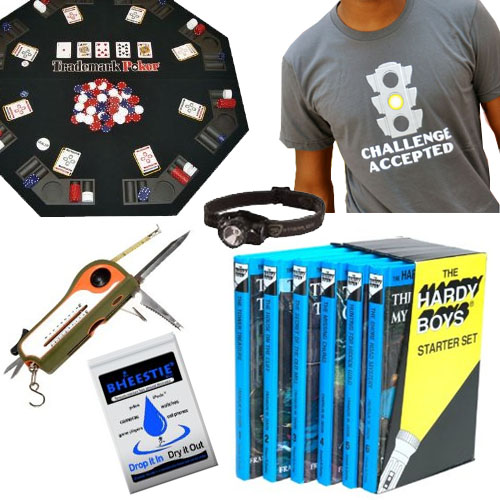 Our friends love a good game of poker and I'm sure they'd be keen on a traveling set so that different homes could host (the girls would be keen on that, too)

.
This t-shirt sums up Kevin's and his brothers' life philosophy. Ha!
If your guy is a fix-it kind of guy (or a late-night road biker or even a climber) this headlamp is perfect. Kevin uses his ALL of the time! Even when grilling to check when the meat's done after dark.
And a Hardy Boys set? Because every boy should read these!
The sea has stolen three cell phones from Kevin. Yes, three. If someone you're shopping for this Christmas is a lover of water sports (or sailing, kayaking…) these are awesome.
Looking for a great gift for someone who's crazy about fishing? This ultimate fishing tool claims to do everything but reel the fish in.

This is my staple shirt for Kevin. He's tall (6'3″) so regular tees always fit too short and that's a pet peeve for me. Banana makes these classics in both a standard and tall length and usually around this time of the year they're on sale.
And this is my favorite quarter zip sweater. Perfect for casual or dressy events (pairs nicely with jeans or slacks) and Eddie Bauer also carries both regular and tall sizes with great deals.
If it weren't quite so pricey I might splurge on this messenger bag as well.
Every guy needs a great pair of sandals and these are king. The whole family rotates through a new pair each once a year or so and these see every day use. Rainbows last and we love em.
I love this watch. It's classy and handsome but would be a great everyday piece as well.
This key chain add on serves double duty as a bottle opener and a Swiss army knife. A convenient and practical stocking stuffer!
There you have it, my idea of a great Christmas for the boys in every price range. They're hard to shop for and I hope this list makes it a bit easier!
I shop Amazon Prime for Moms for just about everything (free two-day shipping!) which is why nearly all of the affiliate links are Amazon. I highly recommend

.
Tags:
Christmas
Posted in
Gift Guides
,
Holidays
|
10 Comments »
November 28, 2011
Hope you had a wonderful Thanksgiving! We spent ours with family from both my mom's and dad's side and I had the chance to catch up with friends from my hometown over the weekend. It was a really nice four day break from the usual hustle and bustle.
The best part about Friday, November 25? Christmas music. I ventured out for a black Friday sale or two with a friend but what I loved even more than the discounts was 'Jingle Bells' playing on the radio! My favorite holiday has finally arrived.
It's not too early to start decorating, right? Here's a little Christmas tree project I recently put together for our guest room: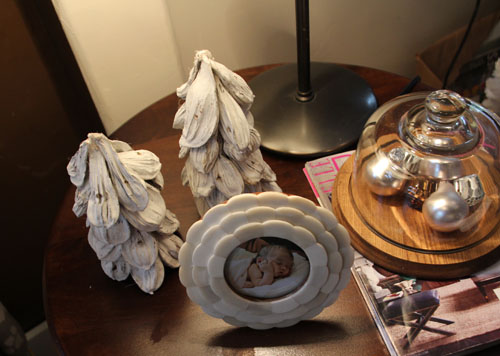 The little white washed Christmas trees are made out of wooden seed pods and cost a mere $1 each to make. Their current home is on the sweet new pedestal side table that we just recently found on major sale at World Market: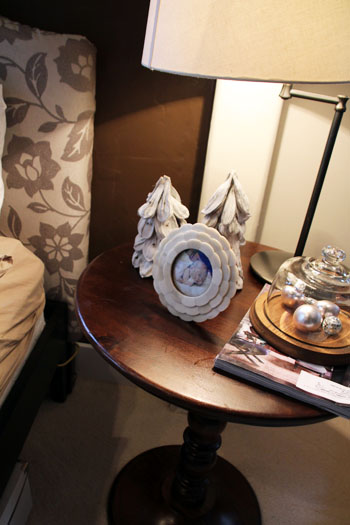 Sorry about the awful lighting. I assembled my diy trees in our living room late at night while watching a movie with Kevin.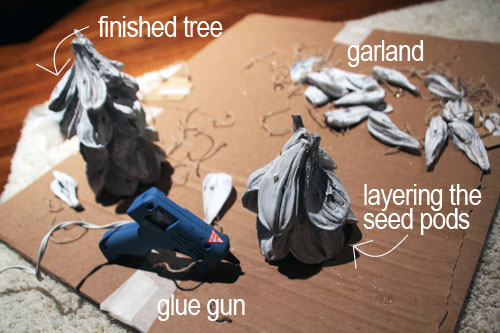 I was inspired a while back to build little driftwood Christmas trees after seeing trees like this or these, but finding the right driftwood was near impossible (so jealous of all those that live on Lake Michigan). I searched high and low and they do sell bundles on Etsy and even eBay, but boy are they pricey little bundles.
Then when I was perusing our local West Elm, I came across the neatest white washed wooden 'pods' (or giant seeds?) in hanging strands in the clearance section. Each bag had been marked down from $16 to $.97. Sweet, really really sweet. (I've searched and searched for a West Elm link but it seams these garland strands are waaaay last year and might only be available at a West Elm in your city, they're called the Nipa Pod Strand and they might be at the very bottom of the Sale bin.)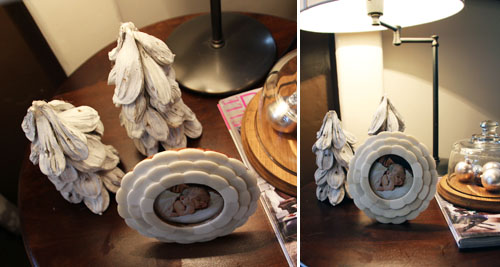 Assembly was easy. I cut my garland strands apart and built little pyramids by stacking the pods (it kind of reminded me of how you lean pieces of wood against each other to start a campfire) and gluing into place with a glue gun. Then I continued to layer.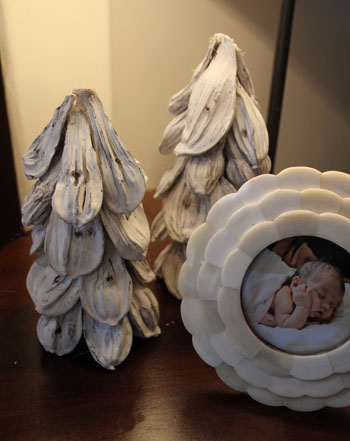 I love the results – they're the perfect little shabby chic accent for the guestroom this Christmas and the colors tie in great with the neutral space.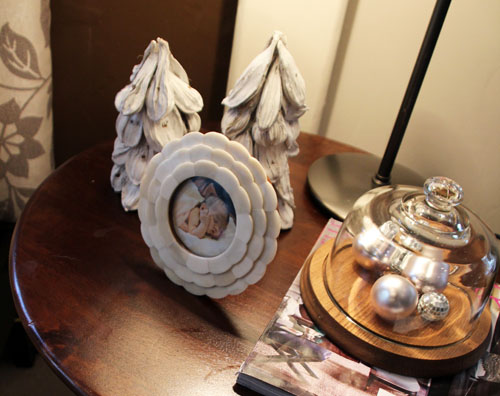 Christmas is here!

Tags:
Brown
,
Christmas
,
Crafty Solutions
,
Decorating
,
Home
,
Tutorial
,
white
,
Winter
Posted in
Crafty Solutions
,
DIY
,
Holidays
,
Home
|
3 Comments »