Hope you had a wonderful Thanksgiving! We spent ours with family from both my mom's and dad's side and I had the chance to catch up with friends from my hometown over the weekend. It was a really nice four day break from the usual hustle and bustle.
The best part about Friday, November 25? Christmas music. I ventured out for a black Friday sale or two with a friend but what I loved even more than the discounts was 'Jingle Bells' playing on the radio! My favorite holiday has finally arrived.
It's not too early to start decorating, right? Here's a little Christmas tree project I recently put together for our guest room: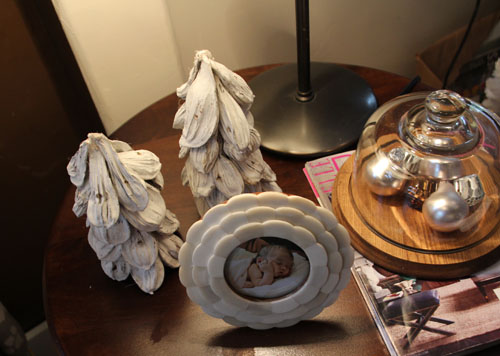 The little white washed Christmas trees are made out of wooden seed pods and cost a mere $1 each to make. Their current home is on the sweet new pedestal side table that we just recently found on major sale at World Market: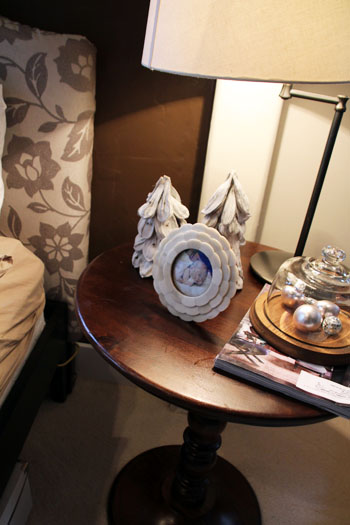 Sorry about the awful lighting. I assembled my diy trees in our living room late at night while watching a movie with Kevin.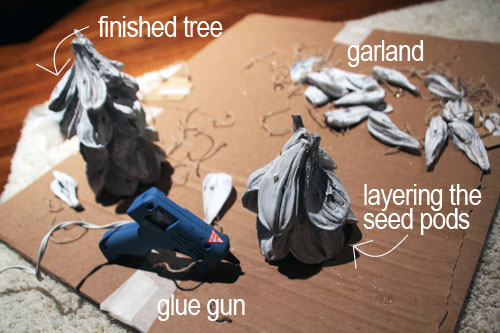 I was inspired a while back to build little driftwood Christmas trees after seeing trees like this or these, but finding the right driftwood was near impossible (so jealous of all those that live on Lake Michigan). I searched high and low and they do sell bundles on Etsy and even eBay, but boy are they pricey little bundles.
Then when I was perusing our local West Elm, I came across the neatest white washed wooden 'pods' (or giant seeds?) in hanging strands in the clearance section. Each bag had been marked down from $16 to $.97. Sweet, really really sweet. (I've searched and searched for a West Elm link but it seams these garland strands are waaaay last year and might only be available at a West Elm in your city, they're called the Nipa Pod Strand and they might be at the very bottom of the Sale bin.)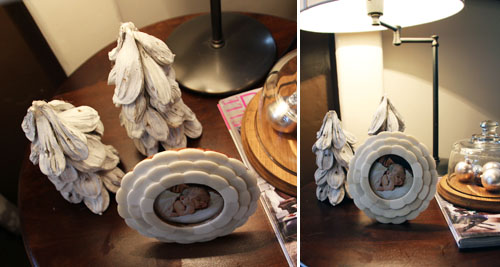 Assembly was easy. I cut my garland strands apart and built little pyramids by stacking the pods (it kind of reminded me of how you lean pieces of wood against each other to start a campfire) and gluing into place with a glue gun. Then I continued to layer.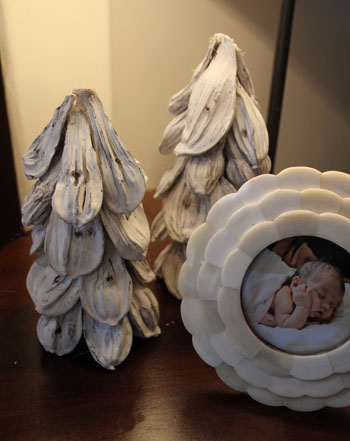 I love the results – they're the perfect little shabby chic accent for the guestroom this Christmas and the colors tie in great with the neutral space.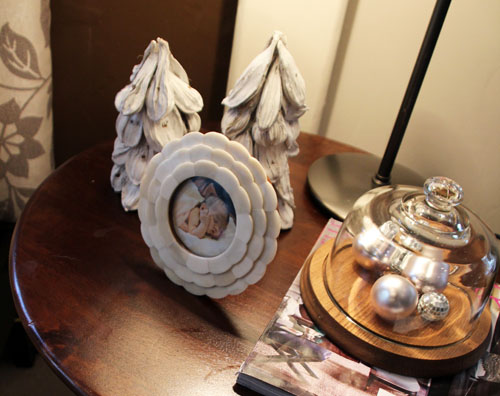 Christmas is here! :)