November 16, 2011
As mentioned last week, Maryam from Milk-Friendly will be joining us as a regular wardrobe style board contributor! If you're new here, you can find a mix of collages over there in the left hand sidebar under the 'Wardrobe' button, and now I'm hoping to make sure it's fresh and regularly updated with great ideas by inviting Maryam to help me out.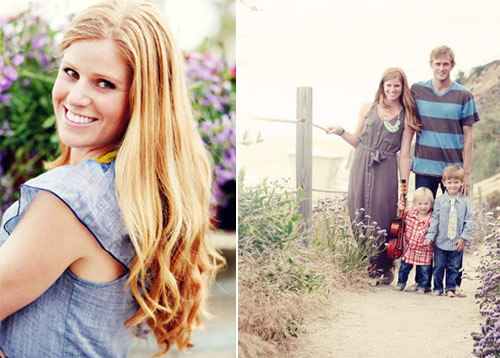 I love Maryam's casual but fashion-forward sense of style. Blending just the right amount of trend with practical, every-day classics, her looks are very Anthropologie-esq (as evident by her clothing and photoshoot posts on her blog over here). Maryam is great with statement pieces (a big, chunky necklace or fabulous shoes) and they always look so effortless on her, even if it's for running errands or a trip to the park! Which is why I know that everyone will appreciate the inspiration she shares. (PS check out that adorable family!)
I'll let her take over from here:
********************************************
Hello Dear Pepper Readers!
I am so honored to be able to contribute to Morgan's already fabulous styleboard gallery. I am a mom of two young boys (22 months & 3 1/2 years) and I am determined to keep my fashion identity throughout these (sometimes) crazy years of motherhood.
We are also in the midst of packing up everything here in San Diego, CA and moving to Oahu, HI. Very exciting and insane at the same time! And as much as I am dying for the warm weather year-round, I will honestly miss all my cold-weather fashion. So being able to create more styleboards pertinent to places with changing seasons is very fulfilling to me. So thank you!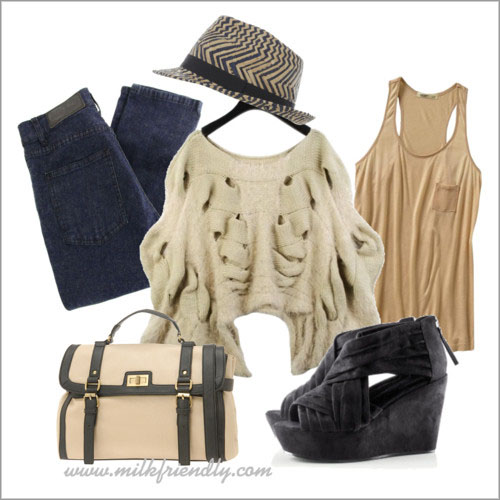 For some reason I was very attracted to this funky chunky sweater. Isn't it intriguing? I adore pieces like this because they have something interesting to say, without being totally out there. In my mind, I imagined tucking in the tank to the high-waisted skinnies, which I know not every lady is comfortable with. But I truly love the look of it, so I say give it a try (at least in the privacy of the dressing room.)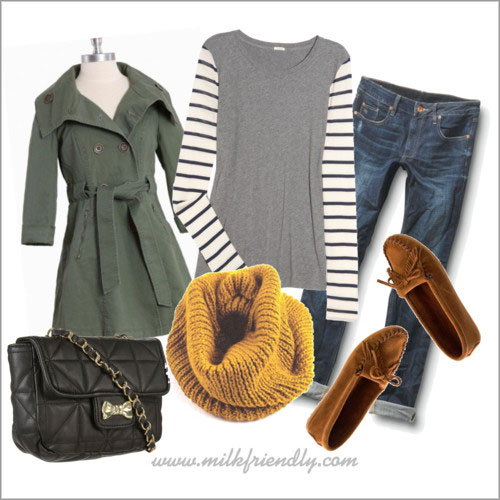 A great trench is always chic, no matter how much fashion trends seem to change. It's one of those items you leave on the entrance coat rack, and grab in a rush when the kids need to get out for a change of scenery. I thought this trench was cute and a little untraditional. Also, I am one to wear stripes every single day, but I know that it doesn't always work for every size and shape. This long sleeve from J Crew has just enough arm stripes without being too overbearing and can be paired with a fun cowl neck scarf or an interesting necklace.
Well that's it for now from me. I look forward to coming back and sharing more style inspirations with all of you!
********************************************
Sources, links (even pricing for all of the pieces) and more inspiration found over here at the full gallery!
Tags:
Fall
,
Fashion
,
Winter
Posted in
Wardrobe
|
4 Comments »
November 15, 2011
There are three trees in our neighborhood that change colors during the fall. Three. In the entire neighborhood. When Liv and I go for walks I stare longingly up at the branches willing those crisp green leaves to take on their yellow and orange shades.
When my mother-in-law was in town this past weekend it happened! Not only did the trees change color but they shed a good portion of those beautiful leaves to the ground. When she came back from taking Liv for a stroll she brought with her a huge bundle of these: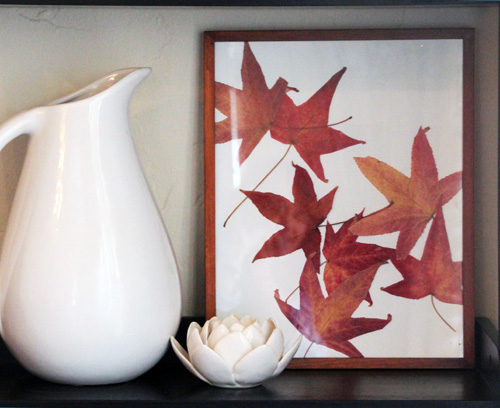 Naturally I pressed and framed them. I don't know how long they'll last but just maybe I can preserve them for the future. Waaaaay better than the fake ones I used over here.
Here they are sitting on a shelf in our dining room: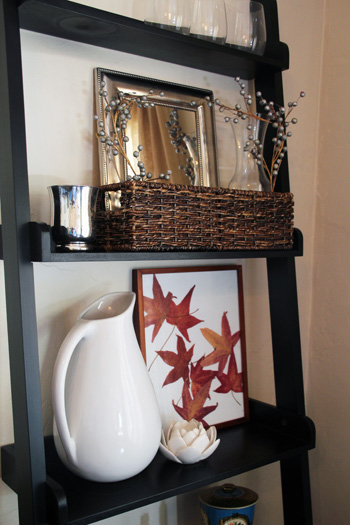 I first attempted to frame without flattening and the result was a bit sloppy, so my next approach was to organize them on my white sheet of construction paper, attach to paper with a double sided adhesive and then smoosh between two big heavy books.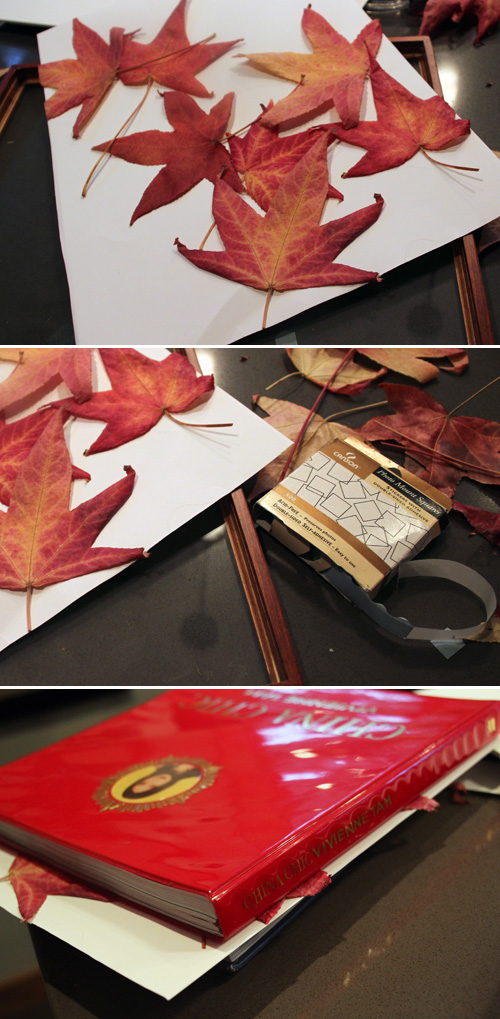 Then I added the construction paper back into the frame and sealed it up.
I love the colors, especially against the brownish red frame.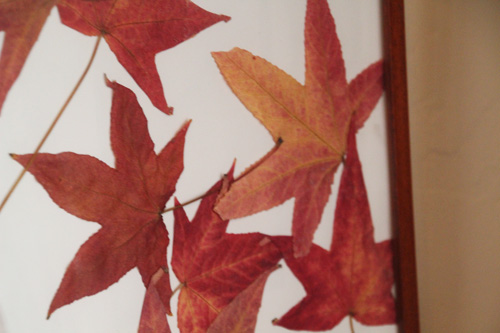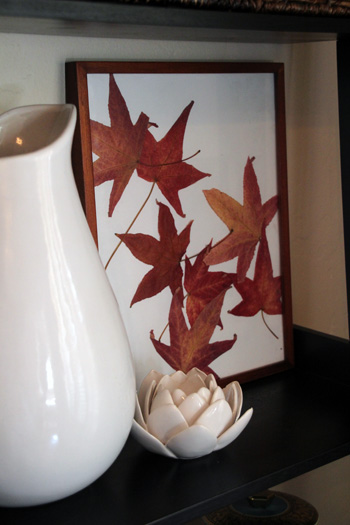 I had quite a few leaves left over so I made a very simple garland by stringing the leaves through twine. Here they are on the other bookcase: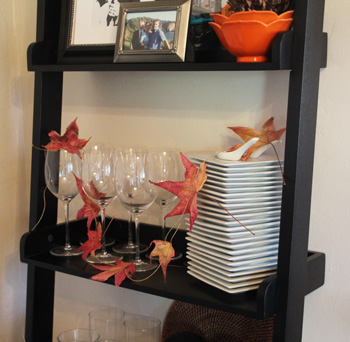 I think it's a nice little fall detail, especially when casually strung up like they are here.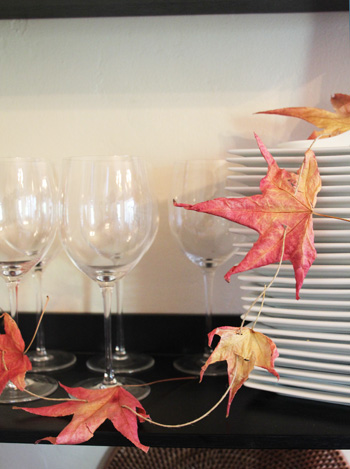 The process to make this guy was so simple and so quick: poke two holes in each leaf and string through – up and over for the first leaf, down and under for the next.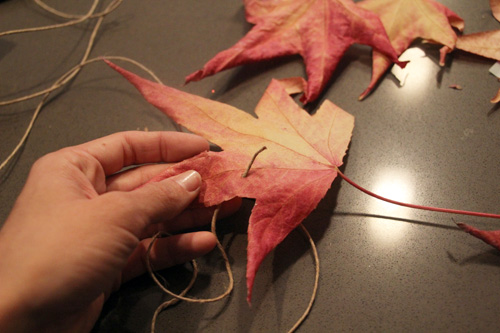 Just like you're sewing a simple stitch.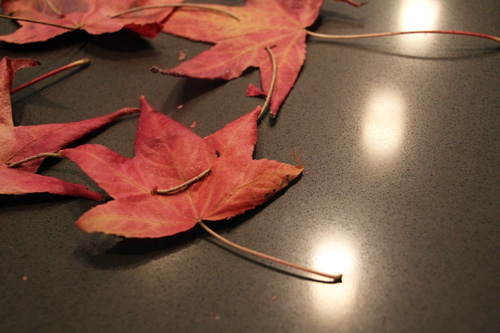 Until you've finished the whole lot:
They're perfect for the upcoming Thanksgiving holiday and I love how they bring just a little bit of the outdoors in!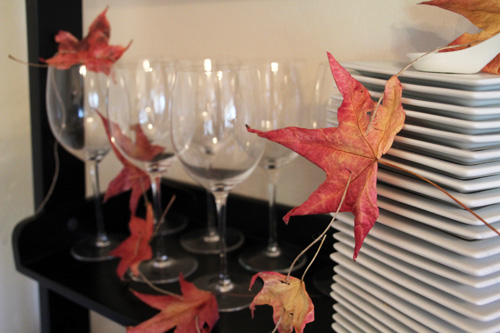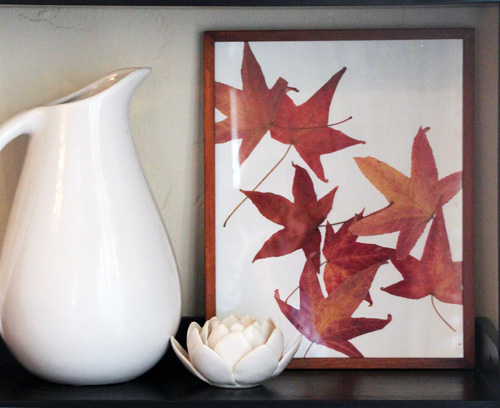 Tags:
By Color
,
Crafty Solutions
,
Decorating
,
DIY
,
Fall
,
Halloween
,
Home
,
Orange
,
Patterns & Color
,
Red
,
Thanksgiving
,
Tutorial
,
Yellow
Posted in
Crafty Solutions
,
DIY
,
Holidays
,
Home
|
6 Comments »
November 15, 2011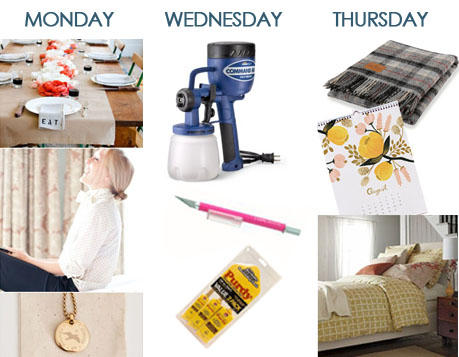 Congratulations to last week's giveaway winners! Random.org helped to select the following:
*Monday's EmersonMade giveaway: Sara Cate
*Wednesday's DIY Pack giveaway: April D.
*Thursday's Favorite Home Decor giveaway: Sheila G. (and it just happened to be her birthday that day – sweet serendipity)
Look out for an email from me. Thank you to everyone who entered and please continue to support these generous companies!
Posted in
Uncategorized
|
2 Comments »