Christmas is fast approaching! Just two and a half weeks away, can you believe that? I feel like the season has just arrived – in fact we just picked out our tree on Sunday and we're just beginning to decorate around here.
I've also been checking gifts off of my Christmas list like crazy. My goal to be finished by December 1 has come and gone, but I'll blame it on the DIY nature of some of these gifts and how they're taking muuuuch longer than anticipated.
When it comes to non-handmade gifts, I've been putting together fun ideas for family and friends (many for Liv!) and these are a few that I have my eye on. Hopefully they can provide inspiration for you, too. (Check out the guy's gift guide here.)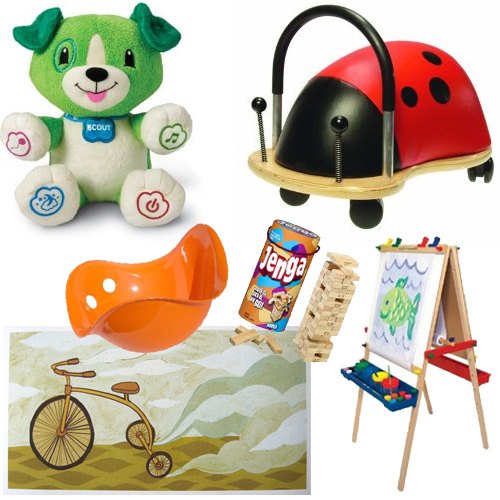 Scout is awesome! Liv received him as a gift (at one of my baby showers) and adores him. She really began interacting with Scout at about 8 months and to this day carries him with her all around the house. You program Scout (via a USB cord to your computer) with your child's name and he makes up silly songs about their favorite color and foods, asks for hugs and even sings sleepy time songs at night.
I love the design of this wheely bug. I'm all about well-made wooden toys for kids and this lady bug looks like so much fun.
If you're on the search for adorable illustrations, check out boygirlparty.com. Susie is a local San Diego artist and her prints are perfect for a kids room.
Designed in Switzerland, the Bilibo has won awards for design and play. It's all about the imagination with it's classic, simplistic design: it can be a helmet, sit and spin, doll cradle, train tunnel, shovel, water basin and much more! Nearly indestructible and built for indoors or out. (Really hoping to get this for Olivia!)
Jenga is an oldie but goodie!
Melissa and Doug makes the best products – and when I saw this art easel I thought that it would be a great addition for projects as Liv gets older! Plus Amazon offers free (Mom Prime) shipping so no worries about the large size. *Update* just saw nearly the exact same version at Ikea!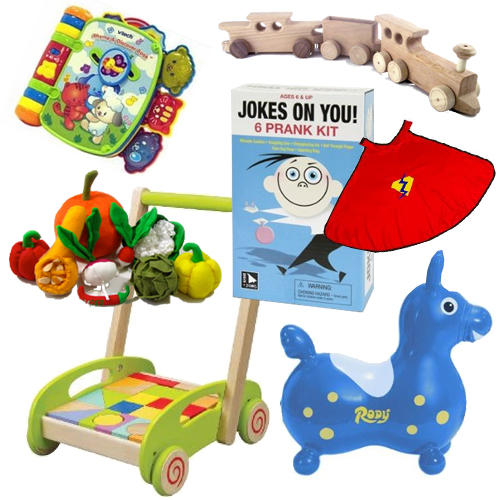 Every new walker needs a push cart, and one that holds toys (or learning blocks) is even better. Liv has one very similar this (go Zulily) – the wooden design is stylish and she absolutely loves it.
I am not a fan of plastic, flashing lights, blaring buttons toys. But kids are and Liv LOVES them. This book is a happy compromise – it keeps her entertained in the car and is a special treat when she has to sit for long periods strapped into her car seat.
This guy looks awesome. I've been eying it as a potential birthday present for a friend's son but this bouncer would make a great Christmas present for the 18 month – 3 year range! Or turn it in to a stationary rocker with this base.
I'm looking into building Liv a little play kitchen and these felt veggie PDFs from Etsy artist BuggaBugs would be so cute. There are so many awesome felt foods on Etsy! *Update* just found out there's a huge selection available at Ikea as well.
Another really awesome handmade toy from a smaller Etsy artist is this little wooden train set, toddlers would get oodles of fun out of it.
A box of practical jokes is just what every nine-year-old boy needs this Christmas… it's filled with a whoopee cushion, magic ink, snapping chewing gum, a squirt ring and more.
A superhero cape! So cool. If I had a three-year-old boy this would be in his stocking.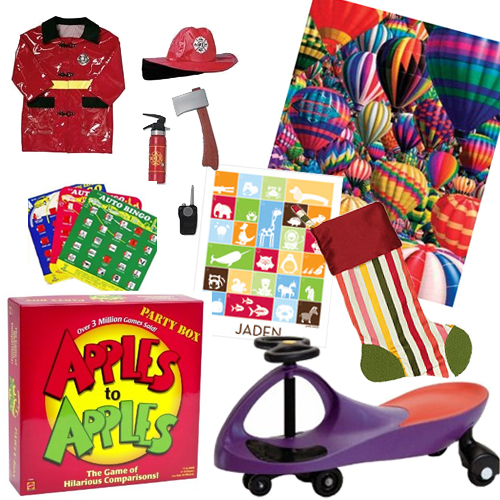 Do you put together puzzles with your family? We often have a big puzzle going in the den or near a fireplace during the winter and family casually adds pieces as they walk by or over a glass of wine at night.
Have you ever played Apples to Apples? So much fun! Great for a night in with family.
These personalized alphabet prints are some of my favorites, I love the colors.
Create and customize your own Christmas stocking this year by picking out fabrics and prints at 1154 Lill Studio.
The plasma car is apparently one hot commodity this Christmas, just check out these Amazon reviews! *Update* Zulily is featuring this on their site through 12/8 for 40% off!
Role play costumes are such a fun way to inspire the imagination (and storing dress up gear is as easy as a cool mini trunk – unlike storing many other toys out there), this fireman's costume comes with some fun accessories.
Oh man, do you remember auto bingo?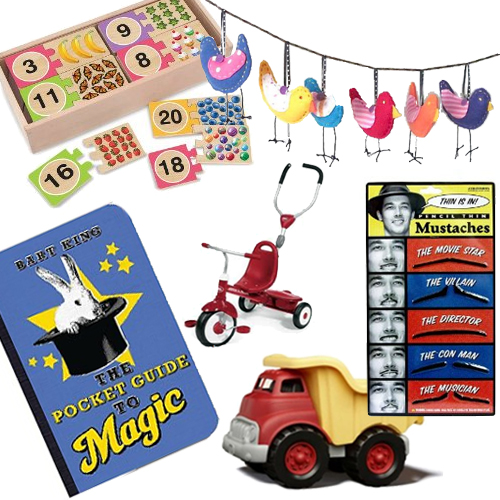 Now that Liv is walking (running!) I would love to get this 4-in-1 Radio Trike for her for Christmas. For ages 9 months to 5 years, it converts from a stroller to a steering trike, learning-to-ride-trike, and finally a classic trike.
These colorful birds by Etsy artist katikamade would make a beautiful baby mobile or nursery decoration.
These fake mustaches would be the neatest stocking stuffer for boys or the young at heart.
I love wooden puzzles and this numbers puzzle would make a very cool Christmas gift for Olivia.
The Pocket Guide to Magic is a fun peak inside the tricks of the trade.
Check out these awesome trucks made out of recycled plastic milk containers! Right up my alley and these guys have received great reviews on Amazon.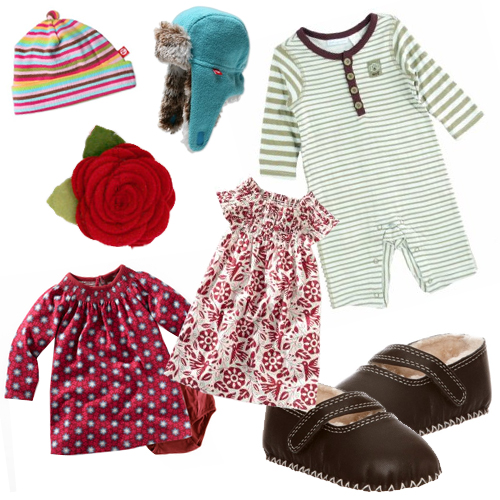 I found BriarClaire on Etsy and fell in love with her beautiful felt hair clips, she's made three custom sets for Liv and they're very well-made and precious! and at a very reasonable price.
This sleeper is just adorable for little boys or girls.
I'm hoping to get Olivia another pair of these Ugg Mary Janes for the winter (she's grown so quickly out of her 9 month size!). They keep her feet warm and with a pair of tights look just adorable (my favorite pair of shoes of hers to date). I'd also like to get her a boot pair of uggs because they're perfect for this time of the year. Why do baby feet have to grow so fast?
Love Tea Collection! Olivia has several outfits by them and these are my favorite two dresses right now, thank goodness it doesn't get too cold here in San Diego and a long sleeve undershirt is all you need to create winter outfits.
This cute striped hat or deliciously fuzzy version will keep those little ears warm this winter!
************************************************************************
Mom, Dad? If you're reading this you now have a great idea of what I would love to get for Liv this Christmas (or her birthday which follows closely behind!). Hope this inspires everyone for fun and popular gifts for the kids! If you've found something awesome for kids this Christmas, please leave it in the comments.
And don't stress about last-minute shipping – Amazon Mom Prime offers free 2 day shipping if you regularly purchase a baby-related item once a month. We live by it in this household. The above post contains some affiliate links.