Happy Friday! I've been meaning to post these pictures for a while but I've finally had time to sort and edit them during this mini vacation. Here's a baby shower that friends and I threw for our good friend Diana and her little Noah – who's due any day now.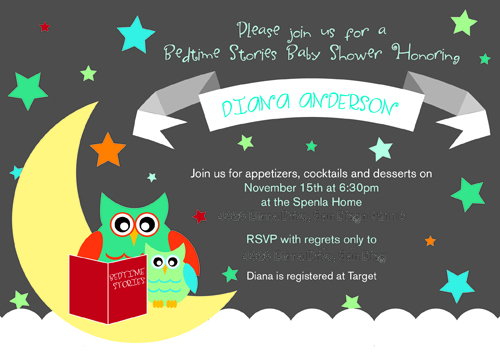 The adorable invites were designed by Jennafer of Oh Creative One on Etsy. She contacted me to partner on the project and I love how they turned out! Jennafer was wonderful to work with and turned my broad ideas of a colorful starry sky, cute little owls and a bedtime story book into the perfect invite.
I'm not sure where the idea of a Bedtime Stories shower originated from but I loved that I could decorate with everything books. There was no intended color palette but much of the room ended up in shades of blue by the time decorating was finished.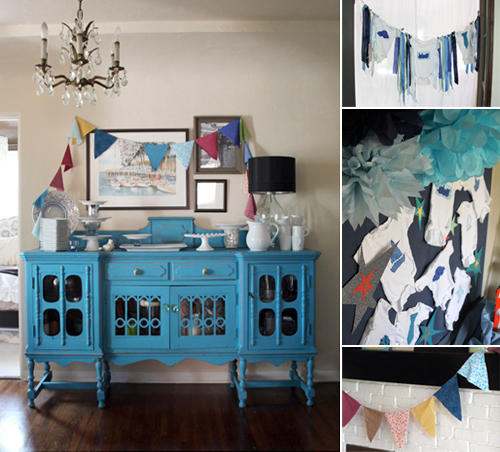 The 'sprinkle' shower was held at night and on a weekday but it was an ideal time to gather the group together during the busy holiday season. Sometimes the best celebrations are the ones that include a glass of wine and yummy appetizers after a hard day's work – that plus nannies for the evening!
I snapped most of these pics during the day, which means no food or people in these photos but hopefully a few clearer shots of the details.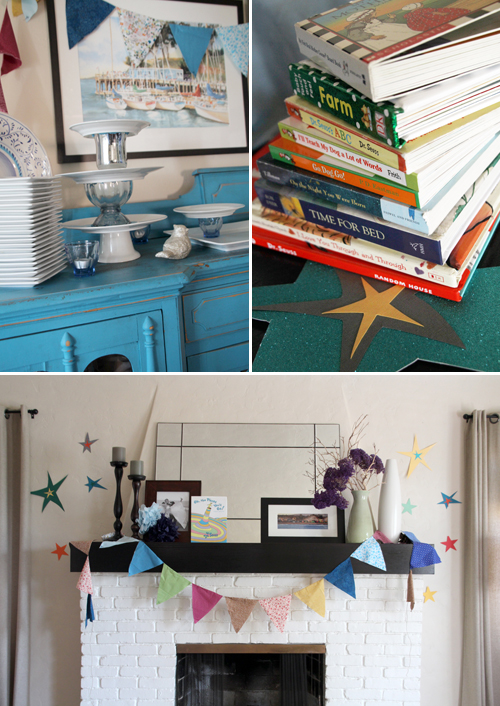 Decor was simple with a few handmade details. I made two sets of fabric bunting (which I kept in soft, gender-neutral colors because I knew I would use them time and again for all sorts of parties), ribbon 'flags' on twine, plus a large pin board for little fabric onesies we all designed. Two friends helped me with cut-out stars which really helped to set the 'bedtime' tone.
It was a small shower with maybe a dozen or so of us celebrating the newest member to Diana's family. We played silly games including one competition where we had to recreate belly bumps with small balloons. Hilarious! We ate delicious food provided by some of the guests (potluck style!), and we created customized little onesies and burp cloths out of fabric and embroidery thread.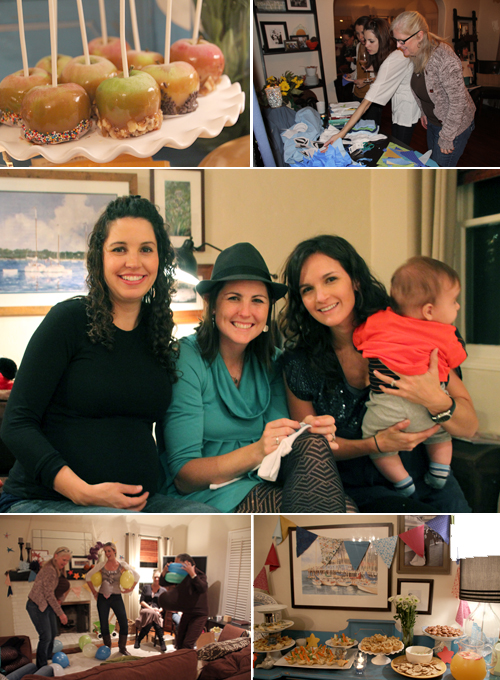 Here are a few shots from the night of. A big thanks to the ladies that helped me pull this shower together, and a big welcome to baby Noah who will literally be here this week! (Diana's due date was the 27th)
More details to come as I break down (and finish editing photos…) of a few of the easy decorations.