I have a neat kitchen project to share with you, but before I jump into the recent home progress happenings over here, did anyone else just recently realize that Mother's Day is sneaking up on us?
It is! and less than a week away at that. I'm trying to decide what special little family outing I'd like to plan…. but I also couldn't help but put together a round up of a few gifts that I think would be loved by many mama's alike (even if the best gifts do come in the form of breakfast in bed and a handmade card that makes your heart melt).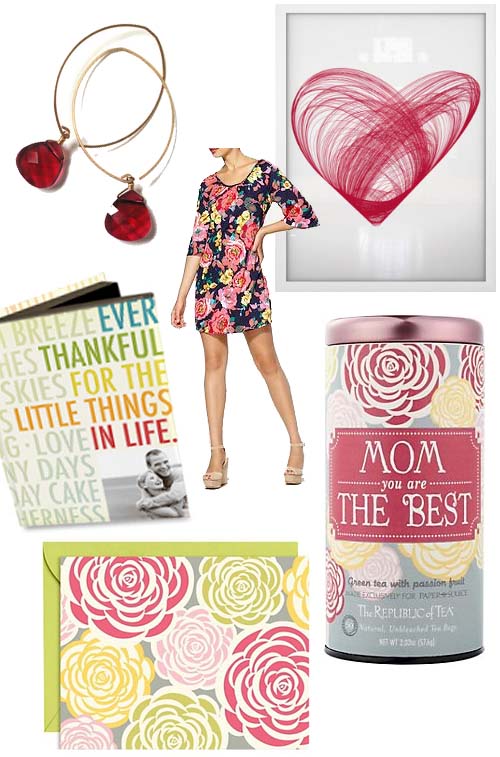 But, just in case you're looking for something more tangible to recommend to that special someone, here are a few favorite ideas of mine.
*Crystal drop earrings that look universally beautiful on all
*A heart print that would make me smile everyday
*A floral tunic for the perfect Mother's Day brunch outfit
*Memory keeper boxes from Paper Coterie that I've begun collecting family keepsakes in (one for every 3-4 years – this makes me pair down just my favorite knit baby caps and travel souvenirs to pass down to generations to come. I've been purchasing the Petite Pattern, and they can frequently be found on sale through sites like Hip2Save.com)
*Everyone loves a steaming cup of delicious tea and I'd reuse this tin again and again
*Ahhh beautiful stationary – these colorful rosette cards are some of my favorites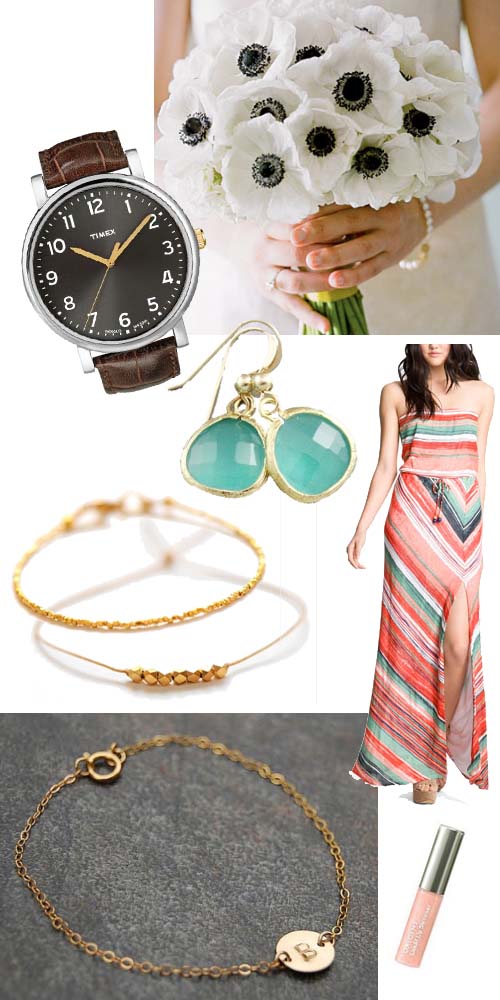 *A beautiful bouquet of anemones! Flowers always win
*Large face grandpa watches that can be worn with anything and that stand the test of time (I have worn this affordable Timex into the ground and still love it)
*Back to those crystal earrings… here's a shorter, minty-er pair for everyday wear
*A beautiful Ella Moss number for summer adventures to the zoo and park
*A favorite lip gloss for years – just the right amount of light pink shine
*I'm really falling for bracelets this year and these are three that have caught my eye: continuous gold beads, seven bead wish bracelet and the very beautiful but simple gold initial bracelet. Any woman would be charmed by the thought put behind one of these as a gift.
*Speaking of initials, how lovely is this hand formed necklace?
*An organic nail polish in red that's perfect for summer
*I would be amiss if I didn't include a few favorite home items that I've been eying… such as this floor lamp in gold, this fantastic urban map of San Diego and this beautifully made paper mache bowl
*Decorating lovers would probably be equally keen on the new Decorate by Holly Becker – a must-add for my bookshelf
*Last but not least a pair of summer flats that are both comfortable and in style. Perhaps one on the list for mama's to treat themselves to (this mama is seriously thinking about it)
There you have it! My top suggestions for a gift that is both thoughtful and very unique for this Mother's Day. What is the best Mother's Day present you've ever received or given (handmade or otherwise?) Any of the above resonate with you? I was a big fan of 'coupon books' as a kid and I can't wait to get them from Liv when she's a little older! 5 minute back massage? Help unloading the dishwasher? Yes please!
PS you can find all gift guides posted here at PDB by checking out this link.