I would love to invite you all over for a rug party. But logistically that could be tough, so let's have a virtual one! I have been slowly *testing* out rugs over the past couple of weeks to see if one sticks and I've been photographing the journey so that I can play a game of comparisons.
Our dining room tends to be a fairly high traffic space – you need to pass through it to get to any other room in the house. It's also a space that welcomes you from near the moment you walk through our door, so it's equally important that it be warm and inviting. A couple of needs for this space that we had to keep in mind: must be pet-friendly (no dhurrie or woven rugs – bummer that they collect and hold onto pet hair because they're so well priced), kid-friendly (wool is usually better than jute for cleaning purposes and darker colors or patterns reign) and finally budget-friendly (we are traditionally Craigslist people even when it comes to this sort of thing *I love me a good rug cleaning though* because area rugs can be so expensive, but I've found a few options in the few hundred dollar range that I'm really loving). Ready? Let's start.
PS the dining room makeover all started here if you'd like to read these posts in order!
A classic jute…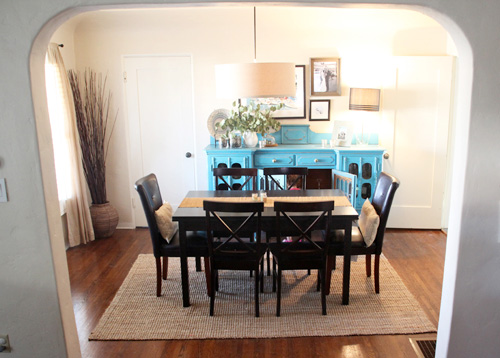 Fits the bill size-wise and price-wise (I believe with the family discount at Ikea this guy rang in at $70) and has a nice, neutral feel. Would easily work with any of the curtain options. I'm a huge fan of natural fiber rugs and while I usually opt for a softer version (with a wool or chenille mixed in), this Ikea jute rug might work well in an area where kids won't necessarily be playing on the floor.
The only con is that jute is tough to clean, even by the professionals (I buy Groupons for area rug cleanings twice a year these days – it's just one of those items I budget in with pets and a baby, but totally worth the trade off :)). In fact I've found that natural fibers are doubly tough to have cleaned and often require special care and a trip to a shop if it gets a liquid stain (ask the poor hallway carpet after Halloween 2009 when Bodie chewed a mini pumpkin right into the slobbery fibers).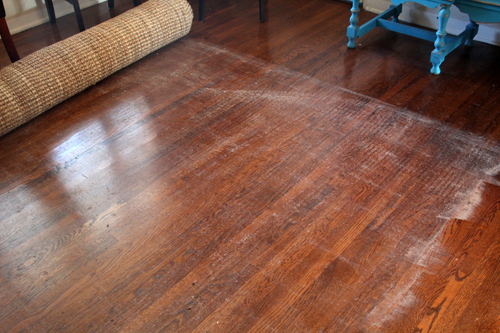 Plus they shed. At least cheaper jute rugs tend to. If this guy stays he'll be getting a rug pad (the above was only this bad once when switching out carpets. A quick mop and I haven't seen the likes of the loose fibers since).
Next up is an indoor/outdoor ikat option. Outdoor rugs can be just the best! Depending on the rug, cleaning can require as little as a hose, a scrub brush and dish soap in the backyard. This is a great rug by Ballard Design for a great price – but I do worry that I would be incredibly limited by curtain choice with this guy.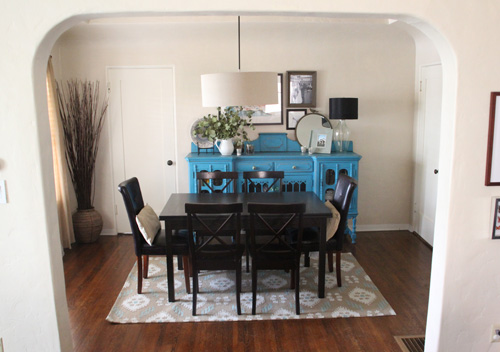 What about bringing that jute back in to add a little warmth?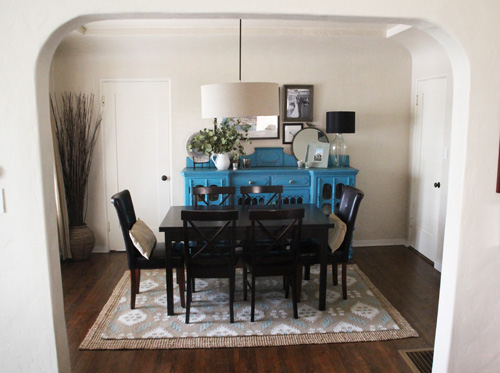 Hmmm… I love the general size of the Ikea rug (bigger than 5×8 but not quite 6×9, you know how those crazy Ikea metrics work) and the border is a nice addition. This is a nice solution for the space?
What are your thoughts on cowhide? I've been a fan of the look for some time and I especially love when hides are used in living rooms and dining rooms. Here's a little inspiration: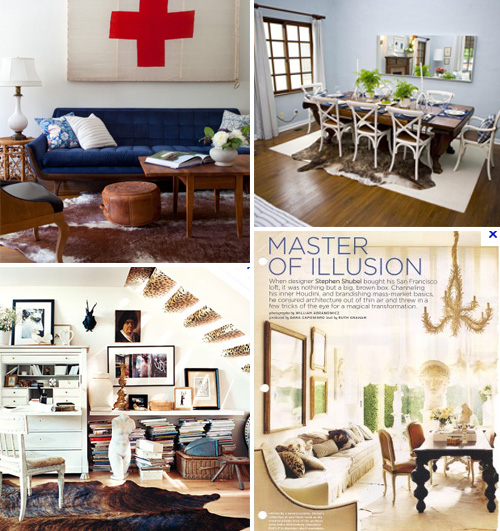 Sources: Emily Henderson x2, Domino, Tandy Leather – Girl in the World
White would not work so well in this space for so many reasons, but a darker cowhide would be easy to maintain (I'm thinking warm water and soap, or perhaps cutting a more permanent spill right out of the hair). So when a really wonderful deal popped up on Fab I pounced and ordered the rug to try it out.
The fact that it's an animal hide doesn't bother me so much. I like the idea of producing as little waste as possible and because we eat steak and meat on various (not too often but every once in a while) occasions means that using the by-products is a good thing. But now I'm starting to sound like I skinned the darned thing myself. :)
I really dig this look. Ignore that tripod there to the right…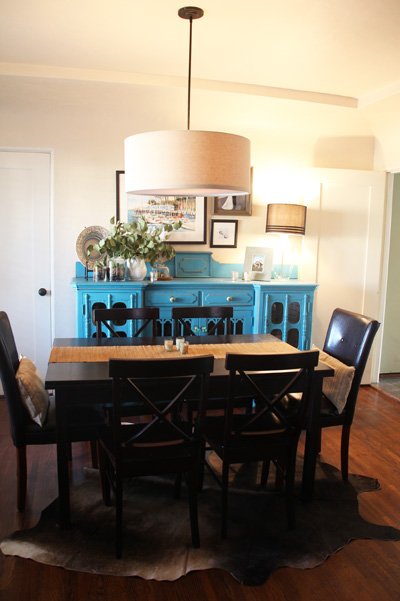 With that jute still rolled up on the left you can see where I'm going with the next idea: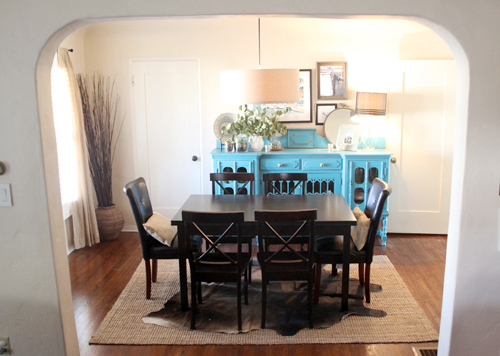 But maybe with the hide at a bit more of an angle.
Nothing is set in stone, *sigh* (I can be a horrible decision maker!) I can always use this rug in a different room or even resell on eBay for the crazy price that I was able to nab it for.
Here are some other rug ideas that I'm thinking about: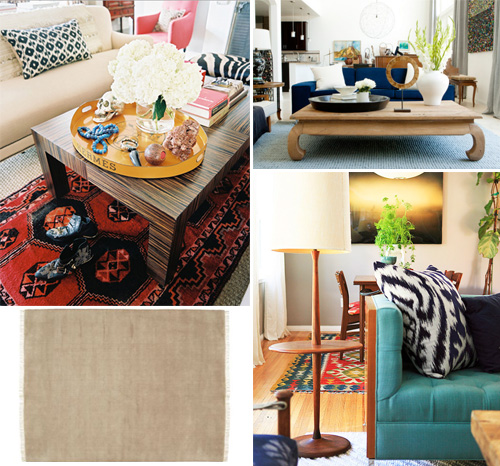 Sources: Little Green Notebook, Emily Henderson, Pottery Barn
What are your thoughts on dining room rugs? Practicality over design? Or can you accomplish both?
Read the full dining room story by back tracking from here: curtain call part 2, curtain call part 1, newly styled bookshelves, a buffet-over, upgrading the lighting, the before.