Father's Day is not too far away! I was thinking about what creative little idea Liv and I can put together for the dad and granddads in our lives, I'd like to focus on something simple, sweet and handmade (kind of like our Mother's Day gifts).
In the not simple and homemade variety, Dads can be a little difficult to shop for and it can be hard to come up with something thoughtful and unique. Here are a few ideas for the guys that I have been eying: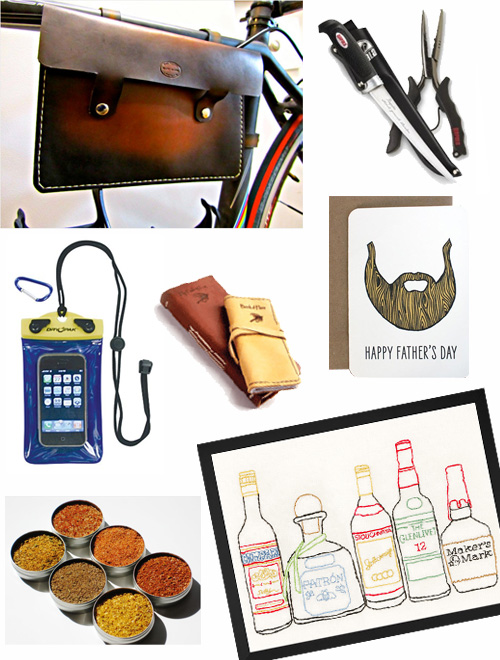 A very cool leather bike frame bag, Rapala fishing fillet knife, sheath and pliers for the fishermen in your life (or these neat Rustico leather log books for classy fishing, golf, etc recording), every water man needs at least one Dry Pak cellphone case, this Etsy lumber dad card is adorable, we all benefit from dad's great cooking skills + a custom dry rub spice kit and this Stephen Campbell '5 Bottles' embroidery art print is perfect for the man cave or bar.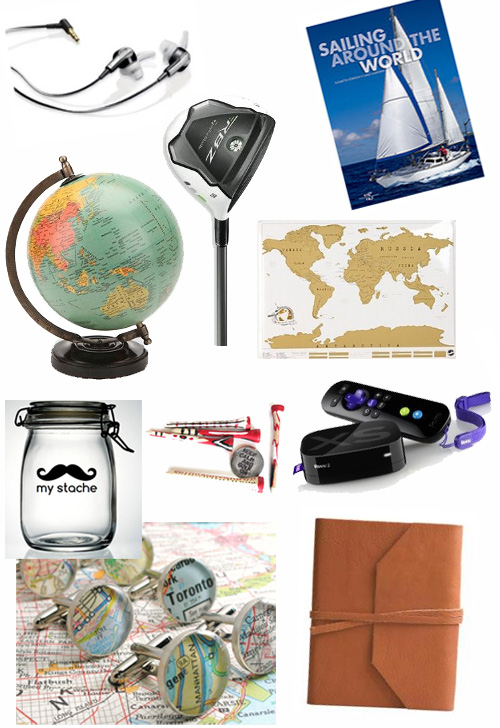 Bose IE2 headphones would be a much loved gift, Kevin insisted I include his top wish list Rocketballz golf club (not gonna happen) and I would really love to see this desktop globe in our one day joint office. The idea behind this scratch off world map is so awesome! and these Etsy artist golf tees and custom marker set are great for the golf lover. Roku HD Streaming is a really neat Dad's day splurge, as would these vintage map cufflinks be. Let Dad stash all of his odds and ends (golf balls, coins, random screws and bolts found around the house – is that just us?) in his sweet stache jar. Finally, there's something about this Frieiri leather journal that works so well with travel junkies and future architects alike (hint, totally something for Kevin).
More gift guides for the guys can be found here.